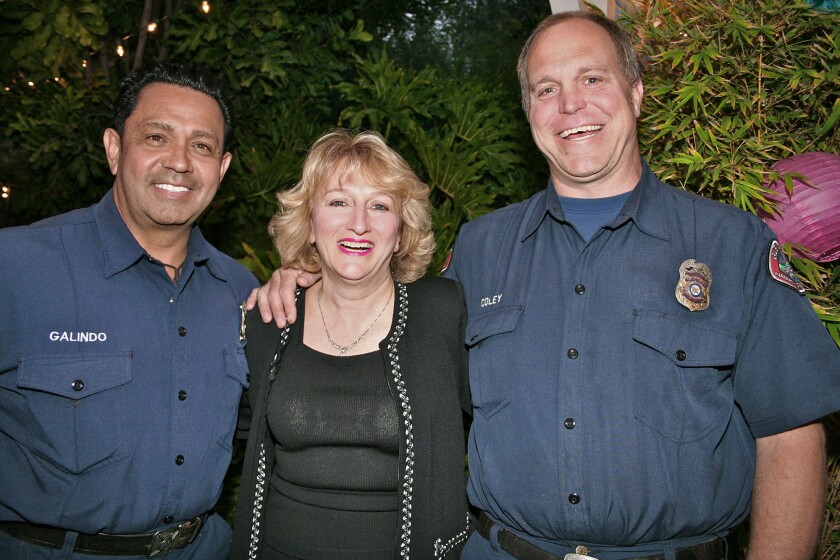 Guess Who's Coming to Dinner? That question was answered at the Glendale home of Mona and Greg Astorian. This past Saturday evening, some 80 guests joined their hosts to toast margaritas in honor of Glendale Healthy Kids.
The Astorian residence was one of five venues where dinner was served during the last couple of weeks to benefit the charity that annually asks "Guess Who's Coming to Dinner?"
About a dozen of those who came Saturday were Glendale firefighters. But the only flames that had to be put out were those under the burners that held sizzling chicken enchiladas, rice and beans. Chief cook and bottle washer was firefighter Mike Coley of Station 29. Sous chef was Capt. Trevor Welch of Station 27B. His specialty was the Mexican wedding cookies.
Serving dinner guests was the Fire Chief himself, Harold Scoggins, who described the department's involvement in Glendale Healthy Kids' dinners since the 1990s. As in other years, preparations for this evening's dinner started days ago with buying the food.
Making dinner begins at 8 a.m. Funds for the dinner come from the Glendale Firefighters Club. A portion of each firefighter's paycheck goes into the club's coffers. So, not only did the firefighters cook and serve the meals, they even paid for them.
More firefighters who came for dinner and served it, too, included Duke Snyder of Station 29 and Peter Galindo of Station 24.
Civilians who came to dinner included former Glendale Mayor Frank Quintero and wife, Jani, Glendale City Councilwoman Paula Devine and husband, Art. Also on hand were Glendale residents Sue and Steve Wilder and Pam and Steve Ropfogel.
Every year, Glendale Healthy Kids provides medical, dental and mental-health services for children of Glendale's working poor. According to Sharon Townsend, the organization's executive director, 11.1% of Glendale residents live in poverty. Glendale Healthy Kids' 20th Jubilee Birthday Celebration to be held this Saturday may help ease the burden.
---
Those hardworking members of the La Cañada Flintridge Orthopaedic Guild have spent 57 years "of caring" for the over 2 million patients with orthopedic conditions. Since 1961, more than 10,000 international children from Mexico and other countries have been treated through the Orthopaedic Institute for Children's international children's program.
A warm afternoon on Oct. 28, attracted more than 200 guild members and guests to the guild's annual Book and Author Luncheon, proceeds from which will help support the efforts of the institute.
Michael Sullivan, the institute's vice president and chief philanthropy officer, was first to address the audience at the Angeles National Golf Club in Sunland. Sullivan began his remarks with the statistic that 50% of children in the United States will break a bone in the coming year. He also told the gathering that 10,000 children have received a cast from the institute.
Sullivan then described the institute's recent alliance with the new Santa Monica-UCLA Medical Center and the Los Angeles Dodgers. Both organizations will be key in helping raise the $10 million needed for an outpatient surgical center in downtown L.A. In recent years, the La Cañada Flintridge Orthopaedic Guild has raised $600,000 for services provided by the institute.
Sullivan's presentation was followed by the authors introduced by two Glendale residents — guild President Marie Baker and Benefit Chairperson Arlene Massimino. First on the dais was Cherie Twohy, author of the popular "I Love Trader Joe's" cookbook series. Twohy told her audience that, she too, had a connection to the institute. As a child, she had her feet braced there.
But back to food, Twohy ended her remarks by revealing that Trader Joe's popular, roasted, mashed sweet potato will be in stores in time for Thanksgiving.
Next up was author Natalie Baszile, who introduced her first novel, "Queen Sugar." Baszile's "long history" with the Orthopaedic Hospital began as a teenage volunteer. Her father was on the hospital board.
Author-illustrator Frans Vischer described his children's book, "A Very Fuddles Christmas," starring his own 28-pound cat. Vischer's quick sketch of Fuddles brought in $425 at the live auction.
A break in the program allowed book lovers to buy their favorites, signed by the authors, of course. Lunch followed, but book sales continued at a brisk pace for the remainder of the afternoon.
--
RUTH SOWBY RANDS may be reached at ruthasowby@gmail.com.
---