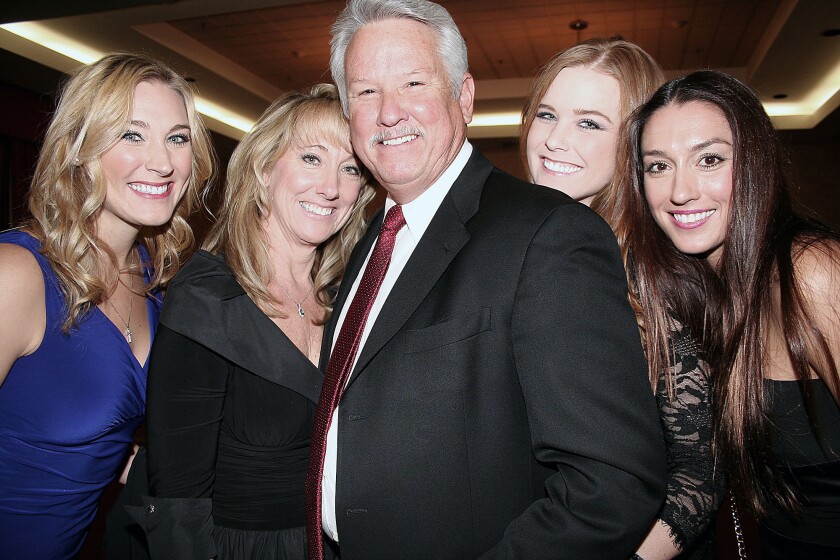 Guests at the Dancing with Diamonds gala rocked the night away on Friday at the Glendale Educational Foundation's annual ball. Representing the diamond theme, two half-carat diamond rings were given to drawing winners, who purchased champagne flutes for a chance to win.
But the three Hope Diamond awardees, all having graduated from a Glendale high school, were the most sparkling diamonds of the evening.
At the Glendale Hilton, some 400 guests gathered to honor Hoover High School 1938 graduate Paul R. Ignatius, Crescenta Valley High School 1974 graduate Ron DePompa and Hoover High School 2003 graduate Shant Sahakian.
Eric Hamilton, foundation vice president and master of ceremonies, welcomed his audience and introduced Foundation President Lynn Miyamoto, who began her remarks by announcing that the foundation has contributed $3 million to Glendale Schools.
"Save the Music" is the foundation's primary project for 2014. Members hope to raise $150,000 to place musical instruments in every Glendale elementary school. The ball's proceeds are earmarked for the project.
Also taking part in the evening's program were Dick Sheehan, superintendent of Glendale Unified School District, and Nayiri Nahabedian, school board president.
The high point of the night came when the three honorees were presented Hope Diamond awards by Odette Kahwajian, chairperson of the Diamond Awards Committee.
Ignatius is a retired secretary of the U.S. Navy, serving from 1967 to 1969. He was also president of the Washington Post. The news that one of the next two Arleigh Burke-class destroyers will be named the "USS Paul Ignatius" brought a standing ovation.
DePompa recently retired after working in the Glendale Police Department for 36 years, most recently as police chief. He attended Glendale Community College, where he teaches criminal justice. Retirement will give DePompa more time for his family and coaching girls in Junior Olympic fast-pitch softball.
Youngest honoree Sahakian founded Sedna Solutions at age 14. Today, Sedna Solutions is a leading marketing and design firm. His clients include several Glendale businesses.
The program came to an end with the drawing for the diamonds, courtesy of Kahwajian's Orphan Jewel. The two lucky winners of the vintage-inspired diamond rings were Pasadena resident Stephanie Pescatore and Glendale community volunteer Miryam Finkelberg.
Kudos must be given to Susan Hunt, executive director of the foundation, who spent much more time behind the scenes than in front, never taking credit for an evening that went off without a hitch.
---
Another organization devoted to education, 15 chapters of Glendale's Philanthropic Educational Organization Reciprocity Bureau, celebrated Founders' Day on Saturday. Burbank's Pickwick Gardens comfortably held close to 200 members and guests.
President Linda Rose welcomed her audience. Accompanying Rose at the head table was her daughter, Tara Rose-Large.
Speaker and International Chapter Past President Barbara Andes described Cottey College for women, which is owned by the international organization in Nevada, Mo.
All travel, housing and meals are free for the 320 students, courtesy of endowments raised by organization members. A recent fund-raising campaign netted $12 million toward a goal of $35 million. All funds will go to student scholarships.
Founded in 1869, the Philanthropic Educational Organization has 6,000 chapters in the United States and Canada.
—
The red carpet was rolled out for another opening night at the Pasadena Playhouse.
Last Wednesday, "Above the Fold" attracted a star-studded audience. The paparazzi could not get their fill of the actors who tripped the light fantastic on the red carpet.
One of those was Jodi Lyn O'Keefe, who graciously posed for every camera trained on her. The actress just signed on for a starring role in "Hit the Floor" on VH1. Although not performing, she came to support friends in the cast.
La Crescenta resident Richard Rands wrangled an invitation for this exclusive performance. Employed in Pasadena, Rands sometimes passes the Playhouse on his way to work. This time, he decided to stop by for the show.
Based on a true story, "Above the Fold" follows Jane (played by Taraji P. Henson), an African American journalist who covers a racially volatile rape case in a Southern university town. It was written by former New York Times reporter Bernard Weinraub and directed by Steven Robman.
"Above the Fold" runs through Feb. 23.
--
RUTH SOWBY may be reached at ruthasowby@gmail.com.
---