'A crazy kind of mishmash'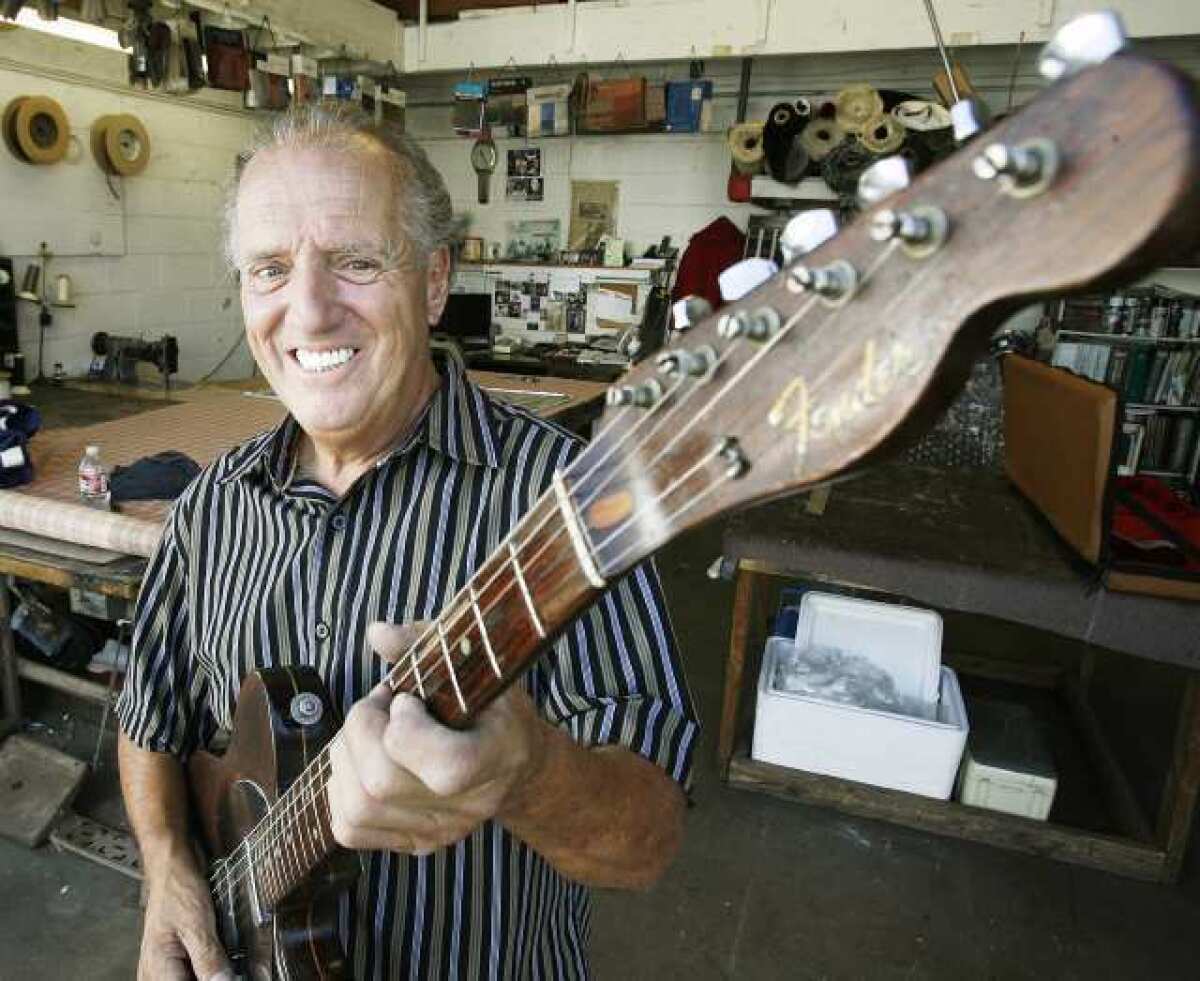 Carmine Sardo leads a double life much akin to that of a comic book superhero. By day, he's a mild-mannered merchant, tending to his La Crescenta auto and boat upholstery business. After dark, Sardo is transmogrified into a musical crusader, a player of audacious proficiency whose blend of California country music sensibility and hot, groove-oozing blues combine into a style that's as singular as it is arresting.
The 68-year-old guitarist, who has been a resident of the Tujunga-Sunland-La Crescenta delta for over five decades, serves as anchor for the equally capable local combo the Shuffle Brothers and whenever the quartet sets up, whether it's Sundays at Glendale's Big Fish or Wednesdays at North Hollywoods' Michael's Pub, it's guaranteed they'll supply a drastically satisfying earful.
But Sardo is no mere gifted amateur. While the Shuffle Brothers, comprised of Sardo, veteran guitarist Eric Garcia, well-regarded bassist Peter Freiberger and esteemed drummer Lynn Coulter, are a uniformly impressive act, Sardo's late 1950s-on Hollywood pedigree is an inevitably gaudy one, bristling with fated alliances and colorful happenstance. A primarily self-taught player from a large musical family, he first took up guitar as an elementary school student in his native Boston, before the family came to Los Angeles in 1955, where he quickly found himself in extraordinary circumstances.
"When I was 14, I was attending the Hollywood Professional school," Sardo said. "It was a half day school, classes only went from 9 a.m. until 1 or 2 o'clock, because the kids were all actors. And I went to class with [rockabilly prodigies] Larry and Lorrie Collins. Larry was a big influence on me, even though he was far more advanced on guitar than I was. And In 1958 with my friend Mickey Rooney Jr., we auditioned for the [live country music variety TV program] Town Hall Party and we got it — we actually played on the show, at night, with all those incredible talents, Joe Maphis, Merle Travis; these guys were my idols."
"Mickey Rooney Jr. was like my brother, and [jazz great] Barney Kessel married Mickey's mother when I was 16, so I always got to play with Barney Kessel around the house. One time he took us down to Shelley Manne's Manne Hole club in Hollywood and I got to see him and Shelley and Ray Brown Jr. play. And later Barney would come out to our county gigs, just to listen."
After forming the Mickey Rooney Jr. Four and signing to Liberty records, Sardo soon found himself on the big screen, playing alongside Rooney in the cult-prized 1967 B-Movie classic "Hot Rods to Hell." But the movies held little appeal to Sardo. All he cared about was getting back on the bandstand. He and Rooney worked a blues-rock sound in the film and Sardo continues in that vein today.
"My thing really isn't blues," he explained. "I'm more of a rockabilly country-type player, Joe Maphis, Merle Travis and [Ricky Nelson/Elvis Presley guitarist] James Burton, that's where I cut my teeth, with people like that — and I've been friends with Burton for 50 years!"
Sardo spins through a who's who of fabled pickers, all of whom he personally knew and worked with closely: "All through the '60s I played with Clarence White. We weren't real close buddies but I saw him many times and he'd always sit in with us ... And later I met Albert Lee, who I love because he's that kind of player."
Sardo's mastery of vernacular American music has created a delightful type of musical miscegenation, and Sardo's warm, curvaceous style is both seductive and artistically successful. "When I'm with the Shuffle Brothers, the joke I always make is, 'Here I am working with this blues band but I'm playing country — it's a crazy kind of a mishmash!' I've got that Burton-Maphis bounce and with all my bendy licks and chicken pickin' stuff; it's all country and it's pretty much of a mismatch, but it somehow works."
It works very well indeed. The Shuffle Brothers' jam nights are definite highlights of any given week in the area. "The jams are a lot of fun," Sardo said. "We always do the first set by ourselves and then open it up. I personally think our jam draws some pretty damn good players. I've been to some other jams and, God bless all of 'em, but our guys are really professional, great players, so when these guys come in to jam, they've gotta be good. And when you get great players like Steve Trovato and Pete Anderson, and they keep coming back. Well, we're proud of that."
JONNY WHITESIDE is a veteran music journalist based in Burbank and author of "Ramblin' Rose: the Life & Career of Rose Maddox" and "Cry: the Johnnie Ray Story."
What: The Shuffle Brothers jam nights
Glendale: Every Sunday, 8 p.m. at the Big Fish, 5230 San Fernando Rd., (818) 244-6442
North Hollywood: Every Wednesday, 8:30 p.m. at Michael's Pub, 11506 Oxnard St., (818) 980-9762