Dining Review: Modern gastropub Basin 141 taps into L.A. history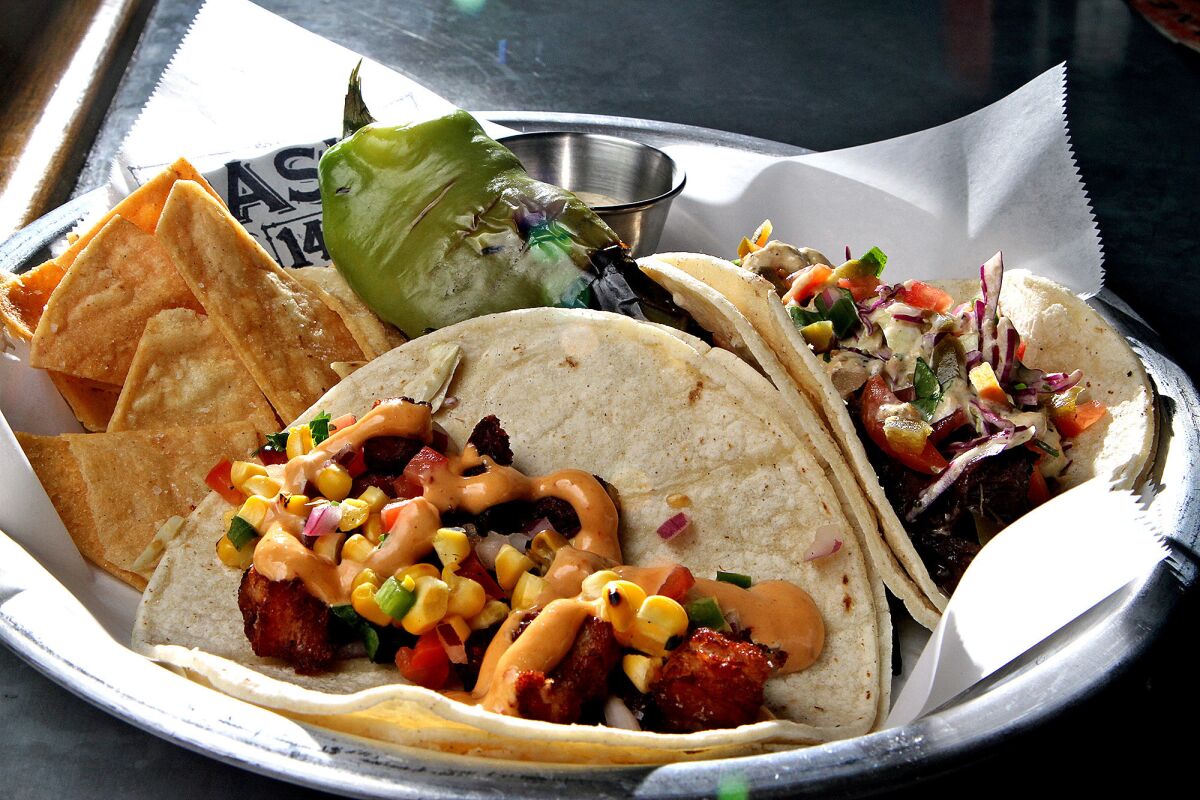 Fat Dog, the Montrose gastropub catering to locals, was a good thing. Basin 141, which took over its location, is an even better thing. Brothers Dave and Joe Friedman mixed some mean drinks back when they were bartenders at the prior incarnation. Now they're mixing and managing at the new digs. Basin 141 is a vintage-inspired modern gastropub serving libations and bites that appeal to both the new crop of cocktail scene-sters and the classic Montrose regulars.
The brothers Friedman updated the interior just enough to make it their own but not so much to alienate Fat Dog or (earlier still) Barru customers. They added some delicious signature cocktails made with fresh juices and premium spirits. They shaped a beer list with tried and true favorites as well as a rotating cadre of local microbrews. The food menu is heavy on trendy but distinctive appetizers and drink-friendly entrees. The atmosphere is warm due to a well-designed motif of reclaimed wood, Edison bulbs and early L.A. nostalgia. Perhaps most importantly, there is a palpable attention to customer satisfaction. It all adds up to a formula that works for Montrosians, old and new.
The name grew out of an interest in early local history. Basin is for the Los Angeles basin and 141 represents the city's first official census tally in the early 1800s. That was long before Dr. Briggs settled the Crescenta Valley, but the restaurant pays homage to the area with a special chicken sandwich in honor of Colonel Pickens of Pickens Canyon fame.
We settled in at the bar one Thursday night — no room at the semicircular booths smartly saved from before. I admired the cool beer faucets made from vintage pipes, but I didn't go there. I'm a cocktail girl. I settled on the Angeleno Julep made with Bulleit rye and muddled fresh pear. Oh yeah, it's as good as it sounds, especially with the brandy, mint, lime and brown sugar backup.
My friend tried the refreshing East Los with 209 gin, cucumber, mint, lime and soda. Our group also imbibed the nicely balanced Weissen Sour with Buffalo Trace bourbon, orange marmalade and Weiss beer as well as a proper Manhattan, the upgrade to Eagle Rare Single Barrel only a buck extra. The drinks took a little longer than expected to arrive but the wait staff is so friendly and accommodating otherwise, it didn't matter.
At $10 to $11 each, the drinks are slightly less expensive than similar craft cocktails at trendy Hollywood haunts but a lot more than you'll pay for a shot of tequila down the street at Avignon's. Whatever the cost, they tasted great with the K-Town hot wings, chicken bits drenched in a finger-licking sauce of Sriracha and sweetness ($10). Kale salad is everywhere (people on both sides of us claimed the best home recipe) but Basin 141's, chiffonade-cut with apples, almonds and queso fresco, is different and delicious ($11). The only appetizer we didn't love was the queso fundido ($12). A cheesy mix of gruyere, pepper jack, shallots, pequillo peppers and Spanish chorizo, it should have been deliriously decadent but instead it was like a bowl of hot Velveeta with mystery chunks. Still, we finished it using the accompanying tortilla chips.
It was difficult to leave Basin 141. They mean it when they say over the door "Welcome Home." It's the kind of place you want to stay all night, eating, drinking and talking. The Friedmans have wisely attended to the acoustic problems that plagued Fat Dog. Basin is busy and loud but without an annoying echo. I'm curious how they deal with crowds for weekend brunch (Saturday 11 to 2, Sunday 10 to 2). With only half a dozen tables, many patrons will have to sit at the majestic bar, which I'm sure will be just fine for weekend sports enthusiasts wanting to be closer to the big screen TVs and bottomless mimosas ($15). The brunch menu is traditional with some distinctive flair though only four of the 11 entrees feature eggs. The rest are "late-to-wake" foods like sandwiches, tacos, pancakes and salads ($9 to $15).
One final mention must be made for the good-looking happy hours. Monday through Friday from 3 to 6 p.m. they have $3 to $6 food and drink specials, including their much-talked-about pork belly and potato tacos as well as draft beers, house wines and well drinks.
With its warm, vintage ambience, contemporary, comforting fare, and accent on friendly customer service, Basin 141 has its finger firmly on the pulse of modern-day Montrose.
What: Basin 141
Where: 2265 Honolulu Ave., Montrose
When: Monday through Thursday, 3 p.m. to 12 a.m.; Friday, 3 p.m. to 2 a.m.; Saturday, 11 a.m. to 2 a.m.; Sunday, 10 a.m. to 10 p.m.
More info: (818) 236-4810, basin141.com
--
LISA DUPUY writes food reviews for the Los Angeles Times Community News. She can be reached at ldupuy@aol.com.
---