On the Town: Cabrini Literary Guild shines with Diamond Jubilee
The Cabrini Literary Guild's 75th Diamond Jubilee was held in style at the Oakmont Country Club this past Saturday.
A luncheon of short rib ravioli fed more than 100 hungry members and guests. The good humor and warmth in the room more than compensated for the rainy weather outside.
Before the program started, the silent auction tables were the go-to place. Luncheon guests swarmed the 67 items on glowing display. A standout was a painting titled "First Bloom Of Spring" by Joan Sandon, former Cabrini president.
Once the program started, current Cabrini President Marie Urrutia welcomed the audience and introduced event co-chairpersons Laurie Leask and Karen Swan. A swarm of commendations, including one by U.S. Rep. Adam Schiff, was topped off by a salute from the Glendale City Council.
The commendation was presented to Urrutia by council member and former Mayor Paula Devine.
After lunch, the star of the show turned out to be Maximo Marcuso, who bills himself "The Tenor of the Americas."
Cabrini member and Glendale resident Maureen Walsh "discovered" Marcuso and had him added to the program. His golden voice soared, his warm personality spread. He made many a fan as he danced with members of the audience. His aria from Puccini's "Turandot" received a standing ovation.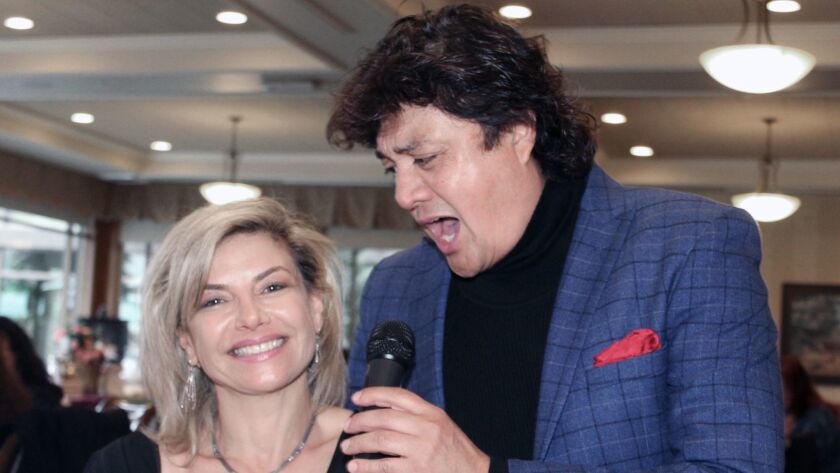 The afternoon came to an end as the silent action closed and drawing prizes were handed out to the lucky winners.
Event proceeds will help fund Cabrini's several philanthropies, including Ascencia's homeless shelter and the Glendale YWCA's shelter for women.
—
Members of the Glendale Educational Foundation pulled out all the stops for "Disco Diamonds" — its 11th annual gala dinner and dance at the Castaway restaurant.
On March 2, close to 300 members and their guests packed the ballroom. The encouraged attire for the night was right out of the 1970s. John Travolta look-alikes from "Saturday Night Fever" pranced on the dance floor.
Glendale Unified School Supt. Winfred Roberson Jr., normally hair-challenged, fit right in with an Afro wig. His wife, Yvette, wore big, white-framed sunglasses.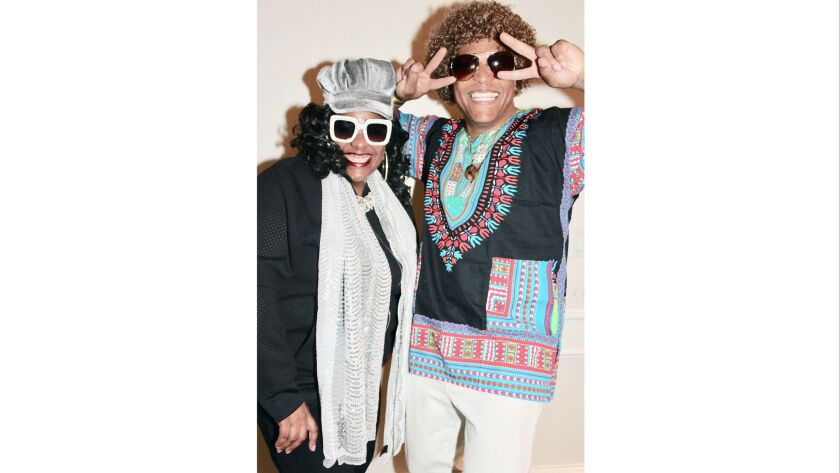 Others donned their version of the 1970s. Glendale Community College Supt./President David Viar wore black from top to bottom. His wife, "Disco Diva" Jane, went one better with a gold lamé top. She wasn't too shy to strike a pose for photographers.
Master of ceremonies, Vince Espinoza, kicked off the program by introducing Eric Hamilton, president of the educational foundation, He announced that $3 million has been raised by the foundation in the last 14 years.
A portion of those funds will provide musical instruments for special needs students and robotics classes and computers for district elementary and high schools. Another $16,000 was awarded in teachers' grants.
Hamilton then introduced Afro-topped Supt. Roberson. He humorously announced, "I haven't had hair on my head since the '80s."
He also thanked the Glendale Educational Foundation for "being our partner."
Next up on the program was Nayiri Nahabedian, president of the Glendale Unified school board.
"No one knows how to throw a party like the Glendale Educational Foundation," Nahabedian said.
She introduced the other school board members present — Greg Krikorian, vice president, Jennifer Freemon, clerk, as well as members Armina Gharpetian and Shant Sahakian.
More dignitaries attending included Gharpetian's husband, Glendale Mayor Vartan Gharpetian. City Council members present were Vrej Agajanian, Paula Devine and Ara Najarian.
Besides Viar, Glendale Community College board of trustee members attending were Anthony Tartaglia and Yvette Vartanian Davis.
Also present was interim Glendale Police Chief Carl Povilaitis.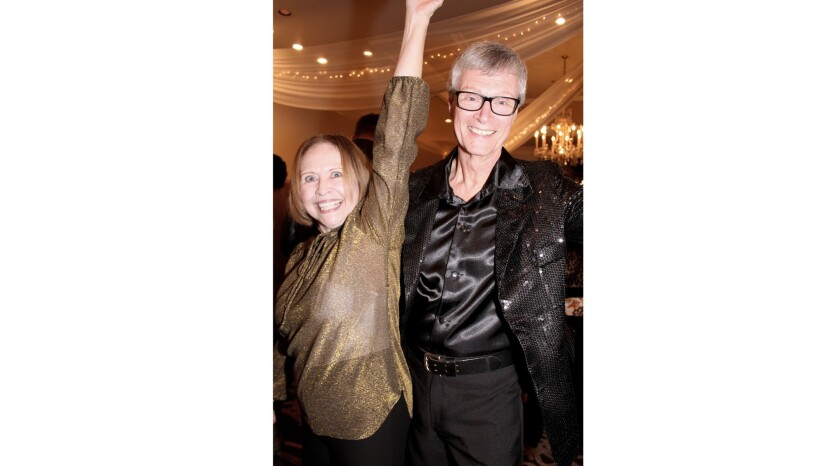 Closing the program was the introduction of the Diamond Award honorees. They were all alums of Glendale schools.
Awarded distinguished achievement in the arts was film producer Ralph Winter; achievement in science and technology was longtime Glendale educator Doug Dall; achievement in health and fitness was the late Phyllis Campbell, co-founder of the Campbell Center; awarded the Paragon Diamond Award for demonstrating innovation excellence were Ara Mahdessian and Vahe Kuzoyan, founders of Service Titan.
Lastly, the Hope Diamond Award was given to Armen R. Panossian, managing director of Oaktree Capital Management.
Congratulations must be given to Elsa Chagolla, executive director of the Glendale Educational Foundation, and Vrejh Hovsepian, event chairperson, for their hard work behind the scenes.
RUTH SOWBY RANDS may be reached at ruthasowby@gmail.com.
---