The big wigs at the Adventist Health Glendale Foundation pulled out all the stops for its gala this year.
As in previous years, the event was held in the Diamond Ballroom of the JW Marriott L.A. Live in downtown Los Angeles.
Last week, about 600 supporters gathered for a reception of light hors d'oeuvres and beverages. While waiting for the ballroom doors to open, guests posed for photos under an arch of silver and white balloons.
Joined by his family for paparazzi snaps was Dr. Edmund Lew, one of the evening's gold sponsors, and a member of the foundation's 2019 board of directors.
He was accompanied by his wife, Sophie, and children Jessica and Ryan, whose new bride, Crysta, was at his side. The newlyweds live in San Dimas.
Once ballroom doors opened, guests quickly found their tables where centerpieces couldn't be ignored. White roses blooming from pedestals covered in sparkling rhinestones set the stage for a classy evening.
Helen McDonagh, foundation board chair, welcomed the audience. She acknowledged dignitaries present, including new Glendale Mayor Ara Najarian, recently elected to the post for a fourth time by his fellow council members, and wife, Palmira, who commutes weekly to San Francisco, where she is an anchor for Univision TV.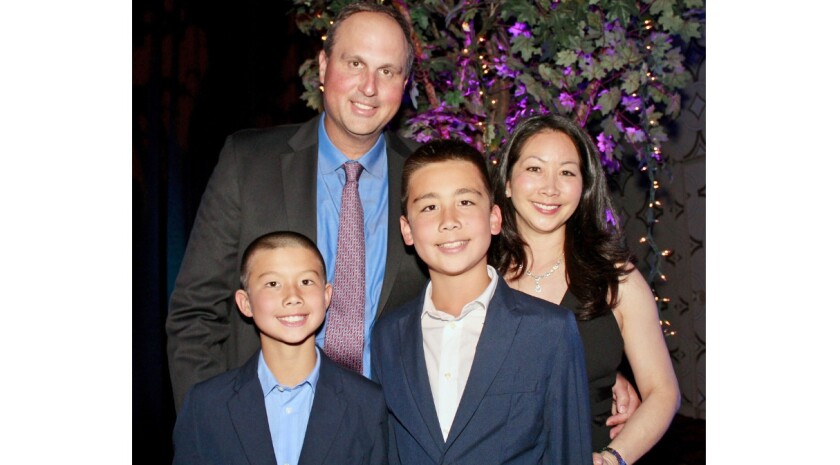 More VIPs introduced were state Assemblywoman Laura Friedman, Glendale City Councilwoman Paula Devine, Glendale Fire Chief Silvio Lanzas, and 2018 Lifetime Legacy awardees Grace and Sam Carvajal.
The highlight of the program were the honorees of the night.
First to be recognized as the 2019 Physician Hero, Dr. Sara H. Kim. Her husband, Jeff Wiezorek, was present as well as their children, Alex Wiezorek, 12, and Zachary Wiezorek, 9.
Kim has been with Adventist Health Glendale's cancer center for 16 years. She completed a residency with the department of radiation oncology at USC.
She also completed an internship at West Los Angeles Veterans Hospital and attended the University of Alabama School of Medicine.
Kim was born and raised in Alabama. Her parents had immigrated to Alabama from Korea.
"I wish for patients to have hope when faced with a cancer diagnosis…. Cancer patients are truly my heroes," Kim said.
Special recognition was also paid to Bolivia-born Orfi Barros, who died in February. She and her husband established the Hernan and Orfi Barros Foundation.
A video of Barros' many contributions to the hospital was screened. Irene Bourdon, foundation president, praised Barros saying, "Her last gift was remodeling the chapel."
The chapel's restoration marked Barros's last year of life at age 93. Bourdon added that the hospital's garden is also named for the honoree.
Barros' daughter, Marina Raines, accepted her mother's award.
Credit must be given to the hardworking gala co-chairs, Amanda Dundee and Dr. Harlan Gibbs. Also putting in a welcome appearance and cogent remarks was Alice Issai, president of Adventist Health Glendale.
The evening's Fund-A-Need fundraising event gave guests the opportunity to contribute toward the purchase of specialized cooling equipment for the neonatal intensive-care unit.
Guests made financial pledges with the raise of a paddle. The cooling equipment costs $300,000. A good portion of that amount was collected through the generous pledges.
Ruth Sowby Rands may be reached at ruthasowby@gmail.com.
---