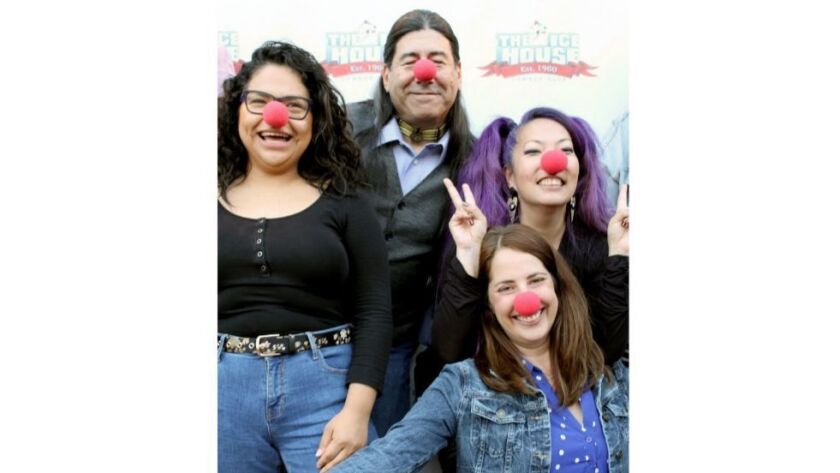 Students in comic Richy Leis' second stand-up comedy class in Glendale graduated on April 27 at the Ice House Comedy Club in Pasadena.
While many other graduates in caps and gowns make the slow march to the tune of "Pomp and Circumstance," all that the graduating comedy students needed was a stage, hot microphone and audience.
Leis' Comedy Cure matches comedians with more than 250 nonprofit organizations to help spread around the wealth.
A portion of the proceeds from his "Class Clowns" Ice House shows goes to Glendale Arts, which manages the Alex Theatre.
Elissa Glickman, the nonprofit's chief executive, applauded the loudest for each budding comedian — some slick, some novice. But all of them were willing to bare their all for laughs.
The class comics who performed were Robert Redfeather, Susan Jekarl (her second time as a "Class Clown"), Frankie Norstad, Javon Stamps, Jermaine Javon and Berenice Diaz.
Redfeather was a show standout. A retired bounty hunter, he is a Mescalero Apache from New Mexico. As part of his act, he described getting shot on the job.
He caught the comedy bug while watching his friend Jekarl perform at the Ice House as one of Leis' "Class Clowns" this past February.
Also on the bill were professional comedians Kiran Deol and Ryan Stout.
At the end of their sets, all the comedians posed in their bright, red clown noses in front of the club.
"It was a fun night, and Glendale Arts is proud to be part of the ride," Glickman said.
—
The La Cañada Flintridge Orthopaedic Guild recently held a fundraiser at New Moon restaurant in Montrose.
On May 7, about a dozen Glendale and La Crescenta residents showed up for an early lunch so that they could beat the dinner crowd.
New Moon's owner, Colin Tom, donated 15% of all guild purchases for lunch and dinner — even takeout orders. Incidentally, Tom named one of his most popular dishes, "Chloe" shrimp, after his daughter.
After the shrimp dish, another popular menu item for the afternoon was Kung Pao sole. It was to die for. Some even ordered an extra helping for takeout.
Glendale residents enjoying lunch were Marie Baker and Karen Judson. Among La Crescenta residents who showed up hungry were Joan and Curtis Cleven, and Patti Rademacher.
Proceeds will help orthopaedically challenged children.
Ruth Sowby Rands may be reached at ruthasowby@gmail.com.
---