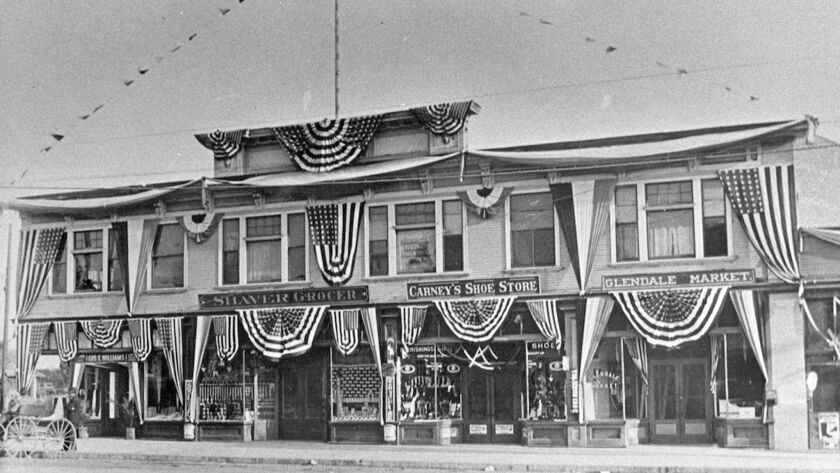 As I viewed the flags at half-staff and saw vintage airplanes flying overhead during this week's Veterans Day observance, I wondered what Glendale was like on Nov. 11, 1918, the day World War I ended.
Thanks to the book "Glendale Area History," I learned that Glendale was still a relatively small town 100 years ago, although it had just annexed the adjacent village of Tropico, adding 1,345 square miles to its territory — and over 2,000 in population.
Due to its increasing size, the police and fire department (one entity when the city incorporated in 1906) separated in 1918, and the merchant's association had grown to more than 70 members.
Some 2,500 telephones were in use by 1918. The Glendale News, formerly a weekly, had changed its name to the Glendale Evening News and became a daily. The Glendale Press was still a weekly.
The Glendale District Council of the Boy Scouts of America organized in 1918. (The name was changed to Verdugo Hills Council the following year).
The Glendale chapter of the American Red Cross had organized in 1917, the same year that two congregations, the First Lutheran and the First Methodist Episcopal, dedicated new church buildings.
Plus, Midwesterners were moving here at a steady rate and the first high school on Brand Boulevard had given way to the new Union High on Harvard Street. Sidewalks had been laid and business and housing construction was rising.
A few street lights had been installed throughout the city. No doubt, the lights were already on when Glendale residents gathered late in the afternoon of Nov. 11 to celebrate the war's end.
Lora Martinolich, with the Glendale Central Library's Special Collections Room, sent me two articles from the Glendale Evening News, detailing the event.
The Nov. 11 paper carried the following message from then City Manager T.W. Watson: "Citizens of Glendale are ordered to assemble as best suits their location at 4 p.m. today at one of three places: Broadway and Glendale Avenue, Brand and Broadway or San Fernando Road and Central Avenue at 3:45 p.m. Captains will be present at these centers to give instructions."
The next day's paper had a full account: "Glendale had a real peace parade yesterday," starting at 4 p.m., with autos and trucks "gay with flags and bunting and gayer still with the happy-faced occupants waving flags, ringing bells, tooting horns and registering joy."
An estimated 375 machines "traversed the main thoroughfares" for an hour, "whizzing by" at such a pace that the "full meaning of the mottoes with which they were placarded" could not be fully appreciated.
One large truck, drawn by the "splendid horses of the Kent Contracting Company, served as a bier for a very unking-like figure labeled 'Kaiser Bill — His Last Ride.'"
The "boys of the fire company, who rode on the city hook and ladder truck, carried a very scared little she-goat placarded 'They got his Nanny'… City trustee Hartley Show's auto bore the inscription 'Good Night Bill.'"
Outriders on bicycles, "small boys, for the most part," trailed cans and pans, which developed "comet-like characteristics as darkness crept upon the thoroughfares and showed the sparks they shed from their friction with the pavement. It was as if the nation had said in its relief from the cloud of war, 'Make me a child again, just for today.'"
The parade was a "carnival of noise," as big for the little town of Glendale as a much larger celebration had been for the city of Los Angeles.
Readers Write:
William H. Gage III grew up in Glendale and graduated with Glendale High's Class of 1945, although he had to get leave from his Navy boot camp commander in San Diego to return for the ceremonies.
Now a Brea resident, Gage is looking for a home for his grandmother's paintings.
His grandmother, Florence H. Huron, who lived next door to the Gages, was a member of the Glendale Art Assn. until her death in 1956. Known as the "Grandma Moses of Glendale," she painted mostly desert scenes and was "quite a painter," William Gage said.
Gage contacted the art association, only to learn they have no fixed meeting place and thus no place to hang Huron's paintings. He also wrote to Brand Associates, but they also are not able to take them.
Arlene Vidor, president of the Brand Associates, forwarded his letter to me, hoping that a reader might have some suggestions for Gage and his wife, who are in the midst of downsizing.
Please contact me via the email listed with this column.
Katherine Yamada can be reached at katherineyamada@gmail.com. or by mail at Verdugo Views, c/o Glendale News-Press, 453 S. Spring Street, 3rd Floor, Los Angeles, CA 90013. Please include your name, address and phone number.
KATHERINE YAMADA can be reached at katherineyamada@gmail.com. or by mail at Verdugo Views, c/o Glendale News-Press, 202 W. First St., Second Floor, Los Angeles, CA 90012. Please include your name, address and phone number.
---