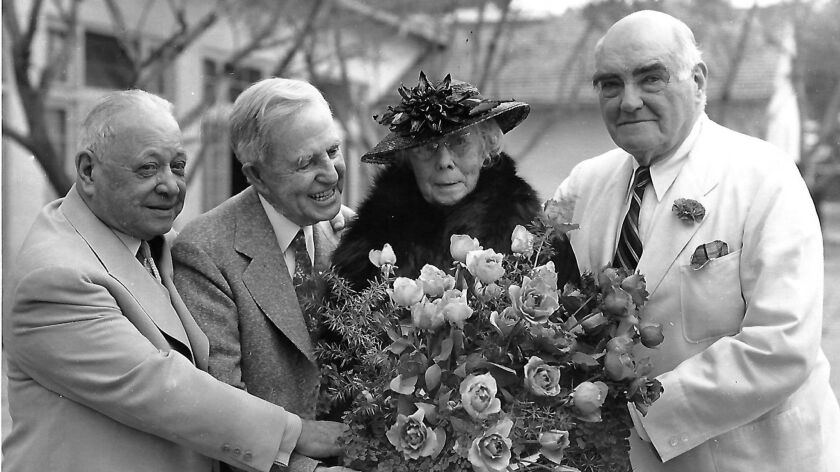 In 1932, the Los Angeles Breakfast Club honored four distinguished members — Carrie Jacobs Bond, John Steven McGroarty, Burr McIntosh and L.E. Behymer — on their 70th birthdays.
Diane Dixon, who grew up in Los Angeles and has lived in Glendale since 1980, sent me a photo of the foursome; she thought I might be interested in because one of the celebrants, Behymer, was her great-grandfather.
In June 1919, Behymer was named general manager of the newly formed Los Angeles Philharmonic Orchestra, as noted by Kevin Starr in the book "Material Dreams: Southern California Through the 1920s.''
The orchestra is celebrating its 100th anniversary this year.
An internet search revealed that the other three were also active in the arts.
Bond wrote several songs, including ''I Love You, Truly" and "Just a-Wearyin' for You," and was later invited to sing for President Theodore Roosevelt at the White House as well a young Enrico Caruso in England.
Her most popular song, "A Perfect Day" had sold 5 million sheet music copies by the early 1920s, according to britannica.com.
Read the April 5 Verdugo Views: For many years, Gollatz Cotillion has taught more than dance lessons »
McGroarty wrote for the Los Angeles Times for more than 40 years and also wrote the "Mission Play," a three-hour portrayal of the California missions, which ran for 20 years, as noted on the McGroarty website. He made many appearances in Glendale.
McIntosh was an actor on stage and then in silent films. He was known for his role as "Squire Bartlett, who banished the character played by Lillian Gish from his home and into the cold Maine winter in D.W. Griffith's classic film, "Way Down East (1920)," according to Wikipedia.
Dixon provided me with information from Behymer's biography, "Starlit Trails," written by her great-grandmother, Menetta.
L.E. and Menetta Behymer and his wife came to Los Angeles in 1886. He worked for a lumber company and did odd jobs at local theaters and at the opera house in the evenings.
His uncle was a Shakespearean actor, and Behymer was drawn to the theater.
Through his connections, he began presenting "well known artists, lecturers and musicians, including Edwin Booth, Sarah Bernhardt, Enrico Caruso, Sir Harry Lauder, Paderewski, Heifetz, Yehudi Menuhin, Nelson Eddy, Marian Anderson and Lily Pons," according to his biography.
He also brought a new opera, "La Boheme," to Los Angeles in 1897.
Read the March 22 Verdugo Views: Verdugo Views: Military jet crash in 1950s recalled by men who were boys at the time »
The next year, he, along with Harley Hamilton, organized the Los Angeles Symphony.
Twenty years later, Behymer worked with W. A. Clark Jr. to found the Los Angeles Philharmonic Orchestra, which incorporated several members of the Los Angeles Symphony and debuted at the Temple Auditorium in 1919.
Behymer managed the orchestra for its first five years, then began presenting individual artists, along with opera and ballet companies. He helped create the Hollywood Bowl, which opened in 1922.
Behymer celebrated his 50th year in Los Angeles in 1936 at the Philharmonic Building in Los Angeles.
Manchester Boddy, who lived on an estate now known as Descanso Gardens, made a donation toward this program, Dixon wrote in her email.
"My grandfather (Behymer's son-in-law), was a pediatrician and was the doctor for the Boddy children. He asked Mrs. Boddy to help him establish the first women's guild to support the California Hospital in Los Angeles. Those two families were socially familiar with each other," she wrote.
In 1942, the Breakfast Club again honored the foursome. This time, they were celebrating their 80th birthdays. But Burr McIntosh wasn't there; he had passed away a few weeks before.
Read the March 8 Verdugo Views: Article about ostrich farms sparks memories for two women »
The audience expressed the gratitude of all the "millions of persons who they had endeared themselves to over the course of their lives," according to an article in the Los Angeles Times, Aug. 20, 1942, which included quotes from the remaining three.
"I think 80 years is the ideal time of life," McGroarty said. "We get rid of a lot of foolishness that we pick up on the road. We learn to be more tolerant and pick less flaws."
Bond said, "At 80 years of age, the things we prize most are the friends we have made over the years."
Behymer, the youngest of the three, added, "We belong to the privileged classes because we are privileged to be 80 years of age. Now, for the future, we are asking only one thing, and that is to be helpful."
As the last surviving member of the "1862 Club," Behymer made a concerted effort to be at the Breakfast Club in November 1947 to pay tribute to his friends.
He was hospitalized soon after, and his family gathered at his bedside.
"It was there that my mother introduced her fiancé to her grandfather,'' Dixon wrote. "My parents were married on Nov. 27, 1947.''
Dixon's great-grandfather died several days later, "after serving the city of Los Angeles for 50 years in many cultural arenas, especially music."
Katherine Yamada can be reached at katherineyamada@gmail.com. or by mail at Verdugo Views, c/o Glendale News-Press, 453 S. Spring St., Suite 308, Los Angeles, CA 90013. Please include your name, address and phone number.
---