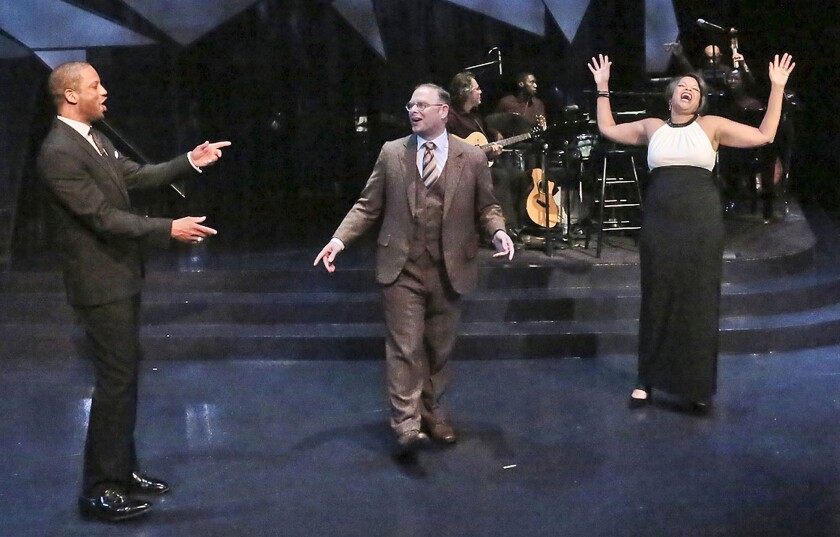 Ira Gershwin, older brother of celebrated composer George, wasn't one for the limelight, despite his Pulitzer Prize-winning, decades-long success as one of the pillars of the great American Songbook.
In "Words By Ira Gershwin," a play with music by Joseph Vass at the Colony Theatre in Burbank, the man whose vast catalog of standards includes "Embraceable You," "I Got Rhythm," "'S Wonderful" and hundreds more, is front and center.
The result is a double pleasure: an intimate theatrical experience and a highly entertaining celebration of song. Directed by David Ellenstein, it avoids the emotional remove of biographical narrative through deft crafting, a sterling cast and band, and memorable performances of songs that Ira wrote with his brother, and with Jerome Kern, Kurt Weill, Vernon Duke and Harold Arlen. (The show first launched at North Coast Repertory Theatre where Ellenstein is artistic director; this is its Los Angeles premiere.)
If Jake Broder's Ira simply told personal stories and introduced the show's host of songs ("Fascinating Rhythm," "My Ship," "Saga of Jenny," "A Foggy Day," "Let's Call the Whole Thing Off," "Love Walked In" and 20 more), performed by impressive vocal talents Angela Teek as the Chanteuse and Elijah Rock as the Crooner (and including many rarely heard song intros), the show would be worth the price of admission.
Yes, we get archival images and anecdotes. (How, not wanting to impose upon his already famous brother, Ira began his career under the name Arthur Francis; how he won the first Pulitzer to be awarded to a musical for "Of Thee I Sing," but had to be persuaded to accept it because the award didn't include George, the show's composer; how "It Ain't Necessarily So" became a protest song for Nazi-occupied Denmark).
But playwright and musical arranger Vass (creator of "The Soul of Gershwin: The Musical Journey of an American Klezmer") and director Ellenstein have much more in mind here.
Broder, who originated the role of Louis Prima in the award-winning "Louis & Keely Live at the Sahara," embodies Vass' characterization of Ira Gershwin — self-deprecating, but assured in his craft; thoughtful observer and quiet wit — to such an extent that he himself soon disappears.
The intimacy engendered by this transformative performance is further deepened by the chemistry apparent on stage. The singers and Broder interact in character with believable warmth and respect. Rock jokingly questions one of Ira's lyrics with a raised eyebrow. Teek touches his shoulder as she sings. The pair coax Ira into joining them in a few of his numbers, too, most notably "Quartet Erotica," a bit of literary naughtiness that brings the band into the act; and a competitive round of "Tchaikovsky (And Other Russians)," the comic patter song listing Russian composers at breakneck speed, made famous by Danny Kaye in Kurt Weill's "Lady in the Dark."
Broder's solo rendition of "Shall We Dance," his clear, quiet tenor in perfect harmony with Terry Wollman on acoustic guitar, is a highlight among the show's many highlight moments.
The exceptional band, led by pianist and noted jazz artist Kevin Toney, the play's musical director, also includes Greg Webster (drums) and John B. Williams (bass). Each is spotlighted during the show. (Vass performs George Gershwin's recorded piano music heard during the show.)
Ira, a voracious reader and a poet, who soaked up classic literature and colloquial slang, offers his thoughts on lyric writing, too; and the show is interwoven with his observations of the evolution of a love song, from yearning for romance ("My Ship") and love requited ("'S Wonderful") to "The Man That Got Away," the ultimate torch song, a stunning show-stopper here by Teek.
Sleekly gowned by costume designer Dianne K. Graebner, stage and screen veteran Teek is both a formidable belter and a subtle stylist. Baritone Rock (NAACP Theatre Award-winner for his 2014 performance in "Breath and Imagination" at the Colony), with charm to spare, shifts smoothly from crisp jazz phrasings to the operatic "Oh Bess, Oh Where Is My Bess?" and he proves to be a notable tapper in "They All Laughed," a sizzling rhythm match with drummer Webster.
Throughout, Ira's love for the craft of songwriting and his abiding love for his brother are constants.
Drew Dalzell provided the all-important sound design; David Potts' two-tiered set — glossy black floor, broad shallow stairs, Ira's leather armchair and brass lamp at one side; the band onstage at the other — overhung with Orlando de la Paz's geometric cut-outs and complemented by Jared A. Sayeg's lighting, strikes the right note of elegant simplicity.
--
What: "Words By Ira Gershwin"
Where: Colony Theatre, 555 N. Third Street (at Cypress), adjacent to the Burbank Town Center Mall
When: 8 p.m. Thursday through Friday; 3 and 8 p.m. Saturday; 2 p.m. Sunday. Post-show Q&A, May 7. Ends May 17.
Tickets: $20 to $49.
More information: (818) 558-7000, Ext. 15, www.colonytheatre.org.
--
LYNNE HEFFLEY writes about theater and culture for Marquee.
---