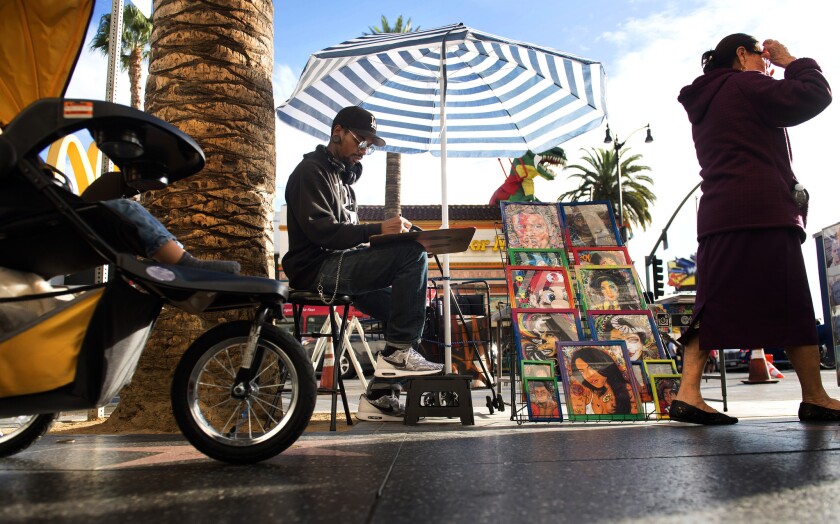 Glendale officials introduced a comprehensive ordinance last Tuesday, detailing how those serving up hot dogs and selling light-up hats on local sidewalks can lawfully do business in the city.
Poised for adoption, it will prohibit sidewalk vending in some of the city's busiest areas.
Officials intend to vote on the proposed ordinance next Tuesday, with the hope of having it in place by the holiday season, when a modest influx of vendors is expected.
The move follows a state law that went into effect Jan. 1, preventing cities from banning or criminalizing sidewalk vending, also called street vending. The Safe Sidewalk Vending Act, or SB 946, does allow cities and counties to enact some local regulations.
If the Glendale ordinance is approved, vendors would be allowed to operate between 6 a.m. and 2 a.m. in commercial areas and from dawn to dusk in residential areas. There would be certain "no vend zones," including several districts in downtown Glendale, portions of Brand Boulevard and Central Avenue, the heart of the Montrose shopping area, Adams Square and Kenneth Village.
Vendors would have to stay 500 feet away from farmer's markets and special events; 200 feet from playgrounds and police stations; 100 feet from each other; 15 feet away from bus stops and business entrances; and 3 feet away from display windows.
Under the proposed ordinance, they would also have to pay an annual permit fee, submit to background checks, buy liability insurance, pay taxes and display a valid health permit from L.A. County if they sell food.
"This ordinance will do the job in severely restricting those vendors' ability to earn a living," Councilman Frank Quintero said. Despite his strong words, he said he would support the ordinance if the proposed liability insurance policy requirement of $2 million was eliminated or lowered.
"Part of being an entrepreneur, starting a business, is the cost that comes with it," said Councilman Vartan Gharpetian, adding that he would be comfortable with a lower policy requirement but not dropping it altogether.
Council members tentatively agreed to require a $200,000 liability policy.
"The overall body of work is extremely well done, and I'm glad that it was expedited," Marco Li Mandri, president of the Downtown Glendale Assn., told council members at last week's meeting.
Leaders of the local business association urged the council in late October to have rules in place by the peak holiday season, when an uptick in sidewalk-vending activity is expected.
Introduced as an emergency ordinance, the rules would go into effect immediately if approved by four-fifths of the City Council.
Lyric Kelkar, a policy analyst and Glendale resident, encouraged council members to reconsider what she viewed as the most restrictive aspects of the proposed ordinance, including an entreaty to remove background checks, as well as lower the required distance between vendors and the annual permit cost.
"Restricting them in unnecessary ways is harmful to the program overall and creates further barriers to economic mobility generally," said Kelkar, who has worked on the city of Los Angeles' sidewalk-vending regulations.
City Council members agreed that the staff-recommended $595 annual permit fee seemed too high, and directed staff to lower it to $295.
Processing the permit applications will cost nearly $600, according to City Atty. Mike Garcia. Under the lower fee, the process would be operating at a loss.
A fee schedule for violating the permitting requirements and operating without a permit is built into the state law, Garcia said during a previous meeting. Those cited can request a fine reduction or alternative punishment if they can prove they are significantly under the federal poverty level.
Glendale's sidewalk vending ordinance hasn't drawn the impassioned debate that similar regulations have stirred in other cities, including Los Angeles and Santa Monica, where vending is frequently a part of the local cultural fabric.
It could be because there are only a handful of known vendors currently operating in Glendale.
Quintero said that with minimal vending activity occurring with no regulations in place, "I just don't believe there are going to be hoards of vendors coming to Glendale in the future."
---