Glendale Community College tennis player Jennifer Goldsbury dies in auto collision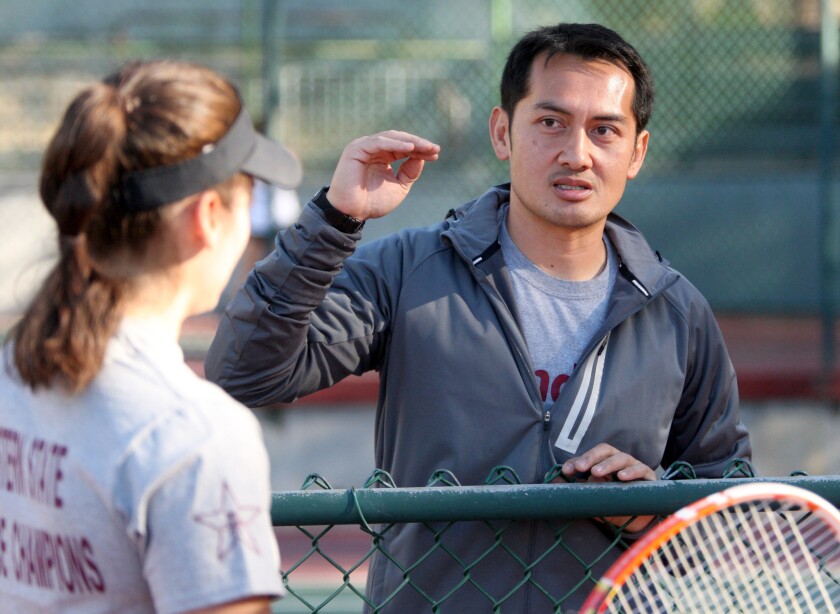 Glendale Community College women's tennis player Jennifer Goldsbury was killed, and two members of the squad were injured, including head coach Deomarlee Sy, in a five-car collision Sunday morning in Duarte.
While a California Highway Patrol report lists a 21-year-old victim as "Jane Doe," Goldsbury's parents — Mack and Janet — have identified their child through social-media posts.
"My youngest daughter was killed in a car accident today in Los Angeles," wrote Mack Goldsbury, a professional saxophone player, who was believed to be on tour in Germany.
"I'm getting ready to fly tomorrow back home and be with my wife … It's a very sad time," he added.
California Highway Patrol officers had little to add to a report issued Sunday afternoon.
At approximately 2:45 a.m. that day, Goldsbury was a passenger, along with teammate Maria Villegas Avila, in a 2016 Toyota Highlander driven by Sy.
According to a CHP report, Sy's Highlander was traveling westbound on the 210 Freeway, east of Buena Vista Street in Duarte, when it smashed into an abandoned black Ford Fusion.
It's believed the Ford Fusion earlier collided with a metal-and-wood guard rail and blocked the far right lane on the 210 Freeway a couple of minutes before Sy's vehicle drove onto the scene.
The stalled vehicle and its debris caused four cars, including Sy's, to collide. Five people were injured, while Goldsbury was pronounced dead at the scene by Los Angeles County Fire officials.
Sy is believed to be the only person hospitalized with serious, but non-life-threatening, injuries. He was taken to Pomona Valley Hospital and no update on his condition was available.
All other injuries were relatively minor, according to a CHP report.
The fatality comes as Glendale Community College is wrapping up its fall semester on Wednesday. The women's tennis season is set to start on Jan. 28.
School officials circulated an email to teachers and staffers on Monday stating that grief counselors were available on campus. The counselors were available to students as well.
Due to privacy concerns, school officials did not provide a comment about the incident.
A member of the Glendale Community College women's tennis team who did not want to be identified said the players contacted Sy early Sunday morning for a ride because they didn't have enough money for ride-sharing services.
One individual involved in the collision was arrested on suspicion of driving under the influence. However, it's uncertain if the driver's state played a role in the crash.
The death of Jennifer Goldsbury, a native of El Paso, Texas, has had an impact beyond Glendale Community College as her mother is a sixth-grade teacher at Roosevelt Middle School.
"All of the condolences have been helpful," Janet Goldsbury wrote on a Facebook post on Monday. "I've read them all many times over."
She added, "Yesterday, I was in shock, mostly felt anger. Today, I feel more pain and sadness."
Roosevelt Middle School officials established a GoFundMe account to help with funeral arrangements.
"We would like to give back to her by helping ease the financial component for this devastating tragedy by assisting with funeral costs," stated the GoFundMe fundraising message, co-written by Roosevelt principal Kyle Bruich. "No amount is too small, and we are sure that she is grateful for whatever assistance can be provided."
---