Glendale's schools, parks could become 'non-preferred' zones for 5G devices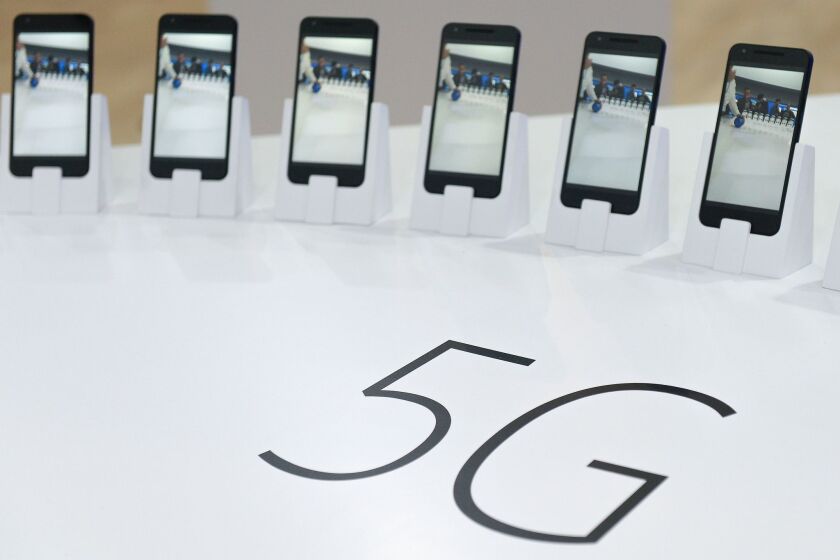 Glendale officials are taking steps to update local rules on how telecommunication companies can bring the faster cellular network known as 5G to places with a large number of children.
Schools and parks may be added to Glendale's list of non-preferred zones for small-cell wireless towers that enable cellphones to tap into the network, following direction from the Glendale City Council earlier this week.
Residential areas are already considered non-preferred zones.
"I don't know what the effects will or will not be, but I can't just sit back and do nothing," said Councilman Vartan Gharpetian, referring to the impact of the potential changes to the rules.
He led the push to consider the changes during a council meeting on Tuesday evening, and ultimately received unanimous support from fellow council members.
In August, the city's Public Works Department approved 23 permits sought by AT&T for small-cell wireless towers that would be installed in residential areas around the city, including near several schools. One site has been appealed.
At the time, AT&T representative Adrian Culici said the company's current networks are at capacity and need to expand to accommodate demand.
Gharpetian said he worries about the potential negative health effects of the radio-frequency energy the towers emit.
It was a concern echoed by several residents from Glendale and nearby cities at the meeting on Tuesday, where a report on the city's ability to regulate the installation of towers was presented.
Since 1996, the Federal Communications Commission has required that all wireless communication devices sold in the United States meet its minimum guidelines for safe human exposure to radio-frequency energy.
"Some health and safety interest groups have interpreted certain reports to suggest that wireless-device use may be linked to cancer and other illnesses, posing potentially greater risks for children than adults," the FCC reports on its website.
"While these assertions have gained increased public attention, currently no scientific evidence establishes a causal link between wireless-device use and cancer or other illnesses," according to the website.
Federal law does not allow cities to outright ban the devices. Cities can impose certain aesthetic guidelines and fees but can't prevent their installation based on health concerns, according to City Atty. Mike Garcia.
It's unclear how much of an impact the recently proposed changes to Glendale's rules will have on the abilities of telecom companies to install 5G infrastructure within the city.
Designation as a non-preferred zone means that companies interested in installing the technology in those areas need to show why it can't be installed somewhere else, like a commercial or industrial zone, Garcia said.
It triggers additional requirements, such as a public hearing, he added.
"We don't want to give people the impression that [the devices are] going to be banned within so many feet of a school or park," Garcia said. "It's an additional layer of review."
Kristine Nam, spokeswoman for the Glendale Unified School District, said it was "a step in the right direction."
When it came to light this past summer that AT&T would be installing several devices within 500 feet of some local schools, school officials submitted a letter of opposition, Nam said.
Several area residents said they would like to see officials go further in limiting 5G infrastructure within the city.
Ara Manoogian called the proposed changes "a waste of time," because they indirectly acknowledge the FCC's authority.
The FCC declined to comment on the city's recent action through a spokesperson.
Glendale resident Tony Passarella said "It was the obvious thing to do" but also hoped city officials would go further.
"When it comes to health and safety, that's paramount, and when it comes to the kids especially," Passarella said. "They're the most vulnerable population in the city — or anywhere for that matter."
While Mayor Ara Najarian ended up voting to look into the changes proposed by Gharpetian, which were strongly supported by Councilman Frank Quintero, Najarian suggested that only federal representatives can effect real change in this area.
"If they want to make a feel-good motion … I'm not going to get in their way," Najarian said. "Still, I am very certain that our motion is meaningless in terms of getting results."
---