Incumbent Vartan Gharpetian poised to lose his City Council seat, voting results suggest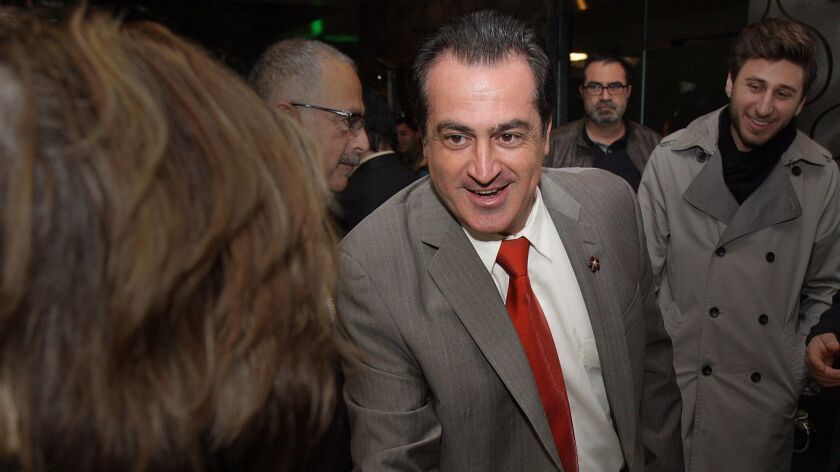 The Glendale City Council may be in for a shakeup, with a pair of first-time council candidates poised to capture seats on the dais, based on voting results on Wednesday night.
Incumbent Paula Devine led the race, with 23.04% of the votes, based on a majority of voting-center ballots and mail-in ballots.
Candidates Ardy Kassakhian and Dan Brotman followed, polling at 18.68% and 17.89%, respectively. Incumbent Vartan Gharpetian, first elected to the council in 2005, was edged out of the top three, capturing 12.56% of the vote.
"It's encouraging to see that the community responded to our positive message of bringing transparency and accountability to City Hall," said Kassakhian, who has served as Glendale's elected city clerk since 2005.
Brotman, an economics professor, has never held a political office. One of the co-founders of the Glendale Environmental Coalition, his journey into politics began after the group successfully pushed for a greener plan for rebuilding the local power plant.
"It's clear the people of Glendale want deep changes," Brotman said in a statement. "I'm encouraged by the results, so far, and hope to be part of making Glendale second to none."
Devine and Gharpetian did not immediately respond to requests for comment.
Three seats are up for for election. Eight candidates, including incumbents Devine and Gharpetian, threw in their bids.
Councilman Frank Quintero, who is not seeking reelection, was appointed by council members in June to fill a vacated seat.
Just before 8 p.m. on election night Tuesday, a line of several dozen people still stretched outside a polling center located inside the Glendale Police Department headquarters.
Poll workers assured them that they would have the opportunity to cast their ballot as long as they were in the line before 8 p.m. — when vote centers across L.A. County were slated to close.
However, many were held open past that deadline due to lines of voters seeking to cast their ballots.
Longtime resident Michael Phillips said he voted for Devine, first elected to the council in 2014, in part because of her voting record.
"I think she has the best interests of Glendale in mind," Phillips said outside a polling station.
Beth Brooks said she cast her votes for Dan Brotman, Leonard Manoukian and Greg Astorian.
"I would never vote for the incumbents because they've basically ruined Glendale," said Brooks, citing what she perceived as a disregard for the city's renters and ineffectiveness with dealing with the homelessness crisis.
Susan Wolfson, a retired accountant, is polling fifth among the candidates, with 11.81% of the vote. Astorian, a planning commissioner and business owner, is in sixth place (7.76%) and Manoukian, an attorney and former planning commissioner follows in seventh (4.69%). William Keshishyan is trailing last with 3.57% of the vote.
---