Portantino introduces bill to mandate dyslexia screening in elementary schools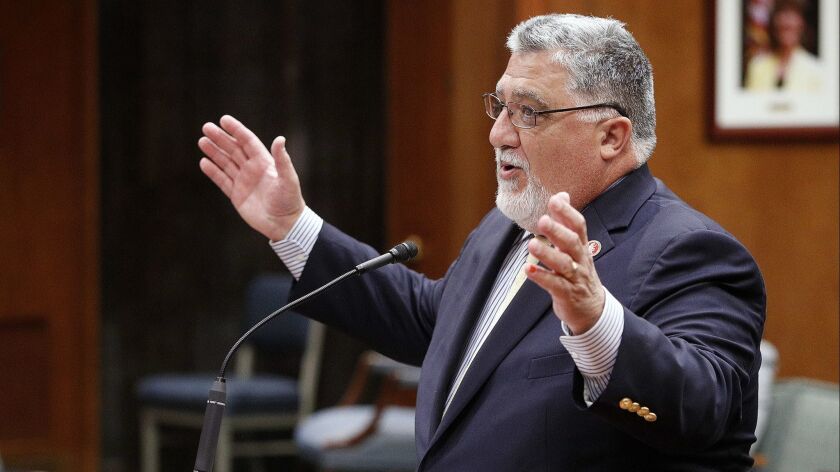 State Sen. Anthony Portantino (D-La Cañada Flintridge) wants students who have dyslexia to be diagnosed at an early age and introduced a bill in February to achieve that goal.
Senate Bill 1174 would require the State Board of Education to select an assessment to screen students for the learning disorder between kindergarten and the second grade.
Only 5% of people with dyslexia are aware they have it due to inadequate screening, according to a news release from Portantino's office, and the learning disorder is higher among those who are incarcerated.
In a phone interview, Portantino said a standard for testing dyslexia in schools doesn't exist. Often teachers recognize that a student is struggling in the classroom and will let parents know. While affluent families could provide specialized doctors and private intervention, the bill addresses the needs of socioeconomically disadvantaged families.
"Parents will try to do everything they can for their kids. Most insurance doesn't cover a lot of these things," Portantino said.
"There are families who have the ability to move on the diagnosis and treatment and there are families that can't afford to do it or don't have a school that's set up to diagnose it. It creates challenges, so let's just level the playing field with early intervention," he added.
The issue is personal for the senator, as he said he struggles with dyslexia, ADHD and cross dominance, a motor skill disability. He recalls when he first ran for state Assembly in 2005 being counseled not to talk about his learning disabilities because the public might hold it against him.
"Now people are recognizing that a learning disability is not a sign of unintelligence. It's a disability of processing information," Portantino said.
He added that Gov. Gavin Newsom's outspokenness about his own dyslexia gave Portantino the confidence to talk about it. He hopes the bill will improve test scores and graduation rates.
Burbank Unified currently uses targeted teaching programs to monitor students and provide reading support services based on their individual needs.
In an email, Burbank Supt. Matt Hill said if students in his district don't find the support effective they are referred to a special education assessment and can be found eligible for support under the category of specific learning disability, which includes accommodations like audio books.
Although Glendale Unified didn't return a request for comment on services available to students with dyslexia by press deadline, the district's website describes a similar process to identify whether a student qualifies for special education support under the specific learning disability category.
---