After 73 years of family ownership and operation, the operator of the Glendale Centre Theatre hopes someone else can take over the reins.
In late July, Brenda Dietlein, who took over operations in early 2018, listed the quaint 380-seat venue with its distinctive brick facade at 324 N. Orange St. with CBRE.
Last month, Scott Goshorn of Rodeo Realty took over the listing and held an inaugural open house last week.
For just shy of $7 million, a prospective owner could take over the two-story vintage theater, as well as the theater business and nonprofit, costume shop and 370 parking spaces. The lot spans 7,786 square feet, with a total of 13,200 square feet of rentable space, according to the listing.
The property by itself carries a $5.2-million price tag.
"I'm trying to keep it open as a theater, but it's too much for a single mom," Brenda Dietlein said. "I've taken it to the level I'm capable of."
Dietlein, who married into the family that launched the family-friendly theater in 1947, said her strong preference is for the show to go on. Brenda Dietlein and Tim Dietlein, grandson of the founders, have since divorced.
Dietlein said she'd even help the new proprietor plan out the next performance season.
"I have a great season in mind for next year," Dietlein added. "Worst-case scenario, someone wants to turn it into a law office, and then obviously I don't need a season next year."
Founders Ruth and Nathan Hale moved to Glendale from Salt Lake City in 1943 with the aspiration of becoming actors.
They took the fate of their career into their own hands and launched what was then known as the Hale Centre Theatre in 1947. The theater is often billed as the longest-running center-stage theater in the country.
According to Brenda Dietlein, Ruth Hale wanted Dietlein's son, Travis, who is now 18, to one day inherit the family theater.
"She grabbed me and said, 'You make sure you safeguard the theater for that little boy,'" Dietlein said.
That was before Dietlein's other son, James, now 13, was born. Dietlein said she's sure if Ruth lived to meet James, she would have wanted both boys to have a share. They're both technically the owners, she said.
However, neither son is ready to take over the theater at this point. James is too young, and Travis, still a senior in high school, hasn't signed on for the commitment.
"I don't want to be one of those matriarchs that force their children into a family business that they don't really have a passion for," Dietlein said.
Listing agent Goshorn, a former actor, said he's invested in finding an owner who will continue to run the business.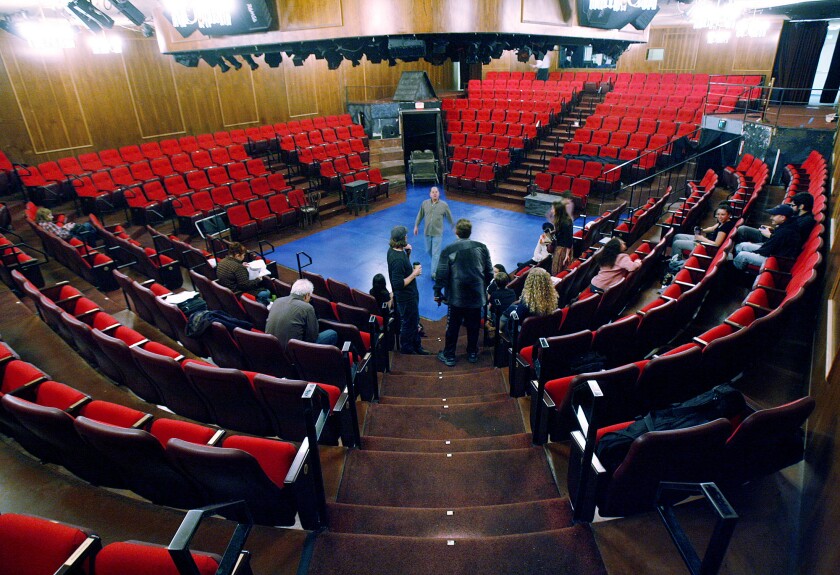 In service of that aspiration, he's launched the website preservethetradition.com for the listing, couching the sale as "a rare opportunity to own a piece of Los Angeles history."
A recent Facebook post by Goshurn advertising the listing garnered more than 100 shares, 97 comments and more than 150 reactions — including likes, wows and sad faces.
Several Facebook users voiced concern that the sale signaled the end of the theater's long run.
Others reminisced fondly about the theater that's served as a neighborhood staple for multiple generations.
"The whole goal is to try to find someone to pass the torch to," Goshorn said.
There's no timeline for the sale, Dietlein said, adding that she'd prefer to hold out for the right owner.
If the theater business is not fated to live on, Dietlein said she would like to close out the run with a production of "A Christmas Carol."
This December would mark the theater's 55th consecutive year producing the holiday classic.
The theater's production schedule has currently been halted due to city-mandated closures across several industries meant to decrease the spread of the novel coronavirus.
Goshorn said the virus precautions have not affected his ability to show the theater to small groups of interested buyers.
According to Dietlein, it was not financial troubles — neither from the forced closure nor previous sales — that prompted the sale.
---