Museum of Neon Arts' new director works to electrify attendees from a distance
Taking over a museum at any time is sure to bring a dizzying combination of excitement and stress. There are big plans and shoes to fill, as the torch of a cultural institution is passed.
Seizing the reins during a global pandemic, when doors are shut and endowments stretched — as Corrie Siegel has done at Glendale's Museum of Neon Art, or MONA, this month — has required a complete rethinking of the function of a museum.
"The heart of museums, at least the way I see it, is people gathering together and using objects to connect to stories each person brings into the space," said Siegel, who is an artist, educator and curator.
"This crisis is having us rethink what it means to be together and rethink what it means to connect," she added.
Former executive director Kim Koga stepped down this past July after 20 years at the helm of the museum that bills itself as the only one in the world devoted solely to electric media.
The building is hard to miss on Brand Boulevard — it's the one topped with an enormous sign depicting a female swimmer in mid-swan dive lit up in red and white neon.
In some ways, MONA is uniquely positioned for export. After all, neon signs, the heart of the museum's collection, can be found throughout the urban environs. The applicability of the art outside the museum attracted Siegel, a San Fernando Valley native, even before the pandemic drove the point home.
Right now, the city is developing a self-guided tour of Glendale's neon signage. It will include a gander at the Alex Theatre's historic sign, as well as a trip across the street to Damon's, which is serving up takeout tiki cocktails under its neon signs.
"You can't go see a Van Gogh on the street anywhere. We have the lucky grace that there's history and neon all around us," said Siegel, who was primarily raised in Northridge but spent significant time in Glendale as a kid.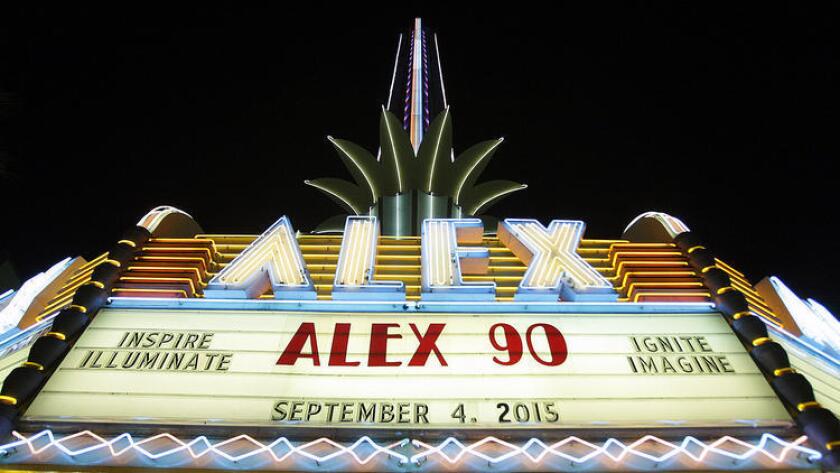 Siegel is a founding member and director of Actual Size Los Angeles, an artist collective and gallery, and has worked in museum education and administration at the Los Angeles County Museum of Art, the L.A. Philharmonic, Armory Center for The Arts, Norton Simon Museum, Fowler Museum and Corita Art Center.
The museum veteran said she was brought to tears by a 1930s sign from a rug store founded by Armenian refugees in Pasadena and a 1950s sign that once adorned a Jewish deli in Glendale — both of which are in the museum's permanent collection.
"There's such an amazing selection of hopeful stories, of people who came to the U.S. with only a dream, and created a beacon for the world," said Siegel, who is Jewish and added that there are also signs representing Japanese, Lebanese, Chinese and other minorities that helped define Los Angeles.
Echoing responses from other shuttered museums around the world, MONA is also beefing up virtual offerings to bring neon and kinetic art to people's homes and devices.
Artists have begun "taking over" the museum's Instagram account to walk viewers through the creation of pieces of neon artwork from start to finish.
L.A.-based artist Dani Bonnet created a literally electrified face mask from neon this past weekend.
The topical project was undertaken to "promote wearing a face mask anytime that you're out in public," Bonnet said in the first story update.
Throughout the updates, she shows the process of designing a pattern, heating up glass tubes, electrifying them, filling them with Argon gas and painting them. (Pro tip: don't try it at home!)
This coming Saturday, beginning at noon, fellow neon artist Alleson Buchanan will helm the takeover.
While Siegel creatively meets the moment, she said she's still looking toward a tomorrow when people can once again gather at the museum, which is currently selling gift cards and future guided tours. Siegel is also in discussions to potentially create an on-site residency for neon artists.
As Siegel put it, "something to look forward to after the shutdown."
So far, the museum has been able to keep its small full-time staff of six, including Siegel.
With a relatively small endowment, that won't be possible to do without income indefinitely, Siegel said.
---