Caltrans wants to abandon cliff-hanging Highway 39 in ANF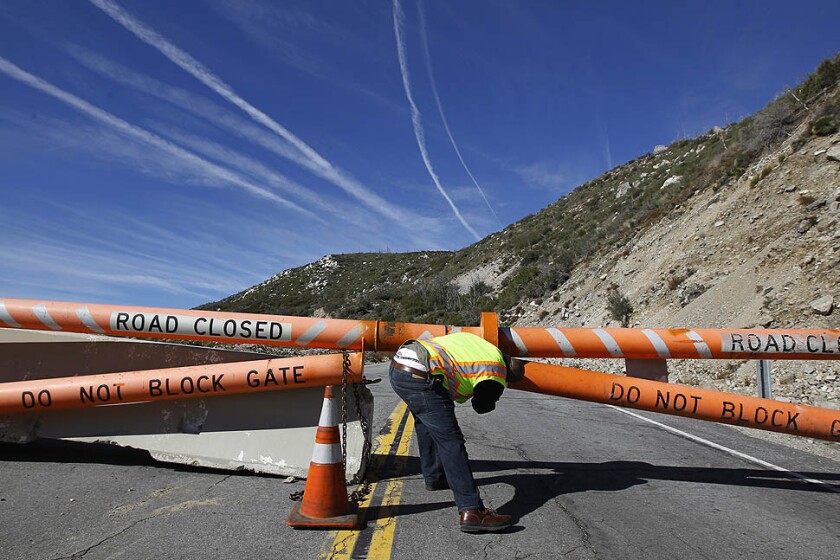 In a standoff with federal forest officials, California Department of Transportation" href="https://www.latimes.com/topic/travel/commuting/california-department-of-transportation-ORGOV000279.topic">Caltrans is proposing to abandon a popular, cliff-hanging highway in the San Gabriel Mountains because it is too expensive to maintain.
Caltrans' proposal to walk away from California Highway 39, enjoyed by an estimated 3 million people a year, comes as the state struggles to close a $9.2-billion budget shortfall.
To avoid closure, Caltrans is trying to persuade the U.S. Forest Service or Los Angeles County to take over the roadway, which runs 27 miles from the city of Azusa nearly to the crest of the San Gabriels. Neither agency wants it.
"So far, they have gracefully declined to take on this responsibility, and Caltrans is stuck with the costs," said Ronald J. Kosinski, Caltrans' deputy district director for environmental planning. "I hope people don't start digging in their heels over this matter."
L.A. County needs the highway to access three dams critical to flood control. But Tony Bell, spokesman for county Supervisor Michael Antonovich, whose district includes the San Gabriels, said the county has no desire to assume responsibility. "Why would it?" he asked.
-- Louis Sahagun, Los Angeles Times
Photo: Angeles National Forest — A Caltrans employee unlocks a gate blocking access to a section of Highway 39 that has been closed for 30 years. Credit: Robert Gauthier, Los Angeles Times / January 24, 2012
---