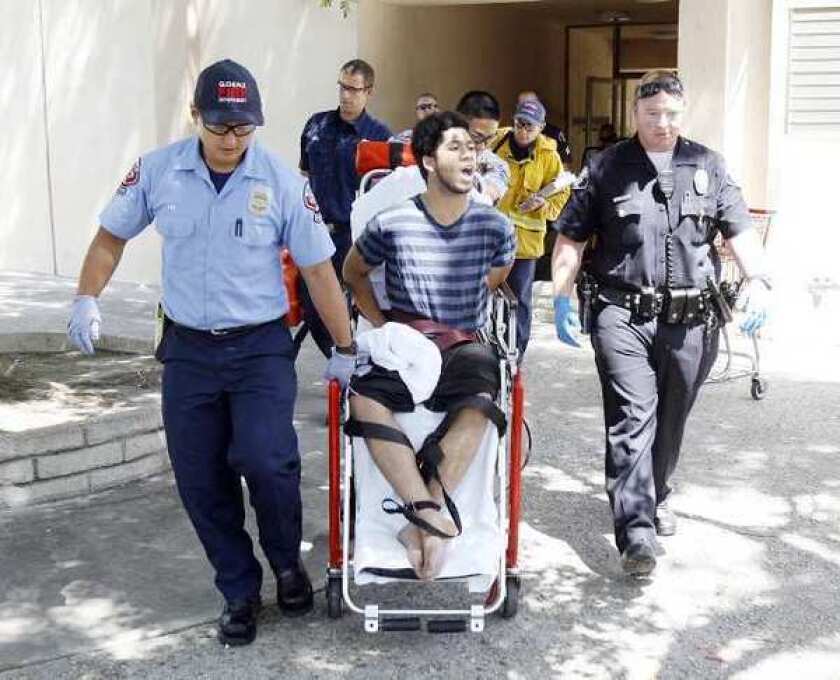 A 20-year-old man was arrested Thursday after he struck an elderly woman with a shovel and then barricaded himself inside his apartment, police said. It took a rubber bullet and Taser before officers were finally able to subdue him.
The man, Robert William White of Glendale, sat handcuffed in a chair yelling "God loves all you" several times to bystanders as paramedics carried him out of his apartment building in the 1000 block of Spazier Avenue in Glendale and transported him to a nearby hospital. He admitted to police that he had been drinking soda with bath salts in it.
"He seemed completely out of sorts," said Northwest Glendale Police Lt. Bruce Fox.
White barricaded himself inside his apartment for nearly an hour until police opened his front door using a key and walked inside to get him, Fox said.
Police were initially called to the scene about noon after getting reports that White had tried to kill the woman in a nearby apartment building.
Witnesses told police that the woman, whose age could not immediately be confirmed, had asked White to stop swinging his shovel at birds before he allegedly used it to strike her in the head.
Neighbor Salbi Dgeredzyan said White told the woman, "I hate you and I want to kill you today."
The woman, whose name wasn't released, was taken to a nearby hospital, where she was treated for what police described as non-life-threatening injuries.
White ran to his apartment and barricaded himself inside before police arrived, prompting the nearly hourlong standoff.
Resident Abraham Cabrera said he was inside his home vacuuming when he heard White screaming profanities, threatening to kill someone and breaking glass.
During the incident, police heard White talk about being an alien and being able to speak with Jesus, Fox said.
White was screaming incoherently and "not following orders," he added. He also allegedly swung twice at an officer, but his punches were blocked.
Police shot him with a 40mm rubber bullet in an attempt to get him to comply, but he continued to refuse orders, Fox said. Officers followed up with a Taser, subduing him enough to make the arrest.

---