Brand Library restores earlier chapter of its history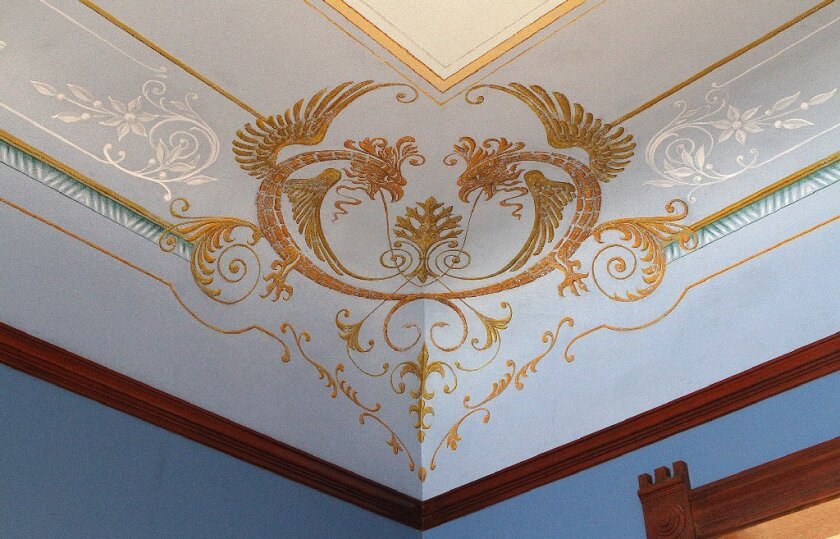 Historic elements of the Brand Library & Arts Center — the bright painted ceilings, elaborate glass windows, a stone fireplace, wooden sliding doors and an intricate art pedestal — that were hidden by modern renovations over more than five decades have been uncovered following an extensive $9.5-million restoration project.
And officials who worked on the two-year construction project now point to the hidden details as proof that they accomplished their original vision for the project: to remind people what it felt like for city patriarch Leslie C. Brand to live in the 1904 mansion.
PHOTOS: Brand Library & Arts Center renovations

"Words cannot express the excitement I feel about being able to bring back this building… to bring back the spirit of Mr. Brand," said Cindy Cleary, Glendale's director of Library, Arts & Culture, during a media tour this week of the library, which reopens to the public on Thursday.
For about a decade, Cleary worked as a librarian in Brand Library, back when shelves crowded every room making it difficult to find a book, and popcorn ceilings hid antique stenciling along the ceilings.
After its face-lift — which took more than 16 years of planning and fundraising — Cleary hopes the library will become a place for both locals and tourists to enjoy. Renting out the space for events such as weddings is also a possibility, she said.
The exterior of the library now has a new entrance near an art gallery as well as a new plaza fit for outdoor music performances — which are already planned for spring and summer.
As for the interior, the architecture firm that worked on the renovation, Los Angeles-based Gruen Associates wanted to bring back the feel of the mansion when it was used as a home, said Debra Gerod, partner at Gruen.
Most of the library shelves have been moved into one room in the 21,000-square-foot cultural center — both for efficiency and to make more room for community spaces that could be used for reading and gathering.
"Everything was white and fluorescent and lined with book shelves," Gerod said.
But no more. The rooms are painted in rich blue, purple and other colors and a mixture of original and recreated lighting brightens the interior.
Gruen designers used the solarium, one of the first rooms visitors see after walking past a new circulation desk area near the entrance, as a baseline for the remaining rooms in the 5,000-square-foot library.
Back when Brand lived there, the solarium was the heart of the house and she wanted to make that room the heart of the library.
Several windows in the solarium had been covered by brick walls over time. During the renovation, those walls were knocked down and replaced by doorways, making it easier to travel from room to room.
Also framed on a wall in the solarium are square cutouts from original murals found in another room of the house. The original ceiling was too weak to remain, but its bright blue colors and images of grapes, dragons and angels were replicated when restoration workers from Pomona-based Spectra Co. repainted the nearby parlor room.
"Every room had popcorn ceilings," sad Reuben Lombardo, a project manager at Spectra. "And to make matters worse, it all contained asbestos."
In addition to bringing back the murals, workers also fixed up wooden sliding doors that had been tucked away in the walls. A stone fireplace that had once been covered by book shelves has also been renovated and an intricate pedestal decorated with Brand's initials was also found during the renovation.
"We kind of took a purist approach," Gerod said.
An audio tour describing the history of the mansion as well as the restoration project is in the works, and library officials are hosting a number of free events to celebrate the library's reopening at 1601 W. Mountain St.
—March 27, 10:30 a.m.: Ribbon-cutting featuring formal city presentations. The facility is set to open to the public at 11 a.m.
—March 29, 7 to 9 p.m.: Gallery reception featuring the work of several artists. Wine and light refreshments will be served.
—March 30, noon to 4 p.m.: Open house featuring live jazz, food trucks, a climbing wall and family-friendly activities.
For information about the reopening or cultural events planned, visit brandlibrary.org or call (818) 548-2042.
--
Follow Brittany Levine on Google+ and on Twitter: @brittanylevine.
RELATED:
---