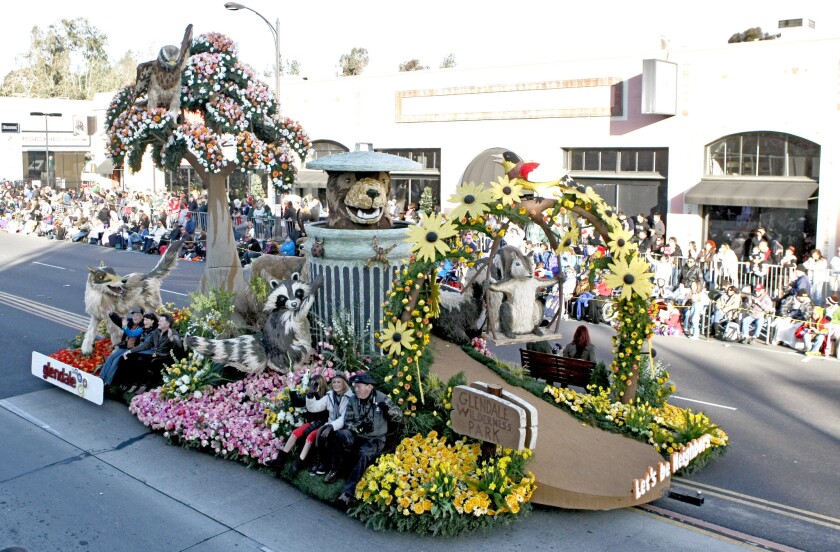 A list of the 39 float entries for the 126th annual Tournament of Roses Parade was released this week, but it was missing one century-long participant — the city of Glendale.
After 100 consecutive years of building floats that make their way through Pasadena streets on New Year's Day, the City Council didn't vote to allocate any funds for a 2015 submission nor were enough donations raised.
Cutting back on float spending — which typically tops well over $100,000 — has been ongoing for several years as city officials worked to emerge from the recession, and this year's budget omitted any money for a Rose Parade float.
At a council meeting in July, Councilman Dave Weaver, who's helmed decoration efforts for decades, made a motion to earmark funding, but failed to get a second.
"I'm a bit bitter, yes," he said in a phone interview on Thursday. "Something that's at least 100 years old should not be swept under."
Weaver said each annual entry recruited the help of about 600 volunteers, including many students who were awarded community-service hours required by their schools.
Now, those students looking to earn hours that way may have to go help cities like Burbank and La Cañada with their floats.
In 2012, corporate sponsors and donors covered roughly half of the $100,000 for that year's float, while Caruso Affiliated and Glendale Adventist Medical Center put up most of the money for the 2013 entry.
This year's float, which featured an animatronic likeness of the famed Glendale bear "Meatball" that used to roam foothill neighborhoods for food, cost $155,000 and was almost entirely paid for by the city.
Outside fundraising for the 2014 float topped out at about $15,000, said Jess Duran, director of community services and parks.
__
FOR THE RECORD: An earlier version of this article incorrectly stated that about $15,000 in donations was raised for a 2015 float. In fact, that figure was for the 2014 float.
__
At the July council meeting, former Councilman Frank Quintero said that establishing a nonprofit arm of the city to carry out fund-raising for a 2015 float should be discussed, but no volunteers came forward to manage it.
Then, the deadline for paying a $5,000 entry fee for the Rose Parade ended up passing by, Duran said.
Despite not voting for funding for a local float in the upcoming Rose Parade, Mayor Zareh Sinanyan said the idea of having one in the future should be revisited.
"I think it must return because we have been a part of the Rose Parade for so long, it is impossible to imagine us disassociating ourselves from this tradition," he said in an email. "I will do my best to make sure next year we are back with our own Glendale float."
--
Arin Mikailian, arin.mikailian@latimes.com
Twitter: @ArinMikailian
---