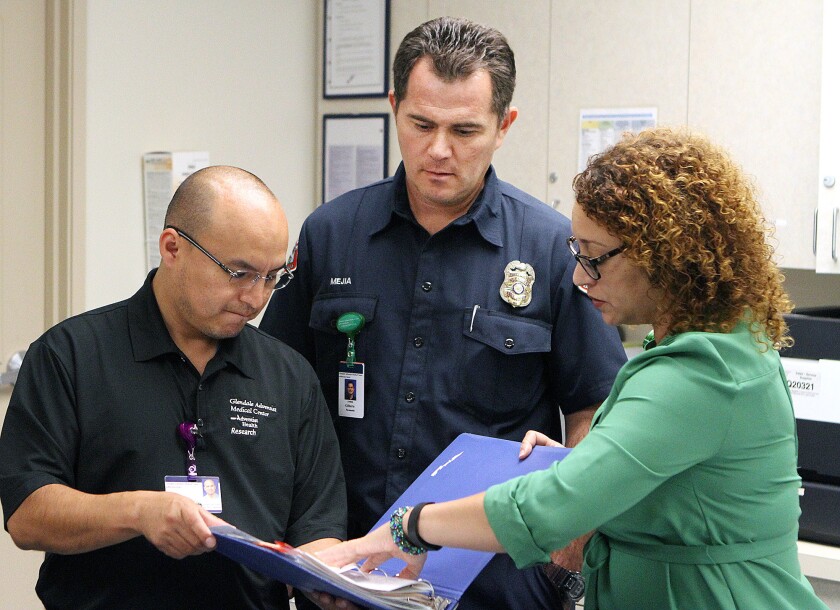 Local hospital officials are hoping two pilot programs kicking off this year will reduce the number of return visits to the emergency room as well as ease the bottleneck in ERs by diverting some patients to local urgent-care centers.
Starting Sept. 15, Glendale Adventist Medical Center and the Glendale Fire Department will be among the few facilities and agencies to start making in-house visits to check up on patients who've been discharged after suffering heart failure.
About 20% of congestive-heart failure patients end up coming back to the hospital within 30 days, said Arby Nahapetian, vice president of medical affairs for Adventist Health in Southern California.
The program was previously tested in Washington, where return visits dropped by half, he said.
The local pilot program will entail one or two fire department paramedics making home visits to discharged patients between 8 a.m. and 5 p.m. to monitor them for any abnormalities, Nahapetian said.
If the patient is a senior, the paramedic can also conduct a safety assessment to make sure there are no tripping hazards and consolidate their medications if they were given additional prescriptions during their initial hospital visit.
"By the time [the patients] get home, there's a medicine cabinet full of other medications that may not be as relevant," Nahapetian said. "The fire department can actually go in there and throw away or sequester medication the patient no longer needs to be on."
Gilberto Mejia — a paramedic who will take on the title of community paramedic and, from now on, be stationed at the hospital — will be among the first to work in the pilot program.
He said most emergency room revisits happen within the first 48 to 72 hours of being discharged. The goal of the in-house visits is to try to do what they can to avoid the need for a trip back to the emergency room and establish a bridge until the next doctor's appointment, Mejia said.
Mejia volunteered for the pilot program and said that as a 911 responder, he only briefly gets a chance to work with patients, so these one- to two-hour visits will allow him to get a look at a patient's lifestyle.
"Now, with this position and this program, it's going to allow us to get more in depth with these patients, which is what drew me to this program," he said.
Heart-failure patients who are being discharged must consent and complete paperwork in order to receive home visits, Mejia said.
By the end of the year, Glendale Adventist, along with Dignity Health Glendale Memorial Hospital, will be testing out the second pilot project, called the "Alternate Transport Program."
Also requiring written consent, this pilot program allows paramedics to ask patients with minor injuries, such as sprains, bumps and bruises, whether they would prefer to be taken an urgent care in Glendale instead of a hospital.
While the patient has the right to still go to an emergency room, heading to an urgent-care facility tends to treat and turn around patients more quickly, Nahapetian said.
"If something can be treated at a lower level of care, at a lower cost and in a faster time frame as opposed to having to wait, why would we not create a system to make that happen?" he said.
Nahapetian said the pilot programs will be carried out for a year or two before results are reviewed.
Participating in the program continues Dignity Health's commitment to "compassionate patient care and safety," which are the hospital's top priorities, according to Jack Ivie, hospital president.
"Every day, we work closely with the Glendale Fire Department to address the health and wellness of our community. We are pleased to reflect one of our core Dignity Health values — collaboration — by participating with Glendale Fire to ensure that patients receive the most appropriate treatment option," Ivie said in a statement.
Both programs are being carried out in collaboration with UCLA and Los Angeles County Emergency Medical Services.
---