Glendale figure skater finds growth, budding stardom, thanks to online classes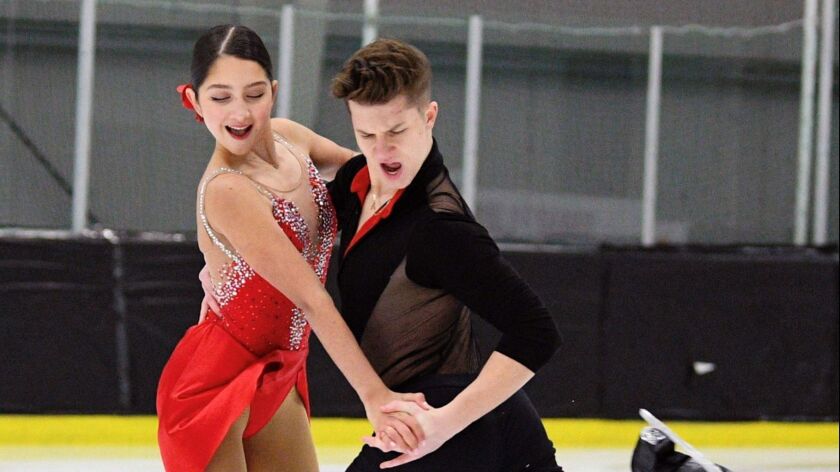 There was a time not long ago when the boundless dreams and aspirations of 17-year-old Glendale native Ella Ales were stunted by classroom-learning realities.
The Olympic hopeful, who advanced to take part in the U.S. Figure Staking Championships in Detroit later this month, progressed in all areas except one.
"I literally did not grow or gain a pound for like two years because I wasn't getting enough sleep," Ella said in a phone interview from where she's training in Michigan. "So we had to make some sort of change."
Ella attended Campbell Hall — a private kindergarten-through-high-school institution in Studio City affiliated with the Episcopal Church — through fourth grade.
Her rigorous days would begin with a 3:15 a.m. wake-up call each school day, followed by two hours of skating practice in Lakewood before a trip back to Studio City for school.
Ella's lack of sleep and body development put her dreams — both the literal and figurative ones — in peril.
Something had to be done.
"Since education is still really important to my family, it was really essential that we had a good alternative," she said.
After a search, Ella's mother, Wendy, and father, John, enrolled her in the California Connections Academy @ Capistrano, a tuition-free, virtual online public K-12 starting in the fifth grade.
"It was honestly scary because I come from a family where you don't do things like that," Ella's mom said. "You go to your regular school, and you're expected to achieve academically. Education was always a big thing in our family."
Ella's classes are now conducted 100% online. Lesson plans will be laid out in advance, and Ella can either study alone or attend virtual classes via Skype and be connected with teachers and fellow students.
"One of the main reasons we switched was because a lot of my skating friends use the same program," Ella said. "You can communicate with each other and my friends, and we would all study for tests together."
Ella added, "It really does incorporate the best aspects of a traditional school … but it allows me to train and sleep and do everything that I need to do to function normally."
At first, Wendy Ales quit her job to become her daughter's teaching assistant. As the years went by, however, Ella needed little help.
"She's just became more and more independent," Ella's mom said. "I do a little proofreading of her papers, but she is doing it all herself."
Ella now begins her days at 6 a.m.
She trains for five to six hours daily during the school week at Lakewood Ice or at the Novi Ice Arena in Novi, Mich., and reserves about five hours daily for school work before heading to bed around 8 p.m.
Ella then catches up on assignments during the weekends.
This semester, the junior's educational workload consists of classes in advanced placement art history, advanced placement English language and composition, honors U.S. and world history and physics.
"She's doing phenomenally in class," physics instructor Joe Bakhos said. "She has a high 'A' and is a very good student. The work that she turns in is of a high quality, and she's very diligent."
One advantage California Connections offered Ella, her mom said, cwas an opportunity for quicker advancement.
"Ella was pretty good at math from the beginning, so they moved her two years ahead, which has served us well," Wendy Ales said. "Last year, she finished pre-calculus and all the required math, which has been good for us because the training schedule has been more rigorous. So we've been able to have fewer classes."
Ella and her skating partner, Daniel Tsarik, will take part in the junior ice dance competition at the figure-skating championships, which will be held from Jan. 18 through 27 at Little Caesars Arena in Detroit.
"That was a good thing that we achieved," Ella said of the pair's qualification for the competition. "But we want, next year, to be able to compete internationally for the United States and then just improve ourselves as a team and hopefully climb up the U.S. rankings."
---