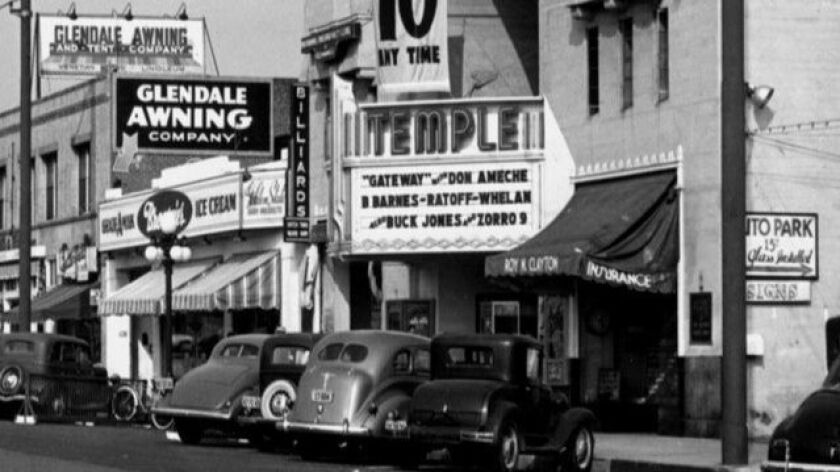 Once upon a time, the Alex Theatre, with its ornate facade and single looming screen, was nothing out of the ordinary.
In the early and mid-20th century, any respectable town of a certain size — from Salt Lake City to Santa Fe — had four or five theaters just like it.
Alex Film Society co-founder Randy Carter says he recalls learning the lore of the grand movie palaces and their popularity from the late entertainer Ann Miller.
Now the 93-year-old Glendale movie palace is one of the last of its kind. And it needs help.
That's why the Alex Film Society, which rents out the eponymous theater for events, is throwing its first fundraiser, "Thanks for the Memories!," this Saturday night, with a little help from its friends at the Glendale Historical Society and Glendale Arts.
Kicking off at 6:30 p.m. with a live jazz performance, the evening will take attendees on a trip down memory lane, when Brand was home to half a dozen movie houses like the Alex.
About an hour after doors open, host Adam Felber (of NPR's "Wait Wait … Don't Tell Me!") will preside over an eclectic program that includes Laurel and Hardy and Donald Duck shorts, newsreels and movie star gossip. Shorts and clips will be punctuated by ample "Gosh, I didn't know that!"-type stories and information about the theater and the luminaries that hung around.
"It's a serious thing, in that it's Glendale's connection to Hollywood," Carter, who is producing the event, said during an interview.
In the 1940s, the Alex was Hollywood's preferred place to preview movies — to gauge the audience response, according to Carter. Celebrities would sometimes join the crowd incognito to see if the crowd laughed at their jokes or teared up during their monologues.
In fact, Elizabeth Taylor hunkered down in the Alex to see a preview of the 1944 horse-racing film "National Velvet," Carter said.
"You might be sitting in her seat!" he exclaimed.
Glendale High grad John Wayne grew up about five blocks from the Alex — and would eventually crash his motorcycle right outside.
But the program won't be all patina and old lace. For color lovers there will be a celebration of a "Seinfeld" episode titled "The Gum," that spoofs the theater and the film society.
Carter, a one-time assistant director for the sitcom, said he told show creator Larry David and star Jerry Seinfeld about co-founding the film society and all the great vintage flicks they would show.
David found it hilarious and wrote an episode where the character Cosmo Kramer becomes involved with a similar film collective at a theater called the Alex, Carter said.
Alex Film Society typically puts on six to eight shows a year, including an annual "Three Stooges" festival around Thanksgiving and a class cartoon mashup around Christmas. All of its members are volunteers.
For tickets and information, visit alexfilmsociety.org.
---