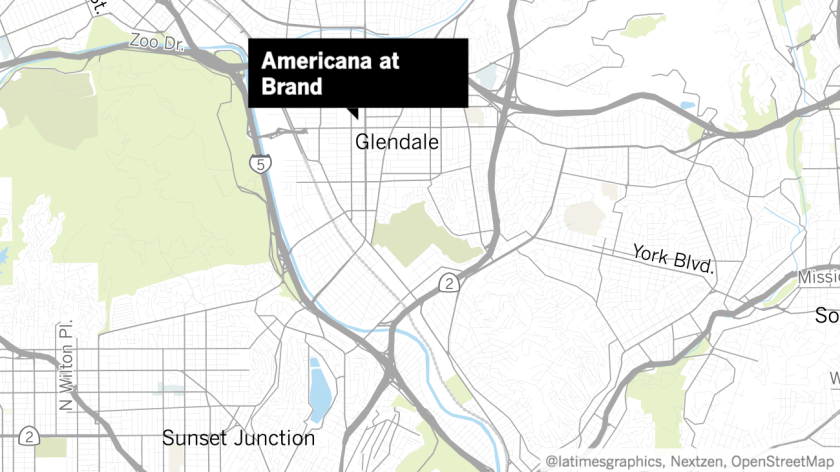 A teenager who died on Tuesday after falling seven stories from a balcony at the Americana at Brand has been identified as Joshua Allende of Los Angeles by coroner's officials.
Allende, 17, landed on a man who was at the outdoor shopping mall with his two children.
The Glendale Police Department responded to the reported suicide attempt around 2:40 p.m. at the mall, where Allende allegedly leaped from the balcony.
Sgt. Dan Suttles, a department spokesman, said the teen landed on a man who was walking below the balcony with his kids, ages 11 and 2.
"It appears to be an attempted suicide, but we're also looking into the possibility that it could be something else," he said.
The teen, who was a student at Eagle Rock Junior Senior High School, according to Suttles, was sent to a nearby hospital to undergo surgery, Suttles said. He later died from his injuries around 5:30 p.m.
Suttles added the father suffered non-life-threatening injuries. His children were uninjured but "shook up."
Rick Caruso, whose company owns the Americana, said in a statement the mall is cooperating with law enforcement in their investigation and "will provide additional information, as appropriate."
"I am heartbroken by this incident, and everyone at Caruso is thinking about and praying for these individuals and their families," he said.
Mylene Keipp, principal at Eagle Rock Junior Senior High School, sent out the following phone message to parents on Wednesday:
"It is with great sadness that we inform you that we were notified of the death of one of our students. We were informed that the incident occurred yesterday, off campus," according to the phone message.
"I want to assure you that we have taken every step necessary to provide our students and staff with the emotional support that is needed during this difficult time. Crisis counselors will be available to speak with students next week as well," she added.
The message also stated that a teen line is available every night from 6 to 10 p.m. at 800-852-8336 and a suicide prevention lifeline is available 24/7 at 800-273-8255.
Lila Seidman contributed to this story.
---
UPDATES:
5:30 p.m.: This article was updated with a statement from Rick Caruso, owner of the Americana.
This article was originally published at 5:05 p.m.
---