Glendale attorney admits to laundering over $500,000 as part of $14-million tax-fraud scam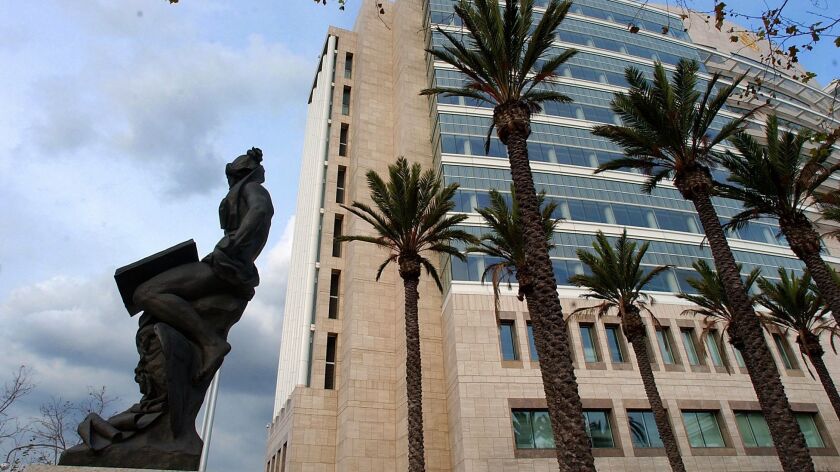 A Glendale attorney admitted in federal court last week to using bank accounts meant for his clients to help launder money as part of a $14-million tax-fraud and identity-theft scam.
Arthur Charchian, 44, pleaded guilty on Dec. 14 to one count of money laundering and one count of making a false statement to the Social Security Administration.
He faces a maximum of 15 years in prison followed by three years on parole, according to a copy of Charchian's plea agreement with the U.S. Attorney's Office.
Prosecutors will argue for a reduced sentence in return for his guilty plea when he is scheduled to reappear in court on Sept. 9 for sentencing, according to federal officials.
His participation in the scam lasted from 2012 to 2015 and involved using trust bank accounts meant to hold funds for his clients to launder around $549,000. At least 16 other people were involved.
Federal officials said the scam included opening hundreds of bank accounts using stolen identities and fake passports for the Republic of Armenia. The accounts were then used to launder money from IRS refunds that were issued based on falsified tax returns.
About 7,000 of the fake returns were sent to the IRS and requested a combined $38 million. The agency ultimately issued roughly $14 million in refunds.
Fake accounts were frozen by the banks, and Charchian was hired to "seek the release of the frozen funds, which [he] did in exchange for a fee of 10% of the frozen funds," according to court documents.
"Specifically, [the] defendant was aware of a high probability that the financial transactions that he was conducting involved criminally-derived property, but he deliberately avoided learning the truth," according to the plea agreement.
Charchian received the checks derived from the scam, deposited them into his clients' accounts and then wrote outgoing checks for the money minus his 10% cut. Authorities said this was done over 15 times by the attorney.
Charchian's lawyer, Mark Werksman, said his client did not know about and never intended to be a part of the money laundering operation when he first became involved.
"He was used by unscrupulous clients," Werksman said. "But … he's liable and accepts full responsibility for what he did, and he's going to do all he can to resolve this case and move on with his life."
In addition to money laundering, federal officials said Charchian admitted to sending a letter to the Social Security Administration on his law firm's letterhead saying a client of his received a settlement check for $51,468 after it was flagged by the federal agency. The check was, in fact, part of the proceeds from the laundering scam and not a settlement.
It was written by Charchian on behalf of a person involved in the scam so they could continue to get Social Security benefits, according to the plea agreement.
Werksman said Charchian's "serious act of poor judgement" should not define him as a person and that he has "done a lot of great things for the community and has been very active in civic affairs" over the years.
Outside of his law practice Charchian also served on Glendale's design review board, having first been appointed to the position in 2014 by Mayor Zareh Sinanyan. His resignation from the board was announced during its Dec. 13 meeting, a day before his guilty plea became public.
He was not present at the meeting and no reference to his federal case was made when Vilia Zemaitaitis, the city's principal planner, made the announcement.
"We wanted to thank him for his over four years of service, his dedication and his thoughtful comments," she said. "He was definitely an asset to this board, and we will miss him."
City officials did not respond to a request for comment at the time of publication.
Charchian's attorney's license remains active, according to the State Bar of California's website. A spokesman for the agency said bar officials cannot comment on whether any disciplinary actions will be taken as they are kept confidential and are only made public when charges are filed.
Twitter: @Andy_Truc
---