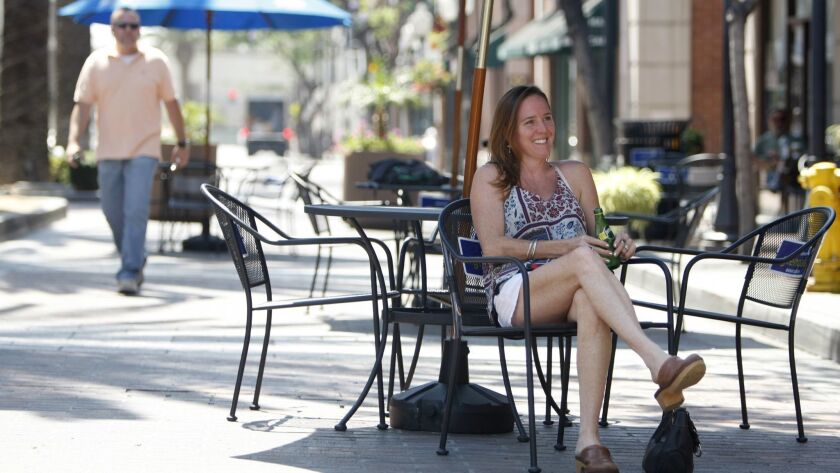 In Glendale, there's a Dublin Drive, a Calafia Street, a Baghdad Place and an Eulalia Street — all named after places in the world, some of which have a connection to the city and others that don't. But despite being home to the largest Armenian population outside of Armenia, Glendale has no streets named in honor of Armenian American contributions, according to at least one city official.
That will change soon, after the City Council made the historic 4-0 vote Tuesday to move forward with changing the name of a two-block portion of Maryland Avenue between Harvard Street and Wilson Avenue to Artsakh Street after the Republic of Artsakh, a disputed territory between Armenia and Azerbaijan.
"It's overdue to have some sort of street naming, not a part, not an alley, but a modestly sized street with reference to the current Armenian American community," said Councilman Ara Najarian after reciting a long list of street names in Glendale, pointing out how arbitrary some name changes can be. "Folks, we have changed street names before. It's nothing new."
The decision follows weeks of contentious debate among business owners, Glendale residents and Unified Young Armenians, a group of activists who proposed the name change in February.
More than 60 speakers were present at Tuesday's meeting, which overflowed into the lobby, leading city officials to make room in the Glendale Police Department across the street for people to watch the meeting via television. The majority of attendees were members of Unified Young Armenians, donning black shirts with the organization's logo. Few business owners and other opponents attended, despite having a strong presence at a Planning Commission hearing in May.
Some speakers at the meeting said business owners didn't attend because they faced intimidation by some members of Unified Young Armenians. One UYA member reportedly posted boycotting signs on businesses after their owners voiced opposition during the Planning Commission meeting.
Those who did attend Tuesday's meeting said they supported a street name change or plaza in honor of their Armenian neighbors, but they opposed the location, because it would be costly to businesses.
"I understand the reason for wanting a commemoration of Artsakh," said Pamela Spiszman, chief executive of Pegasus Home Health Care, which has offices in the stretch of Maryland that would be affected. "I know what it's like to have a history of genocide. As a Jewish American, I understand how important it is to maintain a cultural identity … [But it] does not need to also harm a whole group of business owners."
The resolution passed Tuesday included an appropriation of $131,000 for businesses — $1,000 for each of the 131 businesses on the two-block portion of the street — to help cover costs of reprinting materials with new addresses. Also, businesses would have one year to make the changes.
Business owners, however, said that amount isn't enough. They said they would incur thousands of dollars in costs, though the specific amounts cited varied from $7,000 to $40,000.
Some council members and public speakers said those numbers seemed to be exaggerated and a small price to pay to honor a group of people so important to the community. Supporters of the name change also argued that it would bring tourists to the area that would make up for any costs.
One speaker said that by changing the name to Artsakh Street, Glendale would be taking a political position because the Republic of Artsakh, more commonly known by its formal name Nagorno-Karabakh, is a disputed territory.
Members of Unified Young Armenians said the proposal to change the name was meant to highlight Glendale's diversity and unite the community. That feeling was shared among some community members.
"As a lifelong Glendale resident, I'm absolutely honored to have the opportunity to speak on behalf of my Armenian friends and neighbors," said resident Edgar Gonzalez during the meeting. "Changing the name of two city blocks … I see as simply a small gesture. Glendale needs to be an example to everyone about inclusion and respect."
But at times the debate became divisive.
Following public comments, Mayor Zareh Sinanyan expressed his disappointment with messages he said he and other council members have received. He read some aloud.
"This individual writes the following: 'We have a wonderful history here already. The name Artsakh has nothing to do with the history and well-being of Glendale. We have already given them property for a museum.'"
Sinanyan appeared to be baffled and angry as he read the comments.
"Apparently, the wonderful history here already doesn't include the 40 years of presence and contribution by the Armenian American community," he said. "This community just doesn't exist for this individual … To deny an entire people any inkling of their presence in Glendale, people who are here in large numbers and who have contributed so much to this city, it's just not fair."
Councilwoman Paula Devine was the only member who opposed the name change, and she abstained during the vote. She said supporting the name change is counter to her support of small businesses, and suggested creating a plaza named after Artsakh that would be a "win-win" for businesses and the Armenian American community.
Ultimately, the council decided it should not be a big deal to officially name a street in honor of the Armenian American community. While the majority of the council supported the name change, members agreed, however, that there should be concern over how it will affect businesses.
"I think this city is offering to change the name of a street, so we have to take the responsibility to ... pay for the expenses," said Councilman Vrej Agajanian. "They can bring their receipts, whatever cost they are going through, and we have to accept."
There was no further discussion about how exactly the city would cover the costs and to what extent.
alejandra.reyesvelarde@latimes.com
Twitter: @r_valejandra
---