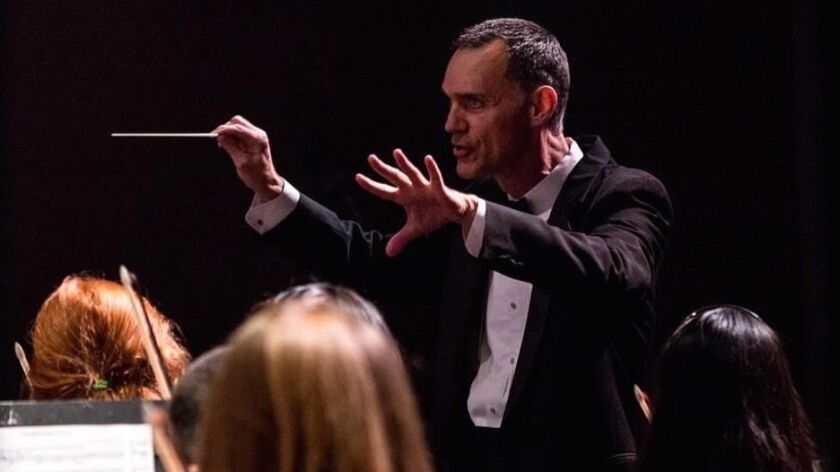 After conducting the Glendale Youth Orchestra for 19 years, Juilliard-trained Brad Keimach will be hanging up his baton — but he won't be sitting down.
Neither will the young people he's conducting.
For the last performance Keimach will conduct before retiring on May 19, the orchestra will be standing for the majority of the pieces, including Beethoven's Ninth Symphony and the overture from Mozart's opera, "The Magic Flute."
Having young musicians stand during performances has been so central to Keimach's conducting philosophy — because he thinks they play better that way — that he lost a job at CSU Northridge over it.
Administrators had asked him to stop the practice while he was conducting a junior high-level orchestra there in the 1990s, but he refused.
So when he auditioned for the position with Glendale Youth Orchestra soon after that, he made sure to expose his practice to the board members from the get-go.
"I said, 'Everybody up,' and they were really surprised — the kids and the board — by how well the kids played when they stood up," said Keimach, recalling the audition that got him the job.
At 65, Keimach can still stand for an entire symphony.
While Keimach said he gives "100% of every fiber of my being" when he conducts, and hopes it's contagious, he doesn't underestimate the efforts of the young musicians.
Just this past November, the youth orchestra awed him during a performance that included Beethoven's "Coriolan Overture," Mozart's Symphony No. 35, Ravel's "Tzigane" and Schubert's Unfinished Symphony.
"It thrills me when kids play better than they're supposed to," Keimach said.
"Those are really stunning moments, when they see what their effort yields, not just in terms of music making, but in terms of personal growth," he added.
The orchestra's next performance will be on March 10 at the Alex Theatre. Local students who will be performing solos will be Daron James Bedrossian, Cole Davis, Elaina Marriott and
Jaimie Yoon. The St. Cecilia Chorale from Holy Family Church in Glendale will also perform during the concert.
Keimach, originally entering Juilliard as a saxophone major, switched to conducting when he heard his first symphony. With the saxophone rarely figuring into classical music, he realized he wouldn't be able to take part in many symphonies if he didn't switch tracks.
Classical music has been his focus ever since. Over his more than three-decade career, he has conducted several professional and youth orchestras and has taught at Kean College, Purchase Conservatory, CSU Northridge and Antioch University.
Deciding to step down from the Glendale Youth Orchestra has left Keimach with mixed feelings.
On the one hand, he's enjoyed the constant company of musical giants like Bach and Handel.
On the other, there's just so much Keimach wants to do.
Having sold his beach yoga business last year, Keimach wants to edit and publish several books, expand his knowledge of his family tree, immerse himself in Shakespeare and practice the martial art qigong, as well as go for walks and volunteer more.
"Now I'll have time," he said.
Tickets for the March 10 concert are $15 for general admission and may be purchased at the box office at the Alex Theatre, 216 N. Brand Blvd., Glendale. Tickets for students, children and seniors are $12.
For more information, call (818) 243-2539 or visit alextheatre.org.
Twitter: @lila_seidman
---