California's budget includes $1.8M for Glendale tech, L.A. River initiatives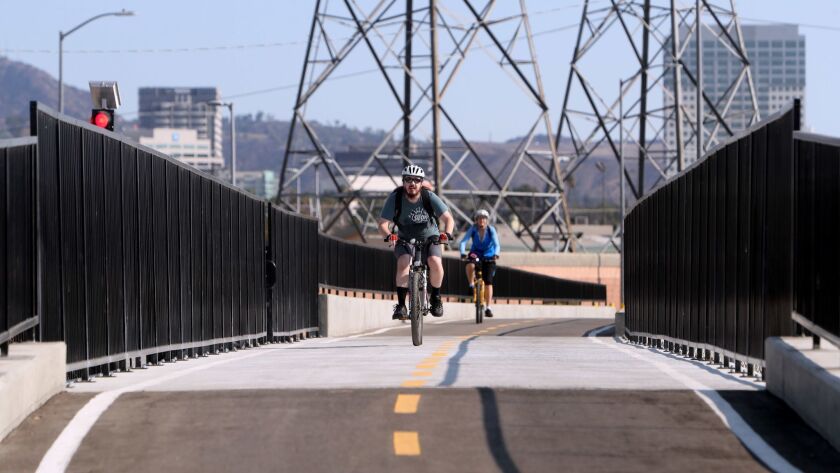 A pair of Glendale initiatives will be getting a financial boost from the state's recently-passed $215-billion budget for the upcoming fiscal year.
Glendale is set to receive $1 million from the state's General Fund to launch a tech startup accelerator to support local technological companies, bolstering the city's push to become a regional tech hub.
The state's 2019-20 budget, expected to be signed by Gov. Gavin Newsom any day, also includes $800,000 for a planned bridge across the L.A. River that will link the western part of Glendale and Griffith Park.
"Why should the conversation be about Silicon Valley when we have just as many intelligent people here in Glendale?" said state Sen. Anthony Portantino (D-La Cañada Flintridge), who helped lock in funding for the tech accelerator.
"Let's keep that talent and excitement local," he added.
An accelerator would offer mentoring, marketing, networking, investment opportunities and other services to early-stage local tech companies seeking to progress to the "next level," according to Jennifer Hiramoto, deputy director of Glendale's economic development department.
Last August, the city issued a request for proposals from would-be operators of an accelerator. At that time, the city offered $150,000 over a three-year period to an operator that would match the funds 2-1, Hiramoto said.
"Through that process, we learned that we needed more funds if we were going to attract the types of exceptional operators that can run developed programs," Hiramoto said.
Now, Hiramoto and her team plan to eventually issue a new request for proposals, retooled to account for the increased funding.
The most recent funding for the bridge over the L.A. River, a component of a multiphase project known as the Glendale Narrows Riverwalk, is coming from a voter-approved parks and water bond known as Proposition 68, said Portantino, who was one of the co-authors of the state bill that put the bond on the 2018 ballot.
Portantino said he then worked with state Sen. Bob Wieckowski (D-Fremont), chair of budget subcommittee overseeing the bond money, to secure funding for the bridge.
Expected to cost nearly $30 million, the bridge project previously received more than $18 million through Proposition 68, and $3 million from L.A. Metro, according to Glendale city spokesman Dan Bell. It still has a funding gap of several million dollars.
In the fall of last year, two parks opened along a bike path bordering the northeast bank of the L.A. River, marking the completion of the second phase of the Glendale Narrows Riverwalk project.
Completed in 2012, the project's first phase included an entry park, a picnic area along the river, an equestrian facility and a half-mile recreational trail.
---