Glendale native Benita Novshadian is one of the world's top female 'Counter-Strike' players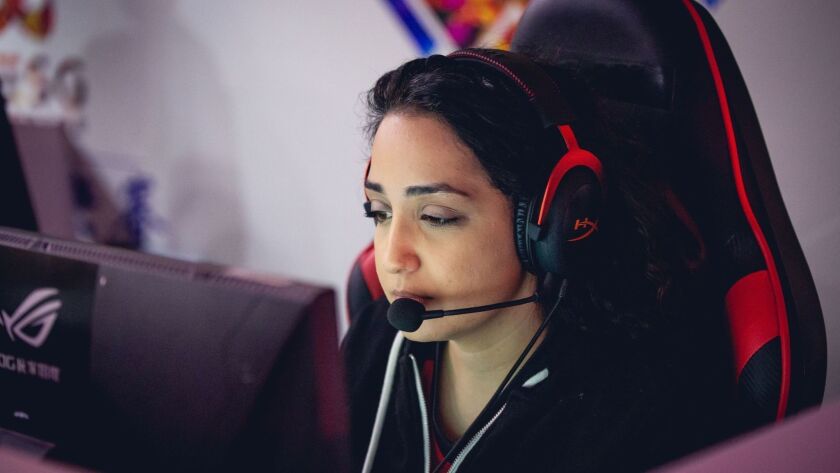 For Benita Novshadian, flying to China, winning gold in an Olympics-style e-sports competition and coming home $60,000 richer — all of which she did last month — is just her day job.
Glendale native Novshadian, 26, has been a professional gamer, specializing in the multiplayer shooter "Counter-Strike" for the past 11 years.
In March, Novshadian and five female teammates trekked to the World Electronic Sports Games in Chongqing, China, where they battled their way, virtual guns in hand, to the women's grand finals in "Counter-Strike: Global Offensive."
Facing off against a team from Russia, the American team, called CLG Red, won with a score of 2-0.
"Your average person might think of a gamer as stuck in their mom's basement or stuck behind their monitor or not taking care of themselves or overweight or something, but we really emphasize being mentally in a good place because the game is mental just as much as using your hands and keyboards," Novshadian said, describing the rigorous underpinnings of what's known as e-sports.
CLG Red is sponsored by e-sports industry heavyweight Counter Logic Gaming, or CLG, which is owned by Madison Square Garden.
Novshadian's journey to distinguished gamer — her team ranks in the top three in the world for "Counter-Strike" — began when she was just 9 years old.
Her brother, Bryan, who is four years older than her, introduced her to the game. She'd wait impatiently for him to come home from school so they could play together.
"It was our way of bonding," she said.
An introduction early on to a community of female players inspired Novshadian to continue to play and "see where it goes," she said.
It didn't take long for it to go somewhere: across the globe.
At 15, Novshadian joined her first competitive all-female team. It was the youngest age that she could travel alone. Eleven years later, her work has taken her to Sweden, Poland, Ukraine, Denmark, France, Mexico and Canada, in addition to a large number of domestic cities.
Behind the travel and periodic big pay-offs is a serious work ethic. As a full-time contract employee for CLG, Novshadian plays "Counter-Strike" six to eight hours a day, up to six days a week. If it sounds like a lot of sitting … well, it is.
It's the only way to develop and maintain the hand-eye coordination, reflexes and rapid decision-making necessary to excel — and there's always more to learn — she said.
According to Novshadian, who is Armenian American, there isn't a big gaming culture among the Armenian community.
When she first started gaming, her non-immediate family expressed confusion about her passion-turned-profession.
"Now, they all love what I do, but it is just really unique," Novshadian said. "I think that's why they're so supportive, because it's something different."
Her brother, who introduced her to the game, is "my No. 1 fan," she said.
But, however much support she receives at home, there is still a large contingency of online and offline trolls who are antagonistic to female players, she said.
Beginning in 2014, a harassment campaign known as Gamergate targeted several women in the gaming industry and was reported to reveal deeply held gender biases among the video game community.
No matter whether Novshadian's team succeeds or bombs, they get more attention because of their gender, she said.
"You have to try your best to not let it get to you," Novshadian said. "You have to because, for the most part, people love to watch us fail."
For the foreseeable future, Novshadian plans to continue her work as a professional gamer. After all, it's a great conversation-starter during Uber rides, she joked.
Down the line, she said she hopes to use her bachelor's degree in information systems that she earned from Cal State LA.
"[My career] has already given me so many cool, once-in-a-lifetime opportunities," Novshadian said. "I basically kept riding the wave. I'm still riding the wave."
Twitter: @lila_seidman
---