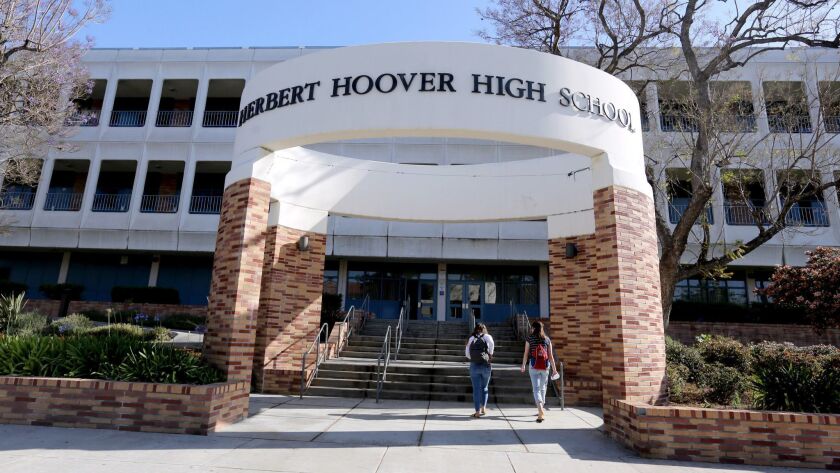 Given an opportunity to shine, Hoover High School senior Davit Antonyan wanted to prove an education at his beloved school was no different than anywhere else in the district.
The Armenia native may have gone a step beyond as he was one of three local students, joining Crescenta Valley High's Justin S. Nakama and Glendale resident Nicolas Suter, who is home-schooled, to be named National Merit Scholars on Wednesday.
The award's acclaim is accompanied by a $2,500 scholarship.
"It meant a lot more for me in terms of my school than it did for me because I know they haven't had one in a while," Antonyan said. "So, I just felt a lot of pride bringing that to my school."
Antonyan, who immigrated to Glendale at age 6, was one of 2,500 finalists out of a group of 15,000 semifinalists.
The National Merit Scholar Scholarship Corp. used several benchmarks to determine its winners, including grades, academic records, difficulty of subjects taken and standardized test scores.
Antonyan's honor was backed by a sterling high school record that included a 4.6 weighted grade-point average, a 1,560 SAT score and admission to Harvard University in the fall.
"The public schools in Glendale, we don't get that much attention," Antonyan said. "Having something that makes our school both proud and that can attract other students to attend Hoover, that gives me a lot of pride."
Although Antonyan listed his probable career field as business administration in his scholar paperwork, he said he's looking more toward a future in economics and international relations.
"Just coming to Glendale with an international perspective, it always made me interested in the more nuisance global aspects of everything I learned," said Antonyan, who is interning at the Consulate General of Armenia, located at 346 N. Central Ave., Glendale.
Like Antonyan, Suter is a Glendale transplant, sort of.
The 18-year-old was born in the Jewel City, moved to Mexico at 6 months old and returned to Southern California five years later.
While the award didn't come as a surprise, it still meant a lot to Suter.
"It's a particularly big deal because I don't come from a particularly high-income background," Suter said. "Of course, college is getting more expensive by the day, so yeah, it's a big deal. I'm quite honored."
Suter scored a perfect 1,600 on the SAT, and will be heading to MIT in the fall. He said he will likely major in mathematics, though he said he's "no prodigy."
"I, oddly, struggled a lot with math," Suter said. "I do not consider myself a natural, at all."
He added, "It's kind of a form of struggle that I've come to appreciate almost."
On top of being a standout student, Suter continues to work as an actor, appearing on Nickelodeon programming, along with an episode of the investigative comedy show "Adam Ruins Everything."
When asked whether he would pursue a career in math, acting or another field, Suter paused.
"I'm not sure, you know," he said. "I still want to act, I still want to do music, [and] I still want to do math."
Nakama was not available for comment.
---