Glendale school board eyes building for potential exchange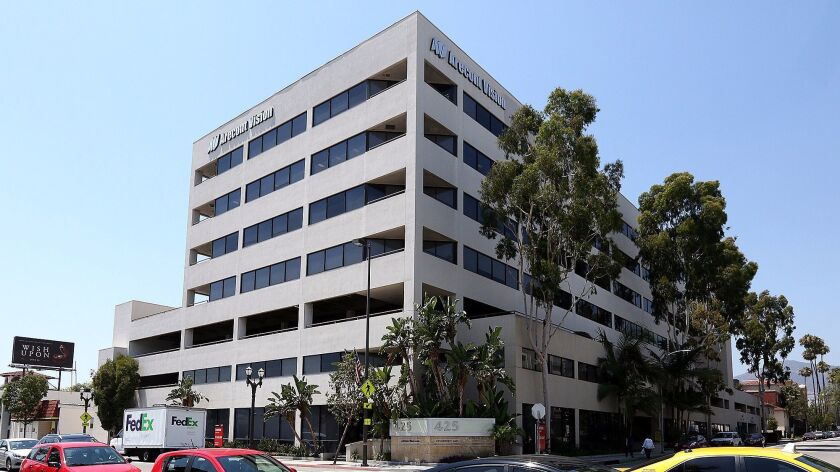 Glendale Unified's real estate agent this week presented an "attractive" property the school district could swap their headquarters for, following recent discussions by Glendale school officials about their intent to relocate.
School officials have said that upgrading their current building at 223 N. Jackson St. would cost anywhere from $15 to $20 million.
Demolishing their building altogether and constructing a new one would cost about $30 million, according to Re/Max Realtor Sam Manoukian.
A new building would not fix administrators' parking crunch, Manoukian added, which can leave them searching for spaces on surrounding residential streets or parking at a Ralphs grocery store lot down the block.
Manoukian said a search of buildings in the city turned up one that may qualify for a swap, located at 425 E. Colorado St., a half-mile south where the district is housed now.
The building is about 113,000 square feet, according to the Los Angeles County Assessor, and was built in 1984.
Manoukian said there are 380 parking spaces, 224 more than the 156 Glendale Unified has now.
He suggested school officials occupy a portion of the building, and rent out space to others to generate revenue.
"I personally think it's a very attractive opportunity, at least from the preliminary information that we have," said school board member Shant Sahakian.
Manoukian assured board members they would not have to commit to anything in the process of negotiations, which could begin once the school board passes a resolution at an upcoming meeting.
"If something doesn't smell right, or if something doesn't look right, I'd be the first one to yell and scream," Manoukian said. "So far, what has been presented, what we're looking at, absolutely makes all the sense."
Manoukian worked with the board two years ago when, after a Burbank-based developer expressed interest in Glendale Unified's property, they looked into making an exchange. Officials did find a property with more parking, but school officials ultimately walked away from swapping land without publicly disclosing why.
Manoukian said the board has the option to do the same again.
"If it doesn't happen, then we walk, just like we did last time," he said.
In the meantime, school board member Greg Krikorian suggested officials tour the building on Colorado Street.
Board members also want to confirm how leaving the district's headquarters will affect Daily High School, which is located next door and will remain there, even if the land near it is developed, according to Manoukian.
Enrollment at Daily High School varies each year, but is often made up of about 200 students.
"Daily stays exactly where it's at," he said.
Twitter: @kellymcorrigan
---