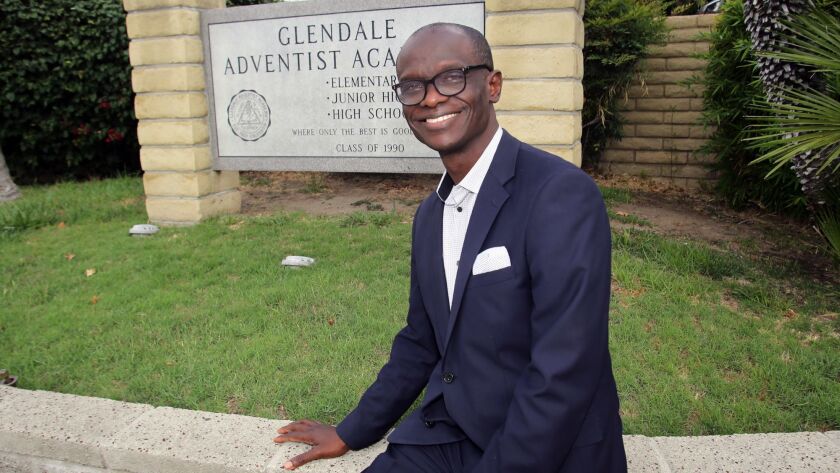 Though the path to becoming Glendale Adventist Academy's 22nd principal is somewhat different for Israel Olaore from that of his predecessors, the Nigerian native's goals are hardly exotic.
The new leader of the Seventh-day Adventist elementary and high school founded in 1907 wants to raise enrollment, re-engage with the alumni association, make the school more affordable and reintroduce the institution back to the community.
"We need to make sure staff members have a good working relationship with each other, that the office is responsive to the needs of teachers, and we need to prioritize students to make sure that they're learning," Olaore said on the morning of Oct. 9 during a campuswide lockdown drill.
He added, "Our goal as a Christian school is to bring positive Christian values to the learning experience."
Olaore's modest office is located near the main entrance to a school with an enrollment of 428 students.
That's a far cry from where the former pastor was only five years ago at Babcock University, a school with 12,000-plus students, in Nigeria.
Olaore was associate vice president and chief of staff from 2010 to 2013 at Babcock and was director of over 10 departments, including security, legal services and human resources.
So far, it's been a good experience working with him. He's a man of God and you can see that in how he works."
School accountant Vanessa Fernandez
At his office in Glendale, only a handful of people work within the administration building.
"I'm as surprised as anyone to be here," Olaore said. "Becoming a principal was not part of my plans, but I'm happy for this challenge."
It's possible Olaore is overqualified.
The 57-year-old earned a bachelor's degree in philosophy from Nigeria's Obafemi Awolowo University, master's degrees in pastoral ministry from Andrews University (Michigan) and in intercultural studies and theology from Fuller Theological Seminary in Pasadena, along with a doctorate in higher education and higher education administration from the University of Arizona at Tucson.
Olaore's last post at Babcock was as an associate professor of education, a position he only surrendered when his three adult children asked their father to move closer to them in the United States.
So, as Olaore did online searches for information and collected recommendations from previous places he served, which include a yearlong stint as associate pastor at Altadena's Seventh-Day Adventist Church, he found an opening at Glendale Adventist Academy.
After a series of conversations and a "two-hour drilling" on the final job interview, Olaore was named Glendale's new principal.
School accountant Vanessa Fernandez arrived at Glendale Adventist around the same time as Olaore and has been impressed.
"We're both new here, but so far it's been a good experience working with him," Fernandez said. "He's a man of God and you can see that in how he works. He prays often and the faith of this school will only increase."
Faith will not be without works as Olaore has a two-part plan to boost the school's enrollment by making education more affordable through donations he hopes to receive from reinvigorated alumni.
The cost for elementary school is roughly $5,500, while the high school is $8,500 per year, according to Olaore, who would like to increase enrollment by 80 students within the next two years.
"One of my first goals is to reactivate the alumni association, which should be robust for a school that is 111 years old," he said. "My prayer is that the alumni will help raise funds that we will use to subsidize costs. We have a wonderful product, but we have to be able to sell it too."
The school has an alumni brunch set for Oct. 28, while preparations are in the final stages for a golf tournament at Pasadena's Brookside Golf Course on March 3.
Olaore is also keen on building upon a "wonderful" curriculum.
"We're dealing with students growing up in the digital age," he said. "I would like to create something like an innovation lab or makerspace," he said. "I want to encourage experimentation and I would love to add even more to our science department. If we can add these items, that will only enhance what we're doing."
---