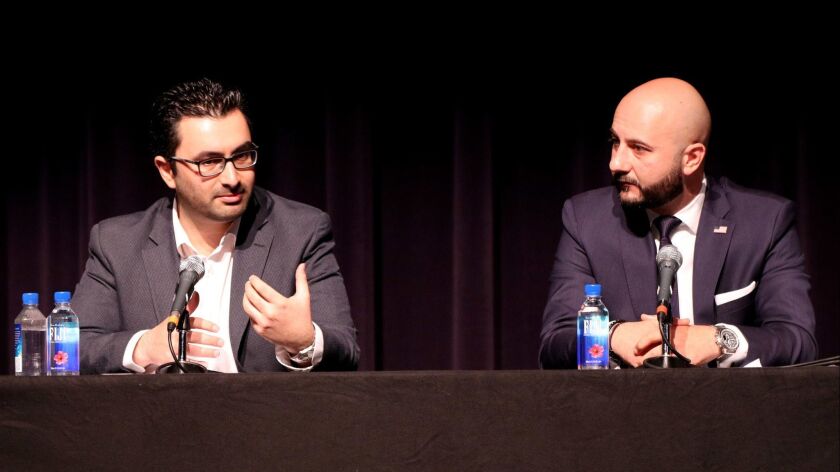 A panel of four accomplished Armenian entrepreneurs discussed differing thoughts and pathways to success at an Armenian Business Series forum this past Thursday at Glendale Community College.
The event, organized by William Lee, president of the Glendale Community College Business Club, featured David Gevorkyan, district manager of the L.A. County Economic Development Corp., as well as restaurateurs Sargis Kopushyan and Jack Torosian and businessman Armen Vartanian.
Vartanian, a Glendale Community College graduate, said he was surprised to be speaking at such an event.
The self-described "poor" high school student enjoyed a renaissance at the local college under the tutelage of Michael Ritterbrown, now the school's vice president of instructional services.
"My time here at GCC really shaped who I am," Vartanian said.
From Glendale Community College, Vartanian moved on to UC Berkeley, where he earned a bachelor's degree in business before eventually receiving an MBA from the University of Pennsylvania's Wharton School of Business.
Just a little less than five years ago, Vartanian founded Oceanview Capital Partners Inc., a private equity firm that invests in entrepreneur-run businesses, after realizing he could not climb the job ladder any higher in Los Angeles. Rather than move to New York City, Vartanian founded his own firm.
"The real key part that was the transition for me was knowing that I didn't care about all the resume stuff that I built, because the market doesn't care where I went to school, what I did," Vartanian said.
"They couldn't care less. It's more about are you going to be able to fight your way to making your own dream a reality?" he added.
Clark Magnet High graduate David Gevorkyan also found his path to success at Glendale Community College, although, admittedly, his route took longer than he would have liked.
"I came to GCC for probably two or three too many semesters," he said.
Although Gevorkyan's entrepreneurial background includes playing an integral role in his family's small manufacturing business, he had other plans.
Gevorkyan has worked most of his career in the public sector and takes pride in helping erect an Armenian Genocide monument in Pasadena.
"It came to a point where I realized, 'OK, what ... more can we do for society?" Gevorkyan said. "What can I do to help other people solve their problems and keep moving forward, focusing on their businesses and putting food on their table?"
Torosian, owner of Papillon Bakery and OG Wingz, had a different route to his business accomplishments —and this country, for that matter.
Torosian said he arrived in Glendale at the age of 13 with his brother and parents.
"My parents sold everything they had to come to America," Torosian said. "My parents tried to save us from going to war and getting killed."
After moving to Fresno and eventually studying biology at Fresno State, Torosian returned to Glendale and thrived at building businesses despite not having much experience.
"Just like my colleagues, we're pretty much used to getting thrown into things and that's the real entrepreneur," he said. "You just go along, and you know you're going to make it happen, and it's going to work out. You pretty much jump in head first and you figure it out."
While some panelists struggled in high school, Kopushyan was a dropout.
Yet, that setback became a footnote rather than a defining characteristic for the 27-year-old entrepreneur, who said his first business was selling shoes at a swap meet when he was 16 years old.
"Every failure is a lesson," said Kopushyan, owner of a poke restaurant called Pokitomik. "Once you give up, then that's failing."
Kopushyan said being an entrepreneur requires long hours and discipline.
With the freedom of being a business owner, "no one can tell you when to leave, when to wake up, when to come to work, when to leave from work," Kopushyan said.
However, that freedom is fueled by belief in yourself.
"Let no one ever tell you that you won't be able to do something," Kopushyan said. "Constantly keep on going for it."
---