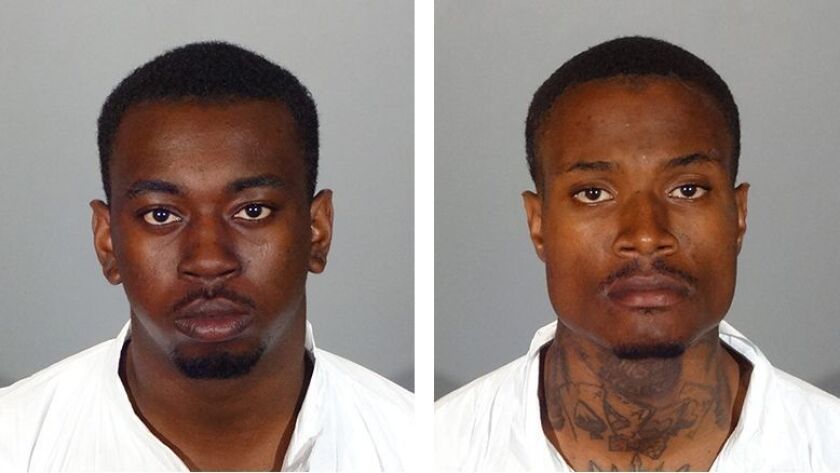 A real estate agent hoping to show a Glendale home to a prospective buyer had an unwelcome surprise on Wednesday when two masked men bolted from the home and into a waiting vehicle, police say.
The agent was about to show a home in the 1500 block of Heather Ridge Road when he saw a Toyota Camry parked in the driveway with a man sitting on the passenger side. At first, he thought it was another agent showing the home, but then he saw that the key the company uses was still in its lock box.
Tahnee Lightfoot, a spokeswoman for the Glendale Police Department, said the agent opened the door to find two men wearing gloves and masks, running from the back of the home and back out to the front and into the Camry.
Officers were able to find the vehicle and got into a short pursuit on the 5 Freeway that then went onto the southbound 2 Freeway and down Glendale Boulevard.
Lightfoot said the car slowed down during the pursuit so that a male passenger could exit and flee on foot. He was eventually taken into custody and found to be a 16-year-old boy.
The Camry was eventually stopped by officers, and the driver and another passenger were arrested on suspicion of robbery. They were identified as 27-year-old Jerry Cunningham of Hawthorne and Demetres Ford, a 19-year-old man from Los Angeles.
Surgical masks, three backpacks that contained nylon masks, a pry bar and other tools commonly used in burglaries were found in the vehicle, according to Lightfoot.
She added that the trio allegedly broke into the Heather Ridge home to burglarize it by smashing a rear window.
Twitter: @Andy_Truc
---