More than 700 years of service were honored by the Glendale Teachers Assn. late last month during a retirement appreciation reception at Legacy Ballroom and Lounge in Glendale.
In all, the retiree list included 30 teachers, counselors and specialists from 21 schools, ranging from nine years to 42 years with the district and totaling 737 years.
Hoover, Glendale and Clark Magnet highs and Wilson Middle School led the way with three retirements each.
"This is an opportunity to recognize and honor those who have given so much to the district," said Taline Arsenian, president of the teachers association and the event's hostess.
"These are challenging times for educators, and they don't receive the respect they deserve, so we give them much-needed attention," she added.
Twelve of the 30 retiring teachers were in attendance at the two-hour event on May 29, and each told a unique story.
Susan Newcomer is hardly a newbie — the 21-year library-media teacher was one of the original instructors when Clark Magnet High opened its doors for the 1998-99 school year.
After spending two decades in the private sector, Newcomer said she was inspired by a simple, career-changing phrase.
"'For the sake of your soul, think about what's the thing everybody always told you you ought to be,'" Newcomer said. "Everybody always told me I ought to be a teacher. So, this opportunity came about when the school opened up."
She added, "I totally loved working with the kids. It has been a joy, and anybody who thinks that teenagers are scary should know they're not. They're really sweet."
Miami native Janet Goliger is less than a week away from culminating a 40-year career that began in Florida and included surviving reduction-in-force notifications from the Beverly Hills and Los Angeles Unified school districts.
In between teaching, Goliger earned two second-degree karate black belts and was inducted into the Masters Hall of Fame in 2012 for her outstanding contribution to the martial arts.
"It's been a long time, and I still feel, at least I've changed a little part of my world, a little bit in Florida and a little bit in California," said Goliger, a Lincoln Elementary School teacher who spent 28 years with Glendale Unified.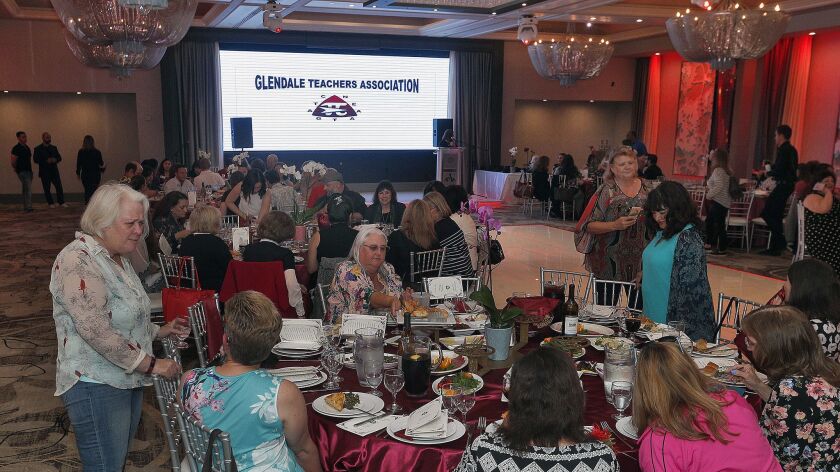 Like Goliger, instructor Diane Stokes has taught in many districts before finishing off her final 16 years at Cerritos Elementary, working with second- through sixth-graders.
Stokes is perhaps best known on campus for her habit of eating an apple with peanut butter every working day.
What many may not be aware of is Stokes spends her summers translating for doctors and healthcare professionals who provide needed surgeries in small villages in Mexico.
The elementary teacher said she was most grateful for the company she kept at the local school.
"The faculty is very easy to work with it at Cerritos," Stokes said. "It is a family, and I thank everybody very much for working with me. It's been my honor."
Barbara Ophoven, one of the central figures behind the building of Franklin Elementary's dual-immersion German curriculum, is also stepping away after nine years.
Ophoven taught for 20 years in Germany and India and "designed lesson plans from scratch," said colleague Elke Tupanjanin.
During the past decade, Franklin has also grown from a school on the brink of closing because of low enrollment, which was 407 students in 2008, to a bustling school with an enrollment of 656 this year, according to figures from the California Department of Education.
"It's amazing to see these 10 years what happened to that school," Ophoven said.
All teachers were presented a crystal apple award for their service.
Other retiring teachers and staff honored included Nerses Abramyan, Rose Samore and Yayone Tindol from Hoover High; Rich Crowther, Joie Ozawa and Sookmin Yi from Glendale High; Tami Carlson, Gerald Lancaster and Jeffery Severa from Wilson Middle School; Susan Howe and Stephanie Sejjadieh from Clark Magnet High; Nora Bezdikian and Mary Donabedian from Balboa Elementary; Marcelyn Bible from Toll Middle; Emil Celani from Verdugo Academy; Annagreta Claesson from La Crescenta Elementary; Dana Coffin from Valley View Elementary; Thomas Gossard from R.D. White Elementary; Nancy Jacobson from College View School; Robert Marlowe from Daily High; Tania Mooser from Rosemont Middle School; Diana Nelson from Verdugo Woodlands Elementary; Christine Nuanez from Monte Vista Elementary; Elysa Rosenfield-Ortiz from Cloud Children Center; Pamela Zamanis from Roosevelt Middle School and special education teacher Patricia Yoho.
---