2018 Tech Week to kick off Saturday in Glendale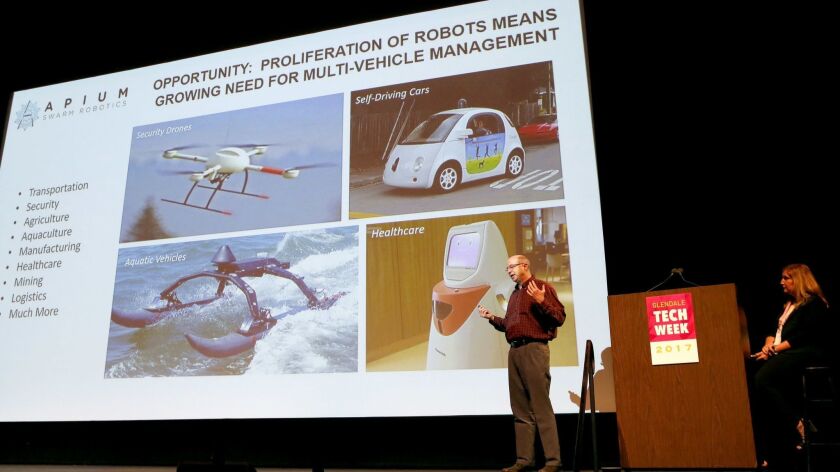 A spate of events geared toward supporting and connecting entrepreneurs in the tech industry is coming to Glendale's so-called "silicon mountains" later this week.
The city's third annual Tech Week, which will run from Saturday until Sept. 21, will include popular returning events, including a job fair and a "Shark Tank"-style event called Pitchfest, as well as new additions, such as a business-pitching contest for young people 14 years old and younger.
"We're really looking to foster an environment for start-ups to thrive in Glendale," said Tamar Sadd, Glendale's economic development coordinator, who helped launch the event.
This year has more kid-focused offerings — including a family-friendly screening of a "Scooby Doo" prequel titled "Daphne and Velma" — because "[those young people] are the next wave of entrepreneurs and thinkers," Sadd said.
A tech study conducted in 2017 showed there were 1,029 high-tech firms in the city, with 41,168 employees and total sales of roughly $5.6 billion.
"That study brought to light just how many tech companies were in Glendale, but we realized that that they weren't really interacting with each other," Sadd said. "And that was the impetus for Tech Week."
The weeklong event will begin at 3 p.m. on Saturday with an immersive tech experience in the Alex Theatre's forecourt, coinciding with Glendale Arts' annual Open Arts and Music Festival. Activities will include the Microsoft Gadget Bar, virtual reality and augmented reality experiences, and Glendale Community College robotics program. The Alex is located at 216 N. Brand Blvd.
The following day will see the inaugural kid edition of the Startup Showcase running from 1 to 5 p.m. at the Glendale Downtown Central Library. Toddlers through teens will present their product pitches in an interactive experience that will let audience members "invest" in their favorites. The library is located at 222 E. Harvard St.
On Monday, attendees will have the opportunity to network with angel investors, venture capitalists and lenders at a Meet the Funders event from 6 to 9 p.m. at the Glen Arden Club. The event will feature an address by Nina Achadjian, founder of a seed fund focusing on Armenian entrepreneurs. The club is located at 357 Arden Ave.
Prospective employees can drop by the Tech Career Fair running from 9 a.m. to noon next Wednesday at the Glendale Downtown Central Library, where around 300 jobs will be up for grabs, according to organizers. Hosted by the Verdugo Jobs Center, employers on hand will include Service Titan, Age of Learning, LegalZoom and CalTech.
Later that day, there will be an event dedicated to supporting emerging female entrepreneurs. From 5:30 to 8:30 p.m. at the Antaeus Theatre Co., women can practice their two- to-three-minute pitches in front of a panel of female founders, funders and entrepreneurs, who will offer guidance and pick a winner. The theater is located at 110 E. Broadway.
Brian MacMahon, founder of startup accelerator Expert DOJO, will deliver the week's keynote speech on Sept. 20 at CBRE on 234 S. Brand Boulevard. Pitchfest will follow, with representatives from preselected start-ups presenting their ideas to a live audience and panel of judges. The winner will take home a $60,000 prize package.
A closing party is set for 6 to 9 p.m., also on Sept. 20, at the Green at the Americana at Brand, giving attendees the opportunity to meet and mingle in a casual setting over refreshments. The Americana is located at 889 Americana Way.
For more information, visit glendaletechweek.com.
Twitter: @lila_seidman
---