Rent stabilization measure fails to qualify for November ballot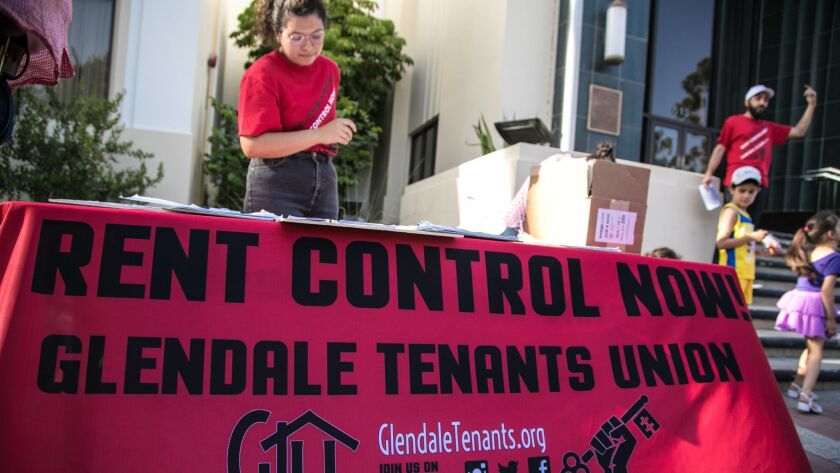 The Glendale City Clerk's office on Monday rejected the petition circulated by a tenants union to add their proposed rent stabilization measure to the Nov. 6 ballot.
"The CA Elections Code requires a specific number of minimum signatures for us to move ahead to the next steps of this process," City Clerk Ardashes "Ardy" Kassakhian said in a statement. "The initiators of this effort did not meet that threshold, and therefore this specific process as it pertains to this proposed initiative is now considered over."
When Monday's deadline came, the Glendale Tenants Union had gathered roughly 4,000 signatures, less than half of the 10,529 signatures needed.
The tenants union faces defeat for the second consecutive year, but the sense of urgency among its members isn't wavering, according to two leaders of the effort.
"Before there's next year, there's next week," said union member Hayk Makhmuryan. "People's rents are going up and we're demanding that City Council acts now."
Tenants union members regularly appear at the weekly Glendale City Council meetings to voice their disapproval of what they say are skyrocketing rent increases.
"We started this thing with a couple of dozen people. We ended with hundreds," said Mike Van Gorder, a founding member of the tenants union. "We have the army now that we have to make change in this city."
Van Gorder believes the failed effort "is more of an indictment of the voter-led initiative process."
To collect all the necessary signatures, Van Gorder said the union would have to pay for full-time staffers, legal counsel, a regular meeting space and supplies.
"We're trying to protect the most vulnerable members of the community that have neither time nor money, and needing five figures' worth of money to participate in civics is absurd," the union said in a statement issued Monday.
Van Gorder delivered a fiery speech at the July 31 City Council meeting, accusing them of not doing everything they could for renters.
"People are ready to keep the effort going," Van Gorder said. "We're going to take this to City Council and say 'we need you to meaningfully protect your city. We are coming to you in desperation. We love this community and we want to stay here.'"
michael.livingston@latimes.com
---