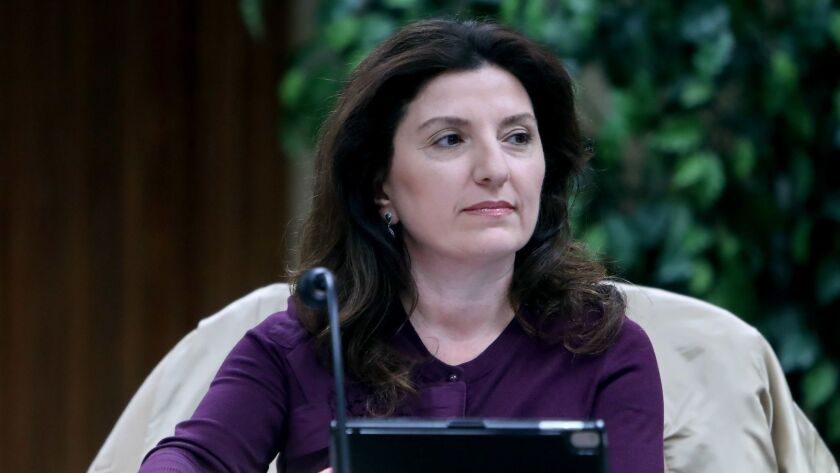 Just in case there was any doubt about the sentiments of the Glendale Unified school board regarding the proposed transfer of the Sagebrush territory to the La Cañada Unified School District, its five members voted unanimously for a resolution last week opposing the proposal.
Both districts are locked in a dispute over the more than 380 acres located in La Cañada Flintridge, but the students who live there attend Glendale Unified.
Greg Krikorian, Glendale Unified's school board president, who is set to be replaced by vice president Jennifer Freemon on April 16, read the resolution aloud.
"Now, therefore, be it resolved that the board of education of the Glendale Unified School District goes on public record as opposing the proposed transfer of territory to the La Cañada Unified School District, as having significant negative impacts upon the current and future students of the Glendale Unified schools and the school district," Krikorian said.
The statement, which was adopted April 2, contends that 235 students attending Glendale public schools reside in the affected area, with 84 attending Mountain Avenue Elementary, 37 attending Rosemont Middle School, 68 attending Crescenta Valley High School and 46 at other district schools.
If the proposal is approved, those students would transfer to La Cañada Unified's Palm Crest Elementary, La Cañada High 7/8 and La Cañada High School.
"We continue to say strongly that we're doing our part in keeping Glendale whole," said board member Nayiri Nahabedian, whose district represents Mountain Avenue Elementary. "We're doing everything we can, and this is one of the many steps we're taking."
The loss of those students, according to the resolution, would cost Glendale Unified $2.7 million in state funding annually and force other district residents to pay approximately $11.6 million in bond obligations to which Sagebrush residents would no longer contribute.
One familiar Glendale Unified claim in the resolution states, "There is no educational reason for the territory transfer."
The resolution comes weeks before a likely significant May 1 meeting of the Los Angeles County Committee on School District Organization to be held in the L.A. County Office of Education's board room, located at 9300 Imperial Highway, Downey.
At that meeting, the committee may rule on a California Environmental Quality Act, or CEQA, report initially approved in May 2017, or make a decision about the transfer itself.
The committee met last October to discuss the 66-page report that indicated a transfer would have no impact in several areas, including aesthetics, air quality, population and housing.
A few issues of concern centered on public services, transportation and traffic.
One point of contention was the figure of 356 students who would be affected that the CEQA study used, which was based on a number provided by Glendale Unified.
La Cañada backers insist it's closer to 151 students.
Both sides agreed to a ceasefire of sorts during a county committee meeting on March 6, asking the committee to postpone any decision until May 1.
Glendale's motion is the latest step in a Sagebrush territory dispute which began when La Cañada residents first tried to secede the area in 1961.
The most recent battle started in November 2015, with Sagebrush residents and chief petitioners Nalini Lasiewicz, Tom Smith and Nick Karapetian filing a transfer request.
The resolution also comes after Lasiewicz has spoken during two recent Glendale Unified meetings, imploring the board to stop fighting the transfer.
---