State grant provides funding for GCC program offering machine training to adults with autism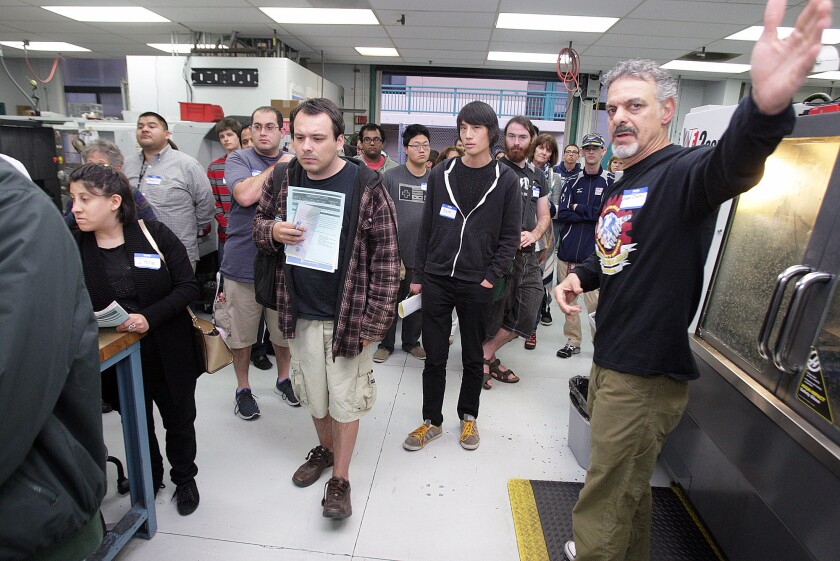 More than $175,000 was awarded to the Verdugo Workforce Development Board to train people with autism to operate computer-numerical-control, or CNC, machines, as well as help people with disabilities learn other workforce skills, the board announced this week.
The State of California Employment Development Department, in coordination with the California Workforce Development Board and the California Labor and Workforce Development Agency, gave the local board $178,571 to provide the training.
A portion of the funds will help pay for training that is set to begin Monday at Glendale Community College, where 20 adults with autism will learn how to operate CNC machines over 10 weeks, said Judith Velasco, executive director of the development board.
"This is an area of focus for us — to help people with [disabilities]. We invest a lot of our grant funds in this area," she said.
The training program for adults with autism is called the Uniquely Abled Academy, and it was brought to Glendale Community College after Jan Swinton, the school's dean of workforce development, met Ivan Rosenburg while the two were serving on the Los Angeles Economic Development Committee.
Rosenburg is a management consultant and father of two children with autism who set out to shift people's perspectives about placing people with perceived disabilities in high-skilled jobs.
He recognized that adults with autism could succeed working as CNC machine operators because of the repetitive and highly focused work the job requires while earning at least $18 per hour.
An open house to gauge interest in the academy was held last month and attracted dozens of prospective students with autism and their parents.
The new grant is one way to serve the community by putting people on the path to securing high-tech and high-paying jobs, Swinton said.
"It's a way to look forward to building more middle-class jobs that serve our workforce-training needs in the Verdugo region," she said. "These are really the middle-class jobs that we have lost since the Great Recession."
Velasco said members of the Verdugo Workforce Development Board — which covers the cities of Glendale, Burbank, La Cañada Flintridge — are looking forward to using the funds to fulfill locals residents' training needs.
"We're thrilled to be able to provide additional training opportunities … to fulfill whatever training goal they have," she said.
--
Kelly Corrigan, kelly.corrigan@latimes.com
Twitter: @kellymcorrigan
---