After Los Angeles' decision not to repower 3 gas plants, Glendale officials urged to follow suit at Grayson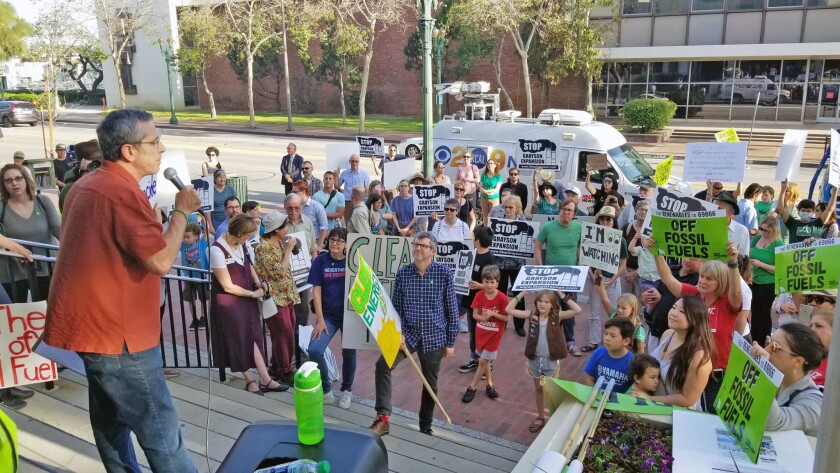 On Feb. 12, one day after the city of Los Angeles abandoned its plan to rebuild three coastal power plants, environmentalist Dan Brotman urged Glendale city officials at the end of a five-hour council meeting to take heed.
"We all understand this is going to be very challenging for Los Angeles, and no doubt there are risks, but the challenges and risks they'd face if they didn't take this path are even greater," said Brotman, founder of the Glendale Environmental Coalition.
"So where does that put Glendale?" he added.
Officials have been grappling with what to do with the city's ailing Grayson Power Plant for more than five years.
Glendale utility officials have consistently said they need to rebuild some of the plant's aging gas infrastructure in order to keep the lights on, while environmental groups think green and renewable solutions can fill the energy gap once the current machinery is retired.
"I'm sure Glendale Water & Power will argue that Glendale is different, but I challenge that," Brotman said during the February meeting. "If Los Angeles can do it, so can we."
Glendale Water & Power officials are currently reviewing roughly 30 proposals the city requested last spring from outside firms to draft a plan for Grayson and expect to have a recommendation for City Council members by late May or early June, according to Steve Zurn, general manager of Glendale Water & Power.
Zurn said Glendale's situation is different from Los Angeles' plants in several ways.
For one, Grayson's equipment is older. Aside from a relatively new gas-fired turbine, known as Unit No. 9 and installed in 2004, the other units are from the 1940s through the 1970s, Zurn said.
The older units could stop functioning at any time, Zurn said.
One of Los Angeles' plants, called Scattergood, is tentatively set to retire in 2024. Two others, named Haynes and Harbor, are slated to shut down in 2029.
Zurn said Glendale has less time than Los Angeles to wait for advancements in green and renewable-energy technology.
Ten units spread across the three Los Angeles plants were already ordered to close in coming years because they rely on a sea-water-cooling method that harms marine life.
Los Angeles also has other power plants with functioning units that are not facing closures, he added.
At the end of day, Zurn said he doesn't have the luxury of taking a gamble with the city's immediate energy needs based on technology that may be available in the future, although he thinks currently obtainable technology is reducing the city's dependence on fossil fuel and will continue to do so.
"It's difficult, for me, to be able to say we can forego everything, hoping that something comes together," Zurn said "You can see the dilemma I'm in."
Los Angeles' Department of Water & Power seemed to be taking the same stand just prior to the Feb. 11 announcement made by L.A. Mayor Eric Garcetti.
The ultimate decision by Garcetti marked an abrupt departure from top L.A. DWP top staffers, who, like Zurn, had in recent months argued they needed the gas plants to continue providing the city with reliable electricity, the Los Angeles Times reported.
Luis Amezcua, with the Sierra Club, a nonprofit environmental organization that opposes rebuilding gas plants, said Garcetti should serve as an example for other local elected officials to speak up.
"For us to push for these clean-energy solutions, there needs to be political will, because that provides support for the staff that are doing a lot of this work," Amezcua said. "On the other side, utility staff needs to be open to having this conversation."
Brotman agreed that "if the politicians lead, the technocrats will follow."
"Political leaders need to set the direction for [utility officials]," Brotman added. "It's not really fair to ask them to set a new direction for the community."
According to Brotman, Garcetti's announcement essentially turned the utility's priorities upside down, with sustainability taking the top slot over reliability — despite the risks.
"I don't take Garcetti's statement lightly," Glendale City Councilman Vrej Agajanian said when asked what he thought about the L.A. mayor's statements.
Echoing Zurn, Agajanian said the situations in Los Angeles and Glendale are different.
As "the responsible party" for the city, he said he would rather err on the side of caution rather than pursue sustainability as a top priority at all costs.
"We have to be concentrating on both reliability and renewable energy together," said Agajanian, who previously worked as an engineer. "I don't think one is independent of the other."
Agajanian has three times rejected the Glendale utility's vision for the plant, which he said first included 250 megawatts of gas about a year and a half ago, before dropping to 191 megawatts, and finally reduced to 130 megawatts this past winter.
While Agajanian said he doesn't know what the plant's exact energy mix will be, he wants to see a maximum of 100 megawatts of gas, with about half of that amount provided by the plant's newest turbine.
At this time, he does not think sustainable energy is reliable or affordable enough to fulfill all of the city's energy needs, even with the gas contributions from the new turbine.
Glendale Mayor Zareh Sinanyan responded affirmatively to a request by email for comment after the meeting, but could not be reached directly before press time. Other council members did not respond to multiple requests for comment.
Jan Smutny-Smith, chief executive of the Independent Energy Producers Assn., said the environmental groups are overstating the impacts plants like Grayson have on the environment.
In California, every molecule of carbon and nitrogen is accounted for, Smutny-Jones said. Facilities that emit those pollution-causing molecules buy credits to do so — known as cap-and-trade — which are meant to reduce the release of the same molecules elsewhere. As a result, he considers the plants to be net-zero in terms of emissions.
Smutny-Jones also dismissed the notion of simply reordering priorities to achieve a greener tomorrow.
"Our modern economy is dependent on reliable electricity," Smutny-Jones said. "Often, these are life-and-death kinds of issues."
Many environmentalists see climate change as an equally motivating life-and-death issue, with Brotman describing it as "an existential crisis."
After the Feb. 12 council meeting, Brotman acknowledged that the predicaments faced by Los Angeles and Glendale are different in some respects.
"But that doesn't mean that they can't achieve the same result as Los Angeles," he said.
Like Agajanian, Brotman envisions a role for Grayson's newest turbine, with the idea that it will be ramped down over time, but he thinks no new gas is needed.
Stakeholders now await Glendale Water & Power's recommended plan. While no details about the plan have emerged, Zurn said it will likely comprise a patchwork of the proposals the city received.
No matter what plan shakes out, a state law passed last year requires all of California's electricity to come from clean-power sources by 2045.
Twitter: @lila_seidman
---