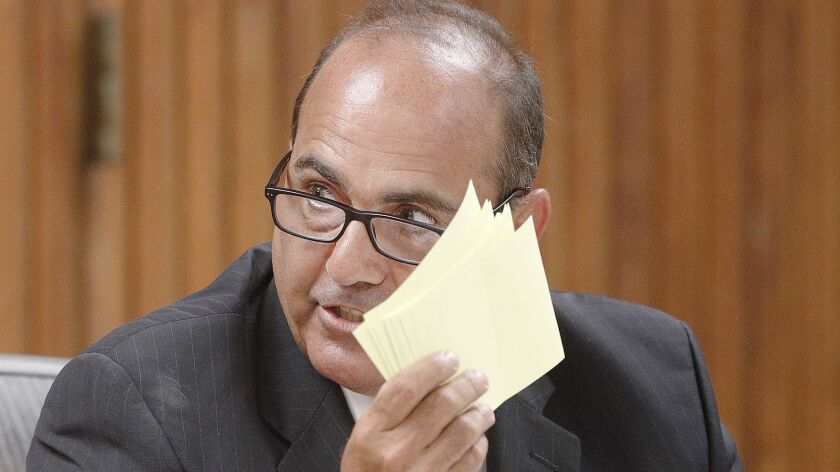 Emotions ranged from surprise to disdain from Glendale Unified board members last week, seven days after their property exchange proposal with a developer was nixed because of the Glendale City Council's rejection of a proposed apartment building.
The council voted, 3-1, with one recusal on Dec. 4 to reject an apartment complex proposal tied to the district's plan to swap its current headquarters, located at 223 N. Jackson St., for a larger property and parking lot located at 425 E. Colorado St.
Glendale Unified board members proposed an exchange five years ago. The current planning process had entered its 19th month and has cost the district roughly $500,000, according to board president Greg Krikorian.
Developer Carmel Partners planned to turn the Jackson Avenue property into a 207-unit residential development, with 41 very-low to low-income housing units, along with a small park.
Board members said the exchange was necessary because the headquarters lacks earthquake retrofitting and fire sprinklers and isn't compliant with the Americans with Disability Act.
City Council members rejected the project, which also halted the property transfer, saying an already overcrowded central Glendale area would be further burdened.
While the transfer isn't moving forward, the city counters that the exchange wasn't the issue.
"[The city] denied a request made by a private developer to build a housing project that was twice as dense as the allowable zoning," Councilman Ara Najarian said after the school board meeting in an email.
With the most recent deal dead, school officials estimate the district has to raise at least $40 million for upgrades to the existing administration building — money it doesn't have.
The denial evoked a strong rebuke from the school board during its latest meeting on Dec. 11.
"To say that I'm not upset, disappointed and disheartened by our council members and our City Council would be an understatement," Krikorian said. "Far too many times [the City Council] calls [and] they want our marching band, they want our choir, they want our school space, they want our gyms for adult programs."
Krikorian added that the district's response has always been, "'Yes, yes, yes.' We, one time, ask for help and not only was it a 'no,' it was a six-hour 'no.'"
The six-hour remark was in reference to the vote taken by the City Council, which took place after 11 p.m.
However, Najarian countered in his email: "The city has been an excellent partner with the school district. To state otherwise would be to ignore our collective history."
"Respectfully, you can't say you support affordable housing if you vote down a project that has affordable housing," board member Shant Sahakian said. "You can't say you want green space in Glendale and vote down a project that has a public park attached to it."
He added, "You can't say you support the Glendale Unified School District — our 26,000 students and the future of our schools — if you vote down a project you know the district needs to avoid spending $40 million. We do not have $40 million."
Board member Nayiri Nahabedian said she didn't understand how the council failed to recognize it was denying its constituents.
"We've got almost 26,000 students who are residents of Glendale and their parents who are residents of Glendale, and there's this false distinction between the city and the school district as if the students are not part of the city," Nahabedian said.
Every board member thanked Glendale Mayor Zareh Sinanyan for his lone vote of support for the transfer, while member Jennifer Freemon said she was grateful for district supporters.
"It was a very frustrating evening, but I would be remiss if I did not take a moment to appreciate all of those who did stand with us," Freemon said. "We filled that room and really showed what a great sense of community we had."
Krikorian said "he's not going to quit" plans to move forward, either remodeling the district headquarters or moving to a new building.
While board member Armina Gharpetian called on Carmel to resubmit a new proposal, Krikorian said he hopes the City Council "would come to its senses."
"How are we going to come up with $40 million when there are so many other projects, like the district pools, that need money?" Krikorian said. "Outside of the money, where are we going to find a large, vacant building for our needs? There aren't many options in the city. I wish the City Council would have realized that."
At least one city official said she would be willing to work with the city on any future proposals.
"I am open to reviewing a new development proposal, should the developer and the [Glendale Unified] submit one," Councilwoman Paula Devine said in an email after the school board meeting.
She added: "I am open to working with the developer and [Glendale Unified] to reach a middle ground. It is my belief that ties will be repaired when both parties can have a rational and productive discussion that results in a middle-ground solution to the problem. I am more than than willing to participate in such a discussion."
---