6 townhouses coming to Glendale through Habitat for Humanity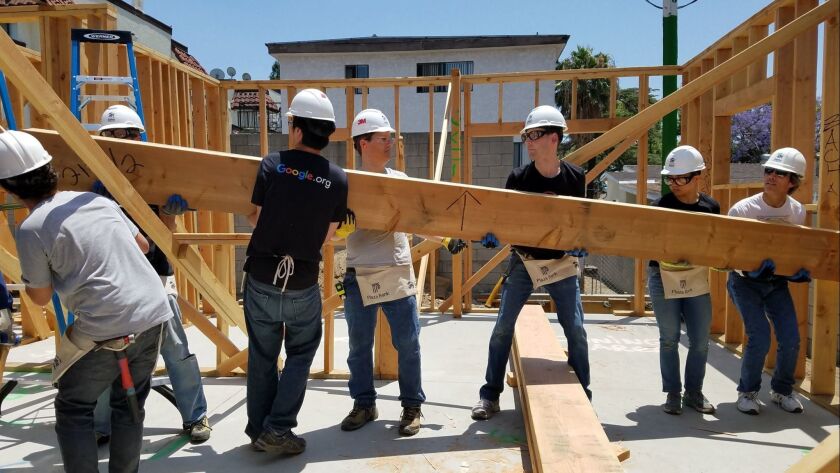 Rocio Gonzalez-Villa dreams of the day she won't be sleeping in her living room.
Gonzalez-Villa, 49, and her family live in a one-bedroom apartment on West Windsor Road in Glendale. Her three children sleep in a bedroom with little space to do their homework.
Next summer, the Gonzalez-Villa family is expected to move into one of six townhouses being built at 700 E. Lomita Ave. The construction of those homes is part of Habitat for Humanity's sweat-equity program.
"The rent [for an apartment] is really expensive, and it gets higher every year. I'm very glad I'm one of the selected families," Gonzalez-Villa said. "We're finally going to have a place where we can be comfortable."
This is the 23rd year of the affordable-housing partnership between the city of Glendale and Habitat for Humanity. When construction on the Lomita Avenue project is finished in June, the nonprofit will have built 43 homes in the city since 1995.
Families must complete a total of 500 hours of sweat equity — 335 hours of community service and 165 hours of homebuyers' education.
As part of the sweat-equity program, a member of the Gonzalez-Villa family traveled to Pasadena once a week to help construct townhouses for a local family there. In exchange, the Pasadena family will help build the six 1,300-square-foot townhouses on Lomita Avenue.
The townhouses will each have three bedrooms, 2.5 bathrooms and a two-car garage.
"We call it sweat equity because they've given their blood and sweat to build these homes," said Lindsey Lottie, marketing coordinator for the nonprofit's San Gabriel Valley chapter, which includes Glendale.
Lusine Asatryan said her family helped build the Pasadena homes, and it made her value the work done on her future home on Lomita even more.
"We really appreciate every effort, every volunteer," said Asatryan, 31. "We are so thankful to them for coming and helping us. The first thing that comes to mind is we are going to have do something to payback the community."
Asatryan said her favorite task was painting. Installing drywall was a challenge because the work was new to her, and the attire left her stumped.
"We had to wear these really baggy looking, white plastic stuff all over ourselves to do installation," Asatryan said.
Rick Spracher of Burbank volunteered for the program because he wanted to do more than usual to help his neighbors.
"I was looking for something different than a fundraiser. I wanted to get involved," he said.
Spracher said it was a "great experience to help people get into a home they normally wouldn't be able to afford."
Shervin Dana, director of construction for the San Gabriel Valley chapter, is at the worksites every day and said the families really put in the work to learn about construction and home maintenance.
"Some of them don't know anything but we show them the way. They learn how to maintain their homes so if any issues come up, they can do it on their own," Dana said.
Dana has worked for the nonprofit for more than two years and said it's a unique and inspiring feeling watching people build their future.
"That's what we are here for," Dana said. "We're helping people who can't help themselves."
michael.livingston@latimes.com
---