Healthcare worker accused of raping patient at facility for dependent adults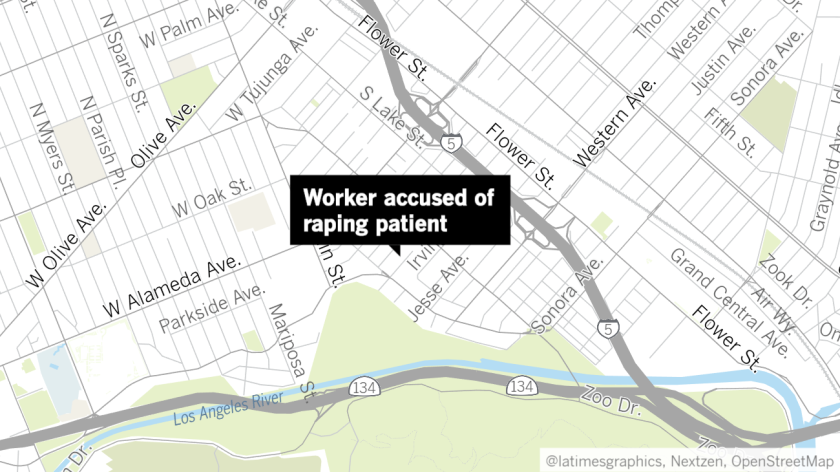 A certified nursing assistant accused of raping a patient at a Glendale care facility for dependent adults is claiming the encounter was consensual, police say.
Luis Silverio, a 25-year-old from Inglewood, was arrested by the Glendale Police Department on Feb. 18 on suspicion of raping a person incapable of giving legal consent because of a mental, development or physical disability.
According to authorities, the victim is a woman in her 50s who is a patient at the Griffith Park Health Care Center at 201 Allen Ave.
Sgt. Dan Suttles, a police spokesman, said the woman is a "dependent adult," and the department was first alerted to the incident after she told a doctor about an issue with her "private parts."
The doctor informed authorities out of concern for the woman's well-being.
Prior to the incident, Silverio would allegedly "allude to the fact that he wanted to have sexual encounters" with the woman, according to Suttles.
"She finally gave into his request a few days prior to his arrest," he said.
After his arrest, Silverio allegedly claimed there was no wrongdoing because the woman gave her consent.
However, because of the woman's status as a dependent adult, Suttles said it was questionable she would be able to give her consent in the first place.
He added that it appears to be an isolated incident, and there is no indication there are any other victims.
Silverio was eventually released on $50,000 bail, and the case remains under investigation.
It's unknown how long Silverio has worked at the center or if he is still an employee following his arrest.
An administrator for the healthcare center who declined to give his name said he could not discuss the accusation against Silverio or confirm anything as he was new to the facility.
"I don't have anything to say, at this point, regarding that," the administrator said.
According to the California Department of Health a man by the name of Tito Eugene is listed as the center's administrator, holding the position since May 2017, but it's unknown if he's still the administrator.
In the past five years, the center has received seven complaints of patient sexual abuse, according to state records.
Of those, only two complaints were found to have sufficient evidence that an abuse had occurred. Both were lodged in June 2017 within days of each other.
Twitter: @Andy_Truc
---