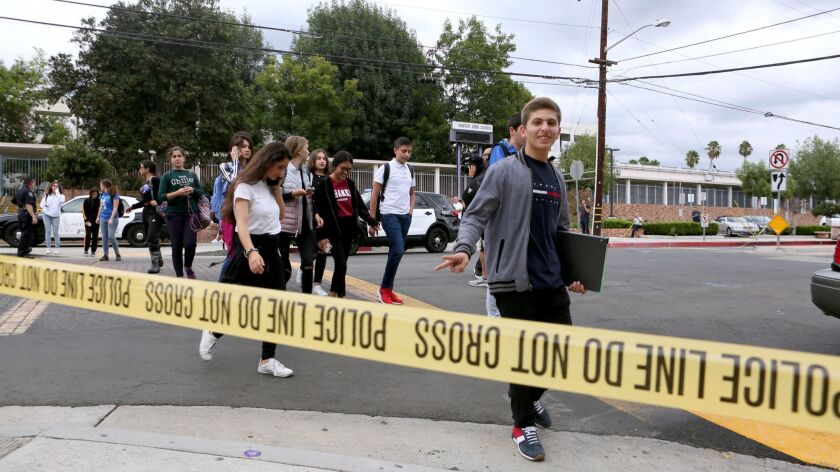 Around 100 parents and community members attended a Hoover High School Parent Teacher Assn. meeting Monday evening during which school and Glendale Unified administrators updated the crowd on the happenings since a brawl shocked the region.
Hoover High principal Jennifer Earl, district Supt. Winfred B. Roberson and district board president Greg Krikorian each spoke of the causes behind the melee on Hoover High's campus on Oct. 3, innuendo since and steps taken to avoid a repeat occurrence.
"There's been a lot of conversation driving people's perception and their opinions of what happened and there has been no shortage of rumors…" Roberson said. "I recognize that social media runs much faster than we can."
Attendees were shown a six-minute video in which several students spoke about their interpretation of what led to the fight along with misconceptions that followed.
A two-page information sheet about the brawl was also passed out that included topics such as "setting the record straight on rumors and misinformation" and "moving forward together."
The flier, created by district staff, stated that the fight "was not racially motivated" and that "it is wrong to refer to it as a 'race riot' because it was not."
The document added it is "only conjecture" that the fight started because of alleged bullying of a special needs student by an Armenian student, which caused a football player to defend the student and led to the brawl.
Other rumors, such as threats made against non-Armenian students and football players were also untrue or "isolated situations," according to the flier, along with allegations that the football season had been canceled or that a district board member's child was involved.
Questions, though, were still left unanswered.
Roberson did not say which students were involved in the fight, how many took part or what punishment was given.
"There was student discipline. I can't give you the specifics because it would be illegal or inappropriate," he said, as rumors of multiple student suspensions persist.
Roberson said students involved took part in restorative circles, which often calls for members of a group to sit in a circle and hash out problems.
As for the meeting, parents questioned the district's statements and actions during a 45-minute question-and-answer session.
The first inquiry was about the root cause or trigger of the fight.
"We all want to know 'why,' when anything bad happens and we have not been able to pinpoint a specific 'why,'" Earl said.
Roberson addressed the issue after the meeting.
"To be clear, there was a reason found and that was the students said, 'hey, we realize this was a lack of communication between us,' between students," he said.
The meeting was at times emotional, as Earl fought back tears during her delivery and Krikorian choked up when describing his anguish in hearing about students fighting.
Parents also questioned the lack of security and dearth of information regarding the fate of the varsity football team, which has forfeited two contests.
Roberson said it was the district's intent to see the squad play its final two games this season, beginning Friday at Moyse Field versus Crescenta Valley.
Parents countered saying the head coach was not at football practice Monday. Multiple football players have told the News-Press the team has not practiced since Oct. 3.
Roberson said that head coach Terrance Jones and his staff have been cleared to return after being placed on a leave of absence due to an investigation, since football players were involved in the brawl.
"The coaches have been cleared and they are reinstated," said Cynthia Foley, district director of human resources.
---