Glendale police detective sentenced to 21 months in prison for obstruction and bribery charges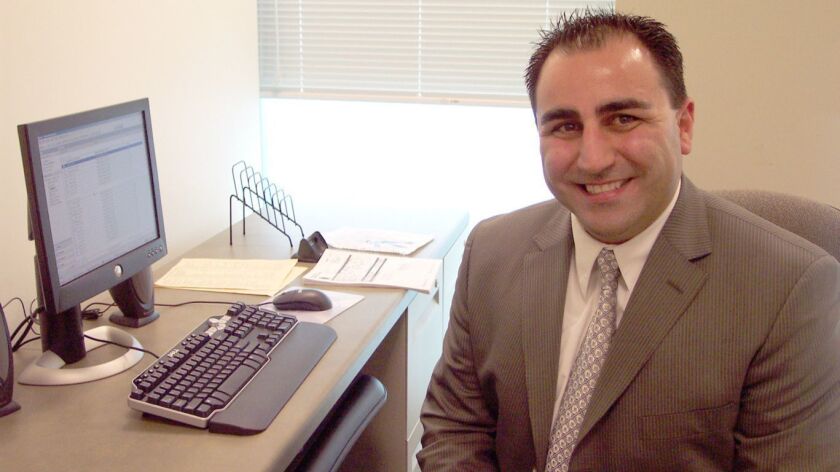 A former Glendale police detective who lied to authorities about his connection to organized crime and warned the Mexican Mafia about an upcoming gang arrest was sentenced on Friday to 21 months in prison.
John Saro Balian will also have to serve three years of supervised release following his incarceration and will be required to pay a $300 special assessment and a $60,000 fine to the government. The punishment comes after he pleaded guilty last July to one count each of soliciting a bribe, obstruction of justice and making false statements to federal investigators.
During the hearing, Balian, who was in handcuffs and wearing a khaki-colored prison jumpsuit, addressed the court, saying he didn't "wake up one day and decide this was the road in life I was going to go down."
He added, "I didn't have the courage at the time to say 'no' to someone who asked me for a favor … I regret what I've done, I'm truly sorry."
He ended his remarks saying he hopes to one day get a chance to redeem himself and become a member of society again once he's released.
A federal judge pointed out what Balian had done was more than just grant a favor because there was an exchange of money.
U.S. District Judge John F. Walter also said he hadn't heard a satisfactory answer as to why Balian "made the conscious decision to turn to a life of crime" and blatantly disregarded the oath he made to protect and serve as a police officer. Balian's conduct was a "gross abuse" of the public trust he accepted as an officer and that no one should be above the law.
"I suspect a major part of his remorse is that he's sorry he got caught," Walter said.
Balian was arrested last May after being identified as a person of interest during an investigation by the FBI's Eurasian Organized Crime Task Force into possible ties between the Mexican Mafia and Armenian organized crime. Three confidential informants had told investigators of their troubling interactions with the detective.
Balian previously worked as a narcotics detective for the Glendale Police Department and served as the agency's spokesman.
According to the plea agreement Balian made with authorities, he accepted $2,000 in 2017 to locate someone thought to have broken into an office and stolen $100,000 worth of property from an acquaintance. In March 2017, he utilized law-enforcement resources in an attempt to catch the alleged thief by giving information about the incident to the U.S. Marshals Services.
In June 2017, Balian overheard Glendale officers discuss an upcoming sweep of roughly 20 members of the Frogtown gang, which has ties to the Mexican Mafia. He tipped off his associates within the mafia, allowing a Frogtown "shotcaller" named Jorge Grey to evade authorities for about a month, according to the affidavit.
The plea agreement stated Balian had given false and misleading information to authorities to hide his connection with the Mexican Mafia and Armenian organized crime and that he "acted corruptly with the specific intent to subvert the due administration of justice for the purpose of enhancing his reputation with the Mexican Mafia."
Los Angeles Times reporter Alene Tchekmedyian contributed to this article.
Twitter: @Andy_Truc
---