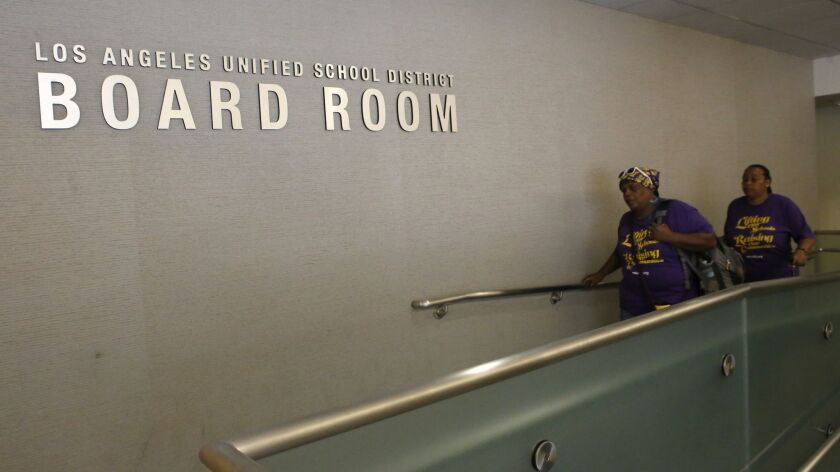 Longtime Glendale resident Bonnie Hays considers herself a public-education supporter.
Hays said she believes in paying taxes to help her local school district, Glendale Unified, and its more than 26,000 students who attend 32 schools.
What she's not a fan of, however, is getting involved with other districts.
Yet Hays is one of many senior citizens who inadvertently received mailed notices over the last month from the Los Angeles Unified School District regarding Measure EE, the district's proposed parcel tax.
"We received a letter last Friday in the mail," Hays said. "It was too late to call anybody [that week], so I gave the letter to my husband and told him, 'I think you'd better take a look at this.'"
Measure EE is a 16-cents-per-square-foot fee on indoor space that would be in effect for 12 years and generate an estimated $500 million annually for L.A. Unified.
While Los Angeles residents were eligible to vote in Tuesday's special election on the proposed measure, Hays and Glendale residents are not part of Los Angeles Unified and should not have received the notices.
Ardy Kassakhian, Glendale's city clerk, said he's unaware of any portion of Glendale being covered by Los Angeles Unified.
Hays received a senior exemption application granted to homeowners, 65 or older, who, if the measure passed, would be eligible to avoid paying the tax.
With all 888 precincts reporting by Wednesday morning, Measure EE did not receive the two-thirds majority of votes, or 66.7%, needed to pass, according to unofficial results. It had 139,027 votes, or 45.68%, in support, and 165,294 votes, or 54.32%, opposing the measure.
Hays waited until the following week to call L.A. Unified officials on a phone number listed on the form. She said she was told she needed to fill out the paperwork.
"I thought, at first, it was a political ad or maybe even a scam, so I called the number," Hays said. "The person I spoke with said, 'If you live L.A. County, you had to pay.'"
Hays added, "I said I already pay for Glendale city schools and wasn't going to pay for Los Angeles, too."
The Glendale senior was also leery of the form's verification requirement, which asked for three copies of documents to determine exemption eligibility.
"They wanted copies of my driver's license, a photocopy of my passport and a copy of my Social Security check. I get direct deposit, so I don't even know how to do that," Hays said. "Eventually, after a bunch of calls, I found out the form was real, but not for me."
Dan Bell, a spokesman for the city of Glendale, said his office received two additional inquiries from local seniors receiving similar paperwork.
"I just told the folks, 'Hey, you don't live in L.A. and I'm not sure why you received the paperwork. Glendale wasn't the only city to get those forms, and we're not sure why people outside of [the] L.A. jurisdiction received this, so please disregard it.'" Bell said.
Los Angeles Unified spokesperson Amanda Wherritt said she was unsure why Glendale seniors were sent notices or how many forms were mailed.
She did respond with an emailed statement, "If an individual received the letter but does not own a home within Los Angeles Unified boundaries and occupy it as their primary residence, it was sent in error and should be disregarded. Any application that is submitted for property located outside of Los Angeles Unified boundaries will be shredded, regardless of the outcome of the election."
For Hays, the bewilderment was something she would have preferred to have avoided.
"There are other people who received these forms and were probably as confused," she said. "[Los Angeles Unified] needs to pay attention in the future."
---