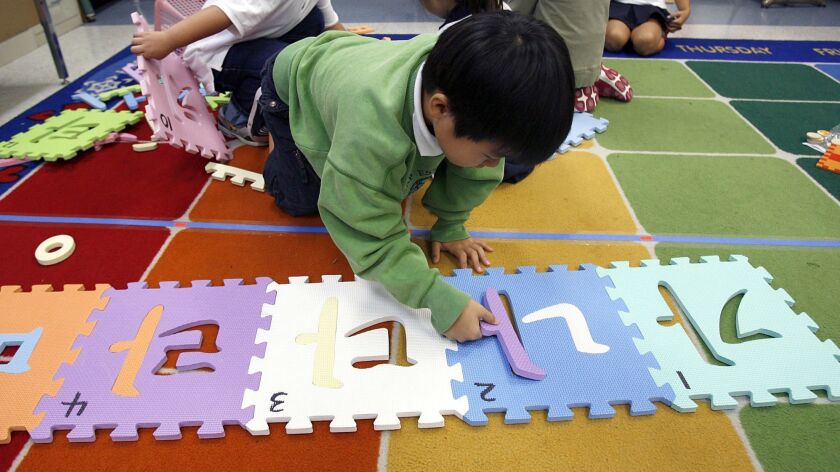 Applications are being accepted for Glendale Unified's dual-language immersion programs at the elementary levels as well as for its magnet elementaries for the 2019-20 school year.
From Nov. 1 to Jan. 31, students living within and beyond the district's boundaries can enroll in the district's lottery, which will be held Feb. 13.
Applications can be found at gusdmagnetandflag.com/apply.
There are a total of 754 kindergarten spots available, with 520 slots for the language program and the rest for magnet school applicants, according to Nancy Hong, the district's coordinator for the dual-immersion program, known as Foreign Language Academies of Glendale, or FLAG.
"The district has 20 elementary schools and, of those schools, nine have a FLAG program," Hong said.
"Four have magnet distinction, and three of those four magnets have FLAG programs," she added.
Students can apply for both FLAG and magnet programs, with up to three choices of either languages or magnet schools available.
The district offers seven languages — Armenian, French, German, Italian, Japanese, Korean and Spanish.
Languages that utilize a Latin-based alphabet — French, German, Italian and Spanish — will be taught 90% in the foreign language and 10% in English, with that rate gradually rising to 50-50 by fifth grade.
Non-Latin alphabet languages — Armenian, Japanese and Korean — maintain a 50-50 ratio each year.
The difference is due to the similarity between English and the Latin-based alphabet in "reading structure," according to Hong, while Japanese, Korean and Armenian languages deal with completely different alphabets.
After a student finishes an elementary FLAG program, they can continue taking foreign language courses at the middle- and high-school levels.
If a student is not accepted into a FLAG program in kindergarten, they can reapply in subsequent years, though they must pass language-proficiency standards.
FLAG applicants are broken in two pools — one group of native foreign-language speakers and the other of English-only speakers, according to Hong.
There is a priority system that includes preference for siblings of current students and Glendale Unified residents.
Magnet schools are more specialized institutions that encourage theme-based learning.
Those schools are Cerritos Elementary, which focuses on coding and computer science, Edison, which offers advanced technology and robots, Franklin Elementary, an international FLAG school, and Keppel Elementary, a visual arts and performing magnet.
Clark Magnet High School also offers a lottery system, but will not begin accepting applications until Jan. 12.
---