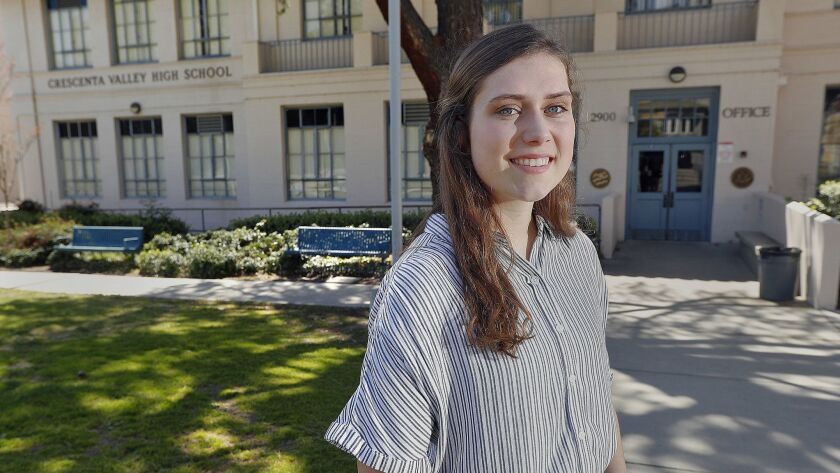 Coca-Cola has frequently been referred to as refreshing and bubbly by its supporters but sweet and fattening by its detractors.
One description not often given is that it's enriching.
Yet, that's exactly the case for Crescenta Valley High School's Elaina Marriott.
The senior overcame astronomical odds in recently winning a scholarship from Coca-Cola worth $20,000.
Marriott was one of 150 winners nationwide out of a pool of 95,715 applicants, making her chances of victory about one-fifth of 1%.
"This means so much to me," she said. "The Coca-Cola scholarship is so unique because it means that I get to join a community of service-oriented, driven people. I feel so grateful for this opportunity to represent my community and my school."
Along with the $20,000 scholarship, Marriott will join the other 149 winners, 14 from California, at a 2019 Scholars Weekend from April 4 to 7 at Coke's headquarters in Atlanta, Ga.
"I'll get to meet all the other amazing Coke scholars and kind of network with all of them and learn about leadership and all their accomplishments through service," she said.
Marriott is the Glendale Unified's second consecutive Coke scholar, following Hoover High graduate Amira Chowdhury.
Coca-Cola released the list of winners on March 7, and Marriott found out about her selection on campus that morning.
However, Marriott did not tell the big news to her family until her mother, Lisa, father, Marc, and siblings Alden, Jane and Julia, were all together.
When it came time to share the honor with her family, she pulled out a Mexican glass bottle of Coke.
"She kept the secret all day, and then she waited until our whole family was together, which didn't happen until 9 at night," Lisa Marriott said.
"She came home carrying a bottle of Coke and … she had that look, and I just said, 'What, you got it?' It was a very exciting moment," Lisa Marriott said.
According to Coca-Cola, its scholar program recognizes students "for their capacity to lead and serve, as well their commitment to making a significant impact on their schools."
Perhaps Marriott's most noteworthy contribution was helping with the construction of a library and reading room at the Barry J. Nidorf Juvenile Hall in Sylmar last fall.
"I have always been very passionate about reading, and I think literacy is a super important thing," Marriott said. "So, I set out to help them."
According to Marriott, she spent seven months coordinating with government agencies until a green light was given for the library.
Marriott collected hundreds of paperback books from local businesses and the community.
"We brought in books, we brought in furnishings, and I'm so happy with how it turned out,"
She added, "My whole community came together to support the project. We had all of the libraries in our area donate books and all the clubs in my school," she said.
Along with the library, Marriott was the founder of a high school economics club during which students digest and "de-stress" about economics while eating cereal.
"I [am] so proud of my daughter," Lisa Marriott said. "She has taken a heavy load this year, but she's still taking time to serve others."
---