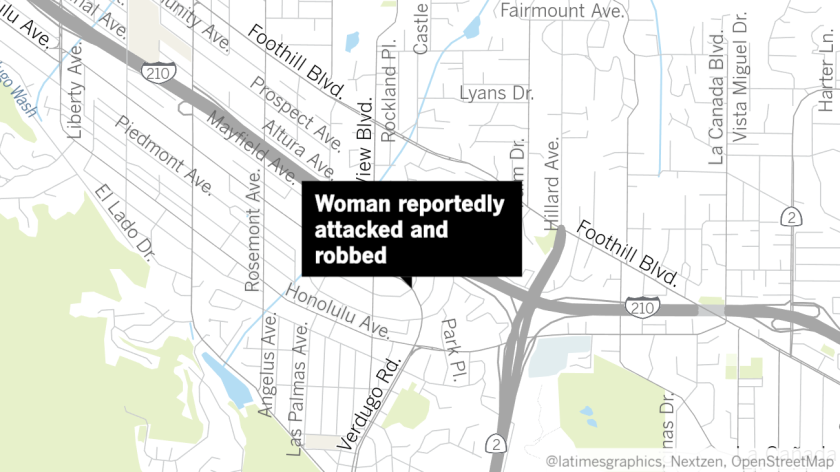 A woman was reportedly attacked and robbed last month in Montrose as she was crossing a street.
The woman was about to cross Mira Vista Avenue near Montrose Avenue around 9:30 p.m. on March 27 when she stopped and motioned for an idling vehicle to go through the intersection.
According to an incident report from the Crescenta Valley Sheriff's Station, the vehicle stopped near the woman. A man reportedly exited from its rear-passenger-side door and grabbed at her purse. The man said he wanted the woman's money, the report states, and punched her in the face.
The man was able to take cash that fell from the purse and shoved the woman to the ground, according to the report. He then fled in the vehicle which traveled south on Montrose.
The sheriff's station said the woman blacked out after being punched and eventually regained consciousness sometime later when a man and woman drove her home.
According to the report, the woman suffered a red, swollen and bloody nose as well as redness and swelling on the left side of her face.
The two Good Samaritans wanted to take the woman to a hospital, but the report states "she refused since she had to catch a flight to Florida that night." She also did not want to call authorities about the incident because of her flight.
She eventually went to a hospital for treatment after returning from Florida.
The man was described as being in his 30s with facial hair, around 5 feet 11 and weighing 165 pounds. He was wearing a white hooded sweatshirt at the time of the incident, the report states.
According to the sheriff's station, the woman said she could possibly identify the suspect if she saw him again but did not want any kind of prosecution against the suspect "due to a fear of retaliation."
Twitter: @Andy_Truc
---